MEL TILLIS CELEBRATES 80th BIRTHDAY
WITH PRIVATE PARTY IN NASHVILLE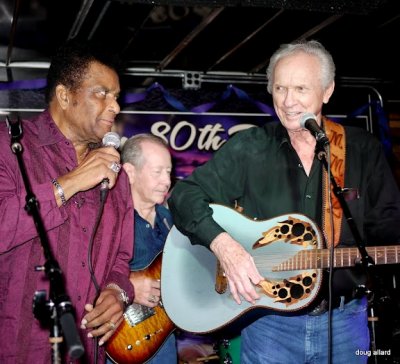 Caption: Charley Pride Joins Mel Tillis Onstage at Honky Tonk Central in Nashville, Tennessee
(Photo Credit: DOUG ALLARD / high resolution photos available upon request)
Nashville, Tenn. (August 10, 2012) – This past Wednesday, August 8, marked a lifetime milestone for Country Music Hall of Famer Mel Tillis, as he celebrated his 80th birthday.
Tillis celebrated his 8th decade of life with a private party held at Honky Tonk Central, located on Broadway in the heart of Nashville, Tennessee.
About 400 of Tillis' closest friends packed the party including daughter Pam Tillis, Charley Pride, Lorrie Morgan, Bobby Bare, Lee Brice, Jerrod Niemann, Alabama's Jeff Cook, Eddie Raven, Jimmy C. Newman, Ira Dean, Meghan Linsey of Steel Magnolia, Bobby Goldsboro, Williams & Ree, Scotty Emerick, comedian Lonnie Shorr, former Dallas Cowboys football coach Barry Switzer, producers Buddy Cannon and Harold Shedd, GAC Headline Country host Storme Warren and many more.
Tillis
and his band, the Statesiders, treated partygoers to a live
performance, prompting Pam Tillis, Charley Pride, Jeff Cook and others
to join the country music legend onstage.
Throughout his monstrous career, Mel Tillis has recorded more than 60 albums, has had 35 Top Ten singles, was named the Country Music Association's coveted Entertainer of the Year, is a member of the Grand Ole Opry and holds country music's highest honor as a member of the Country Music Hall of Fame. He has written over 1,000 songs, 600 of which have been recorded by major artists including Kenny Rogers ("Ruby, Don't You Take Your Love To Town"), George Strait ("Thoughts Of A Fool"), and Ricky Skaggs ("Honey, Open That Door"). Broadcast Music Inc. (BMI) named Tillis Songwriter of the Decade for two decades. In February of 2012 President Obama awarded Tillis the National Medal of Arts.