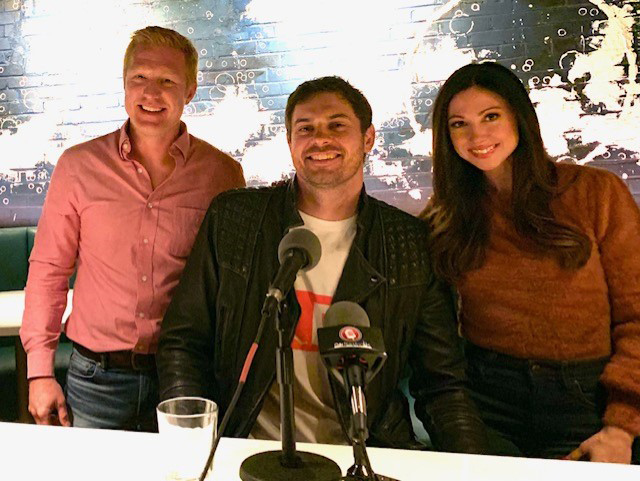 Matt Stell celebrates "Prayed For
You" at No. 1 party in Nashville
Joined by co-writers Ash Bowers
and Allison Veltz-Cruz
By Preshias Harris for Country Music News International Magazine & Radio Show
It was a lot of "firsts" when
Nashville's music industry came out to celebrate on 19 November.
It was the Number One party for "Prayed For You," recorded by
Matt Stell who wrote the song with Ash Bowers and Allison Veltz-Cruz.
It was Matt Stell's first No. 1 as an
artist. And it was the first No. 1 as songwriters for Stell, Bowers
and Velts-Cruz. Additionally, the song was recognized as the only
artist debut single to top the Country Airplay chart in 2019. "Prayed
For You" has been certified Gold (and will receive a Platinum
certification) with more than 125 million streams.
(On behalf of Keyser Musical
Products, I presented Stell with an ASCAP-branded Keyser Capo,
awarded to an ASCAP writer on the occasion of writing his or her
first No. 1.)
During the media meeting before the
Award presentation, I reminded Matt that he seemed to be set for a
medical career until he met up with Ash Bowers. I asked him what it
was about that meeting that changed his career course.
"I had been on this medical mission
trip to Haiti and had worked alongside doctors and was pretty floored
by that. I had been in Nashville for a few years at that point,"
Matt recalled. "I came to town to sign a [song] publishing deal to
write songs and make little weird records of my own. That was the
path I saw. And I got here and I didn't have the opportunities I
was after present themselves. After that trip, I kinda thought to
myself, if wasn't doing music, if I wasn't going to pursue that
as a passion, what could I be passionate about? Working alongside
those physicians, I could be passionate about that. So I applied to a
pre-medical program at Harvard's Extension School. I had the
opportunity to go up to the Northeast and get all the things done so
that I could apply to Med school proper.
"It was about six or eight weeks
before I was headed up there. I was packing my bags, doing remedial
math, trying to remember how to add," Matt said with a laugh. "And
that's when I met Ash Bowers through another writer. Soon after
that, he offered me the publishing deal that I wanted, that was one
that any new writer in town would have killed to have that
opportunity. I knew what I wanted to do; I knew what my passion was.
And I knew that as great as that other path would be, it was still
kind of a Plan B to me, and now I had Plan A."
Ash Bowers revealed that "Prayed For
You" was the first time that he, Matt and Allison had ever written
together, although he'd seen Allison perform at a writers' night
at Nashville's Bluebird Café. "She came in [to the writing
session] and she was running a little bit behind," recalled Ash.
"But she said, 'I've got an idea.' And typically, that's
'Hey don't kill me, I'll be there in a minute.' I thought to
myself, 'well, I hope she's got an idea.' And, man, did she!
She came in with an incredible title and a hook."
Allison picked up the story about the
inspiration for the song and the morning they got together to write.
"I just had this idea kind of fall on me," she said. "I was
brand new to faith and to praying in 2016. So I started journaling
about what I wanted in October 2016."
On May 1, 2017, she was baptized and on
May 5 she met the man who would become her husband. May 11 would be
their first date together. Allison came into the writing session that
same morning, having looked back through her journals. "I thought
about the man that I knew I was going on a date with that night and I
was like, 'You're the guy I prayed for. I can see it,'" said
Allison. "It hit me and fell on me in such a real way, going in to
this was the perfect room for me to bring this waterfall of an idea
that came from such a real place. And there are no better
'construction workers' to help me make sense of that moment than
Ash and Matt."
Matt Stell is currently wrapping up a
tour as an opening act on Chris Young's Raised on Country World
Tour. In January 2020, he will be back on the road with his
Everywhere But On Tour, his first headlining set of shows,
with Chris Bandi and Ray Fulcher as supporting acts. Matt talked
about preparing for this new phase of his career.
"One good learning tool is this Chris
Young and Eli Young Band tour, to see how the pros do it," said
Matt. "People that I've looked up to. You watch what people do
that are successful at what they do. I try to figure out all I can
to make a show like they make a show. Also, Jimmie Allen is
incredible at that so it's nice having him as a resource, either to
reach out to or get to play shows with. I'm getting to sound like a
broken record, but everything is really coming up roses for me right
now, so it's hard not to talk in glowing terms."
Matt recalled
being in Las Vegas this summer and hearing "Prayed For You" when
he got in an Uber car at the airport. "I just looked at the driver
and said, 'Ma'am, that's me right there!' And she gave me a
'No it's not' look. I said, 'No, it is!' I just had to
tell somebody. So we had a nice little chat in the Uber. Kathleen, I
think was her name. So Kathleen, I hope you're having a great day
in Vegas, in line at the airport!"
"Prayed For You" is the first
single from Matt's debut seven-song EP, Everywhere But On, that
includes a collaboration with Jimmie Allen. See Matt's website
https://www.mattstell.com/
for tour updates and follow him on
Facebook https://www.facebook.com/Mattstellmusic/
Stell media room photo:
(L to R): Ash Bowers, Matt Stell and Allison Veltz-Cruz answer questions in the media room. Photo credit: Preshias Harris
Stell official photo:
(L to R): Ash Bowers, Matt Stell and Allison Veltz-Cruz at the No. 1 party for "Prayed For You." Photo credit: Ed Rode.
# # #