THE MARSHALL TUCKER BAND
CELEBRATES 40 YEARS OF MUSIC
MTB Set to Release The Marshall Tucker Band: Greatest Hits on April 5
Nashville, Tenn (March 15, 2011) – Forty years ago the Marshall Tucker Band roared out of Spartanburg, South Carolina, at the dawn of the '70s, spurred on by camaraderie and a hunger for adventure. They began forging a musical legacy that quickly turned into a legend. Their ability to blend rock, country, jazz and blues won them a fervent following and changed perceptions of what American pop music could be. On April 5, 2011, marking its 40th Anniversary, the Marshall Tucker Band releases The Marshall Tucker Band: Greatest Hits (Shout Factory). The 14-track album features original recordings of the songs that made the MTB a household name.
The Marshall Tucker Band was brilliant at improvising onstage and, appropriately enough, they followed their career path with the same freewheeling spirit. Early on, the band established a presence on radio that grew with each new album. This greatest hits collection gathers together Marshall Tucker's best-known singles, along with several key album tracks. Collectively, they document a band dealing lyrically with good times and bad, making great music all the while. Lead singer Doug Gray says, "looking back, it was very difficult to choose which songs to include in this album."
MTB traces its beginnings to the late 1960s, when lead guitarist Toy Caldwell and rhythm and blues singer Doug Gray formed the Toy Factory after the two of them returned from military service in Vietnam. In 1971 Toy and Doug assembled a new group, the MTB, with bassist Tommy Caldwell (Toy's brother), rhythm guitarist George McCorkle, drummer Paul Riddle and reed player Jerry Eubanks. Naming their group after a local piano tuner, Marshall Tucker, they began playing Spartanburg area clubs, sharing the stage with the Allman Brothers and other Southern rock peers.
It didn't take long for MTB's reputation for electrifying live shows to spread across the South and beyond. At the center of the group's sound was Doug Gray's amazing vocals with nearly limitless range and the ability to handle ballads, country honky tonk, pop, jazz, blues, and roaring rock songs with ease. George McCorkle's constantly consistent rhythm guitar work, Paul Riddle's Buddy Rich style drumming, Jerry Eubank's flute and saxophone and Toy Caldwell's impassioned songwriting, with astonishing thumb-picked guitar work, encompassed blazing solo flights and sensitive introspective passages. "I still wonder how you could get all that emotion out of one man," says Gray. "Most people who never knew Toy thought he must've been this very tough guy. But the soft side of him came out in his music. And he was as gentle as a lamb to anyone who ever had the chance to shake his hand."
Signing with Capricorn Records, the Marshall Tucker Band released a self-titled debut album in 1973; it contained such enduring Toy Caldwell originals as "Take the Highway," "Ramblin'" and "Can't You See." Touring relentlessly, the band followed up with 1974's A New Life, an album that yielded the road anthem "24 Hours at A Time," the country-accented "Blue Ridge Mountain Sky" and the bluesy "Too Stubborn." A year later came Where We All Belong, a two-disc set combining live tracks with such new studio recordings as "This Ol' Cowboy" (sung by Toy) and featuring touring guest Charlie Daniels on fiddle, and the country ballad "In My Own Way."
By the time Searchin' for a Rainbow appeared in 1975, the band was beginning to craft more Top 40 radio-friendly tunes. The McCorkle-penned "Fire on the Mountain" and Toy Caldwell's title song cracked the Billboard Top 40 charts and delved into the sorts of Western story themes that became a Marshall Tucker trademark. Long Hard Ride (1976) continued the band's momentum with strong tunes such as the hard-charging instrumental title track that won them a Grammy nomination that year. Next MTB scored a big breakthrough creatively and commercially with 1977's platinum-certified Carolina Dreams. This album showcased the band's buoyant Top 10 Billboard hit, "Heard It in a Love Song," as well as such worthy numbers as "I Should Have Never Started Lovin' You" and the jazzy "Desert Skies."
The band finished their contract with Capricorn Records in 1978 and Capricorn released an eight song Greatest Hits package which was discontinued in 1999. The band signed with Warner Brothers and recorded six artistically satisfying albums from 1979 to 1983. Sadly, the band suffered a tragic loss when Tommy Caldwell died on April 28, 1980, following an automobile accident. The band soldiered on but the rigors of the road and Tommy's death weighed heavily on Toy especially and he, McCorkle and Riddle decided to take an extended break from touring and recording and turned the band over to Gray and Eubanks, with their blessings. In 1996, Eubanks retired leaving Gray as the only original member of the Marshall Tucker Band. Today the band still plays over one hundred shows per year and continues to issue albums of new material. Toy Caldwell died in 1994 from natural causes and George McCorkle succumbed to cancer in 2003.
The Marshall Tucker Band built its lasting success on raw talent, inspired live shows and innovative, heartfelt songs. The release of this updated Greatest Hits album and continuing to tour regularly will keep adding to their legendary status as one of Southern Rocks greatest, innovative, and longest lasting bands.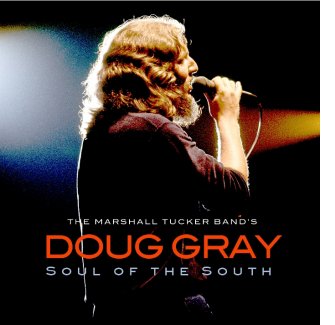 In addition to releasing Greatest Hits on April 5, Doug Gray unveils his lost R&B solo album, Soul Of The South (Shout Factory), on the same date. The unreleased 30-year-old recordings, featuring the MTB, showcases Gray's vocal affinity for Soul and Blues.
# # #