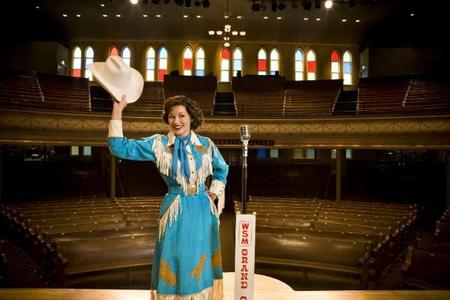 Mandy Barnett
honors Patsy Cline's "emotion"
Recording new album of torch
songs in Nashville
By Preshias Harris for Country Music News International Magazine & Radio Show
No other singer can put over a
heart-wrenching emotional ballad quite like Mandy Barnett. She
proved that the very first time she walked on stage at the Ryman
Auditorium in Nashville, starring in the lead role of the musical
Always… Patsy Cline. A virtual unknown at the time, Mandy
auditioned for the role at a shopping mall when she was just 18. For
audiences, Mandy 'became' Patsy Cline. Not only was Mandy's
voice similar to Patsy's, she was able to capture the emotion and
heartache that had made Patsy a star during her short life. (Patsy
died at the age of 30 in a plane crash during a rainstorm, flying
back to Nashville in March 1963.)
Always… Patsy Cline played to
sell-out crowds for it's entire run at the Ryman, elevating Mandy
to stardom and a career as both a performer and a recording artist.
Although productions of Always… Patsy Cline have been staged
all across America over the years, Mandy is still the only one to
have performed the role on the stage at the Ryman, where Patsy
Cline's own career began.
Now, Mandy is recording a new album in
Nashville for her new label, Melody Place Records, under the
direction of label president Fred Molin. I stopped by the recording
studio in between sessions to talk to Mandy about her new project.
The album features Mandy singing some of her favorite 'torch songs'
from the Great American Songbook. The ten songs on the album were
arranged by the legendary arranger Sammy Nestico who is still active
at the age of 95.
When I sat down with Mandy I asked her
how she would define a 'torch song.'
"When I think of a Torch Song I think
of something highly emotional," said Mandy. "Something that's
very evocative of feelings of love and longing and pain. They are
usually beautiful, very heartfelt. There's usually an orchestra
involved," she added with a laugh. "And it just so happens that
today we're doing ten beautiful torch songs."
We then talked about Sammy Nestico who
created the arrangements specifically for the new album by Sammy
Nestico. He is now 95 years old and he's arranged music for the
Count Basie Orchestra, Frank Sinatra, Tommy Dorsey, Woody Herman, and
so many more. I asked Mandy what it was like what was it like working
with Mr. Nestico.
"Fred [Molin] had mentioned that he
would love to try to get Sammy Nestico," noted Mandy. "Fred
said, 'He's in his nineties, I don't know what his health is
like. But I'm going to call him and see.' So he did that and
Sammy said, 'I don't know, Fred. Let me try one song and see how
it goes.' And then he called and said, 'I've done two.' Then
he called back a couple of weeks later and said, 'Well okay, I've
finished four.' And so on it went until we had completed all ten
songs! He's just been lovely all the way. Because of his health he
wasn't able to come here to Nashville to do this physically, but
he's worked with us every step of the way with getting all of the
arrangements suited to my key and all the right instrumentation and
so on."
Note: Sammy Nestico posted a
brief video showing him working on an arrangement of "You Don't
Know What Love Is" for Mandy's album. Look for the video titled
"A sneak peek behind the curtain" here:
https://www.facebook.com/watch/SammyNesticoDocumentary
Mandy has said that some of her
favorite composers include Cole Porter and George Gershwin in
addition to Country songwriters like Dolly Parton and Willie Nelson.
I asked her what makes a 'Great Songwriter' in her opinion.
"The lyrics have to be good," she
replied. "To me, a lot of times, the lyrics are simply stated with
a beautiful melody that give you room to sing. I've never been
crazy about really 'wordy' songs because I like to have that
space. Something that says a lot in a few words."
I told Mandy that she is recognized in
Nashville as one of the most prestigious vocalists. She doesn't
need anything but her voice and a guitar and it would hold an
audience captive. I asked her if she sees a direct line from when
she did the Patsy Cline show many years ago to this new project? I
said that Patsy was so full of emotion and Mandy was able to capture
that emotion.
"I think that's the thing about
Patsy Cline," said Mandy. "What I'm drawn to in female
singers, what Patsy shares with Tammy Wynette and some of these other
great singers is that emotion. So whether they're singing Country
or whether they're singing pop or rock – Linda Ronstadt is
another one and Connie Francis – it is that emotion. So I do feel
that is something that I learned early on about singing from
listening to good singers. That was the thing that really turned me
on, hearing that emotion. Anyone can sing the notes and can sing
well technically and blow you away with their vocal range. But it's
that heartbeat that really speaks to me. That's what I want to
hear."
Mandy has been
called "a torch singer in the grandest sense of the word" by the
Chicago Tribune, and USA Today calls her one of Nashville's "finest
classic country and torch singers," so this new project seems
tailor-made for her unique voice.
The as-yet un-named album from Mandy
Barnett is now in its final stages of recording. Melody Place
Records expect to release the album in late 2019 or spring 2020. More
about Mandy Barnett here https://www.mandybarnett.com/
and about Melody Place Records here https://www.melodyplacemusic.com/
###