LUCAS HOGE JOINS ARMED FORCES ENTERTAINMENT'S
WRANGLER® NATIONAL PATRIOT TOUR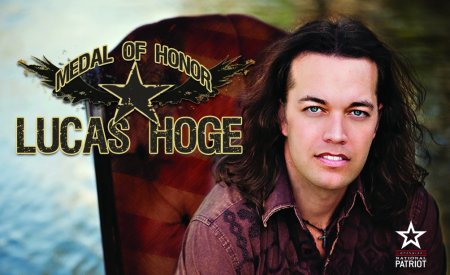 Hoge Departs For Middle East Today
Nashville, Tenn. (May 24, 2011) – Rising country artist and Animal Planet star Lucas Hoge departs today to travel to multiple undisclosed military bases as part of the two week Armed Forces Entertainment Wrangler® National Patriot Tour
.
In 2009, Hoge visited Iraq, Kuwait and Kosovo, which inspired him to write the song "Medal of Honor." Wrangler® National Patriot, Armed Forces Entertainment and American 300 are sponsoring 1,000 download cards
of the song for Hoge to give away to troops during the tour. Acepro Guitars is also donating two instruments.
"I feel so honored and blessed to be a part of the Wrangler
®
National Patriot Tour," says Hoge. "I've been looking forward to going back overseas since the moment I returned from the last trip. Playing for the troops means the world to me!"
Earlier this month, Hoge was invited to perform "Medal of Honor" for three Medal of Honor recipients: Staff Sgt. Salvatore Giunta, Drew Dix and Pete Lemon. The event took place in Pueblo, Colo. at the Re-dedication of Home of the Heroes Memorial and Walk of Valor and

Center for American Values

:
Salvatore Giunta Portrait Unveiling.
Upon return from the tour, Hoge will host a Welcome Home concert and meet and greet on June 9, at 6 p.m. The concert will be held at B.B. Kings Restaurant & Blues Club
, during Nashville's CMA Music Festival.
Listen to "Medal of Honor" HERE.