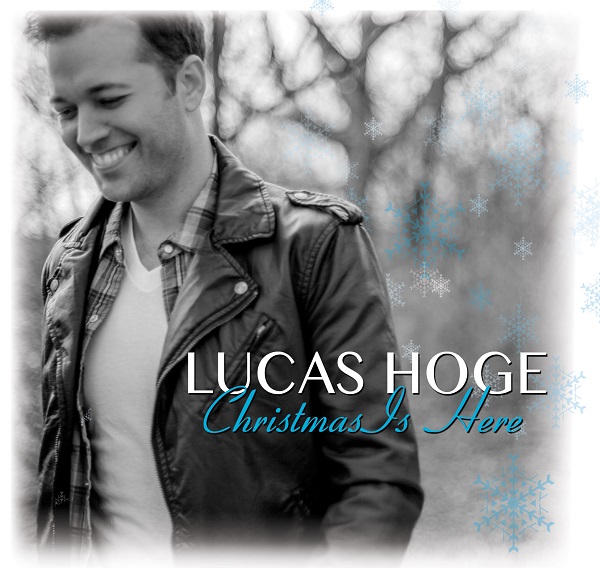 LUCAS HOGE CHRISTMAS ALBUM AVAILABLE NOW
Making His Grand Ole Opry Debut Nov. 10
NASHVILLE, Tenn. – Following his No. 1 Billboard Country debut for album, Dirty South, rising country star Lucas Hoge is releasing a brand-new Christmas album, Christmas Is Here, available NOW. Fans can get into the spirit of the upcoming holiday season by purchasing Hoge's new album HERE, and can look forward to hearing single "Home for the Holidays" when it is released to radio next month.
The small-town Nebraska native, who has shared the stage with legends
like George Jones, Rascal Flatts, Rodney Atkins, Craig Morgan and Hank
Williams Jr., is thrilled to be sharing these festive tracks with his
fans.
"I have so many happy memories set to some of the Christmas songs I
included on the album. It was a blast recording those and I also got to
write and record some really fun new songs that hopefully people will be
able to make their own memories to," said Hoge.
This new album includes Christmas classics such as "White Christmas
and "Silent Night" alongside four all-new songs, "Christmas Is Here,"
"Ho Ho Home For The Holidays," "Without Christ In Christmas" and "Baby's
Got A Present," which were co-written by Hoge.
Christmas Is Here Track Listing:
Christmas Is Here – Lucas Hoge, Corey Lee Barker
Christmas In Our Town – Eddie Kilgallon
White Christmas – Irving Berlin
Christmas Medley – Richard Rodgers, Donald Ewing II, Oscar Hammerstein II
Silent Night – Joseph Mohr and Franz Gruber
It Wasn't His Child – Donald Ewing II
Ho Ho Home For The Holidays – Lucas Hoge, Corey Lee Barker
Without Christ In Christmas – Lucas Hoge, Corey Lee Barker
The Christmas Song – Mel Torme, Robert Wells
Baby's Got A Present – Lucas Hoge, Corey Lee Barker
Lucas Hoge On Tour:
Oct. 20 Strand Center for the Arts – Plattsburgh, N.Y.
Oct. 27 Marion County Fair – Ocala Fla.
Nov. 02-Nov. 05 Hook The Cure – Puerta Vallarta, Mexico
Dec. 14-16 National Finals Radio – Las Vegas, Nev.
Jan. 26 Stoney's Rockin Country – Las Vegas, Nev.
Jan. 27 Tower Theatre – Fresno, Calif.
Feb. 3 The Flying Monkey – Plymouth, N.H.
Feb. 24 Country Fest | Rodeo Weekend – Tuscon, Ariz.
For more information and the latest news on Lucas Huge, follow him on Facebook, Twitter and Instagram and go to LucasHoge.com
About Lucas Hoge:
Some people are just born communicators and Lucas Hoge has that gift. Fans know this because Hoge's new album Dirty South
ascended to the No. 1 spot on the Billboard Country Album Sales chart
during its debut week. Whether he's performing for troops overseas,
sharing his love for the great outdoors with fellow sportsmen at a
Cabela's gathering or writing another song for a hit TV show, Hoge has
that rare ability to find common ground with just about anyone and draw
them into his world. A passionate supporter of the U.S. military, Hoge
has traveled the globe extensively performing for the troops visited
numerous countries throughout the Middle East and beyond for the past
nine years as part of the Wrangler National Patriot Tour. Hoge
is also the celebrity spokesperson for Guardian Angels For Soldier's
Pet. Combine all of that with his Midwestern charm and a work ethic that
won't slow him down, it looks like the best is yet to come.
# # #