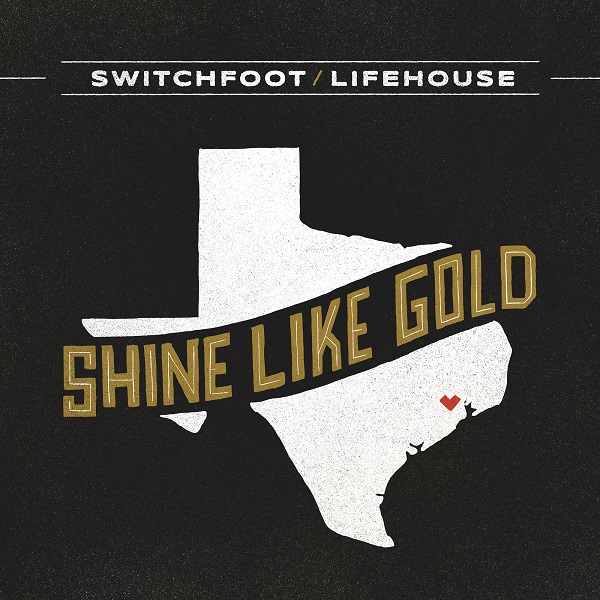 LIFEHOUSE AND SWITCHFOOT RELEASE "SHINE LIKE GOLD" BENEFITING HURRICANE HARVEY RELIEF EFFORTS
NASHVILLE, Tenn.
– After the devastating storm that struck Texas, Lifehouse and
Switchfoot wanted to do something together to give back and wrote a
brand new song titled, "Shine Like Gold," which exclusively premiered on
People.com. The track was recorded in Nashville and is now available for pay-what-you-want download, here. All proceeds from "Shine Like Gold" will be donated to aid Houston's recovery in partnership with Food for the Hungry.
Lifehouse and Switchfoot are currently touring with each other for
the first time ever on the "Looking For Summer" Tour. The bands will
collectively be performing the song together at the September 5 House of
Blues show in Houston, Texas.
On
"Shine Like Gold" and the Houston show, Lifehouse's Jason Wade said,
"We can't imagine what everyone is going through right now in Houston,
but they've all been in our thoughts and prayers. We look forward to
playing this show, standing alongside this amazing city and doing
everything in our power to help. Jon and I started writing 'Shine Like
Gold' at the beginning of this tour, but it wasn't until we recorded it
in Nashville that we really knew what it was about. Seeing all of these
amazing individuals who've sacrifice for their neighbors, and stepped up
in the face of extreme hardship has been so inspiring. This song is for
them. All of the proceeds from this song are going to Houston for the
unsung heroes that do the right thing when no one is watching. All the
love."
Jon
Foreman of Switchfoot shared shared these sentiments: "Jason and I had
always talked about writing a song together. When it finally happened,
'Shine Like Gold' became a song about everyday heroes fighting their way
through the darkness toward the light. On the day we recorded the song,
Hurricane Harvey began wreaking havoc in Texas. Sometimes you don't
know what a song is for until after its written. In this case it became
crystal clear. As we watched our friends and family in Texas struggle
through the aftermath of the hurricane, we knew exactly what we had to
do. We LOVE Houston. Houston is resilient and will rebuild. We can't
wait to be in Houston next Tuesday to celebrate HOPE in the midst of
tragedy."
Multi-platinum award-winning rock band Lifehouse recently released their first hits compilation, Lifehouse: Greatest Hits, on
CD and all digital retailers. The 18-track selection will include a
multitude of their chart-topping hits, including "You and Me," "First
Time", "Halfway Gone," "Hurricane" and "Hanging by a Moment," which was
the most played radio track of 2001. To mark the release, Lifehouse,
which includes Jason Wade (lead vocals, guitar), Bryce Soderberg (bass,
vocals) and Ricky Woolstenhulme Jr. (drums, percussion), are
co-headlining a U.S. tour with Switchfoot, which will wrap September 10
at the Masonic Auditorium in San Francisco after a show on September 9
at the Greek Theater in Los Angeles (tour dates below). Lifehouse
includes singer/songwriter/guitarist Jason Wade, bassist Bryce Soderberg
and drummer Rick Woolstenhulme Jr. Lifehouse's music has always been
radio-friendly, but the band's success is as much for lead
singer/guitarist Jason Wade's "sonorous" vocals and spiritual
songwriting as it is for the band's well-honed cohesion as performers.
Since 2000, Lifehouse has released seven albums that have cumulatively
sold 15 million around the world.
Formed
in San Diego in 1996, Switchfoot includes Jon Foreman (vocals, guitar),
Tim Foreman (bass), Jerome Fontamillas (keyboard, guitar), Drew Shirley
(guitar), and Chad Butler (drums). Since their start, the band has sold
over 5.7 million copies worldwide of their first nine studio albums
(including their 2003 double-platinum breakthrough The Beautiful Letdown and 2009's Grammy Award-winning Hello Hurricane),
racked up a string of Alternative radio hit singles, and performed
sold-out world tours with over 4 million concert tickets worldwide.
Switchfoot released their latest album, Where The Light Shines Through, on July 8th, 2016 via Vanguard Records. Where The Light Shines Through is the band's tenth album and the first since 2014's highly acclaimed Fading West. The album was self-produced in collaboration with John Fields, who helmed the multi-platinum breakthrough The Beautiful Letdown.
For more information on Lifehouse, follow them on Facebook, Instagram and Twitter or visit LifehouseMusic.com.
For more information on Switchfoot, visit Switchfoot.com.
'LOOKING FOR SUMMER' TOUR:
Sept. 03 – Gillioz Theater – Springfield, Mo.
Sept. 04 – The Pavilion at Irving Music Factory – Irving, Texas
Sept. 05 – House of Blues – Houston, Texas
Sept. 08 – Mandalay Bay Beach – Las Vegas, Nev.
Sept. 09 – Greek Theatre – Los Angeles, Calif.
Sept.10 – The Masonic – San Francisco, Calif.