LARRY GATLIN & THE GATLIN BROTHERS ANNOUNCE 60TH ANNIVERSARY TOUR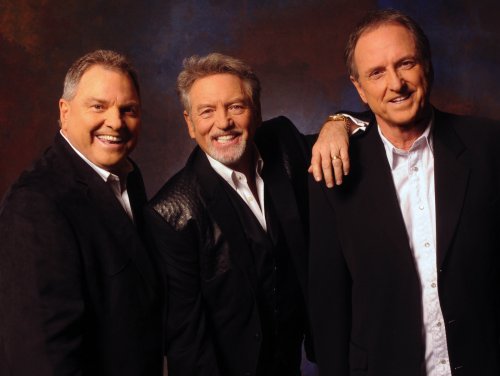 Photo credit: Jim McGuire
Gatlin Brothers Announce First Wave of Tour Dates in Celebration of 60 Years of Music
Nashville, Tenn. (February 4, 2015) – Larry Gatlin & the Gatlin Brothers have been dazzling
audiences
for 60 years. It all began in 1955, when Larry was six, Steve was
four, and Rudy was two. Since those days, the road that the trio has
plowed has taken them to concert stages all over the world and has seen
their records top the charts and touch the lives of fans from eight to
eighty.
Larry says of their 60th Anniversary Tour, "We're not calling it a farewell or a final tour. We're calling it the 60th
Anniversary Celebration. By no means are we retiring, but after this
tour, we are going to slow down a little bit. The promoters are going
to have to want us about three times more than they want us right now,"
he laughs.
As
Larry says, "There are other priorities in life. I have two
granddaughters. Brother Steve has seven grandchildren and Rudy has two
kids. We still love the fans and the road and we still love to sing but
we want to spend more quality time with our families."
After
performing together as children, Larry went off to college – studying
law at the University of Houston. In 1971, he auditioned for the
legendary Imperials, Elvis' backup group. He didn't get the job, but he
met Dottie West, who was the opening act for the legendary Jimmy Dean,
who would become one of Larry's oldest and best friends. Dottie was
initially taken with Larry's resemblance to Nashville songwriter Mickey
Newbury. Dottie told him one night in her backstage dressing room at
the Landmark Hotel in Las Vegas, "Larry, you look so much like Mickey
Newbury, you've just got to be able to write great songs." After the
gig in Vegas, Larry went home to Houston, wrote eight songs, sent them
to Dottie, and she sent him a plane ticket to Nashville.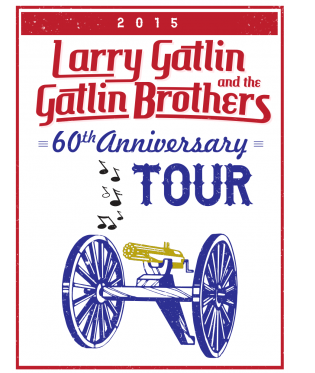 Through
Dottie, Larry met Kris Kristofferson, who became a champion of
his talent as a writer and singer. Kristofferson introduced Larry to
Fred Foster at Monument Records which resulted in a contract with the
record label. His first album, The Pilgrim,
was released later that year. Johnny Cash, wrote the liner notes for
his first album, and dubbed him "The Pilgrim," which is what he called
Larry until the day he died. Steve and Rudy moved to Nashville in 1975
and teamed up with brother Larry to form Larry Gatlin & the Gatlin
Brothers. By 1976, the Gatlin Brothers were in the fast lane, thanks to
the chart-topping success of the Grammy-winning "Broken Lady." The
hits continued throughout the rest of the decade, with seven more number
one songs: "I Don't Wanna Cry," "I Just Wish You Were Someone I Love,"
"Statues Without Hearts," "Love Is Just A Game," "All The Gold in
California," "Houston (Means I'm One Day Closer To You)" and "Night Time
Magic." In addition to being inducted into the Grand Ole Opry, the
trio was nominated for awards by the Country Music Association, the
Academy of Country Music and the Music City News Awards, among others.
"We won some of 'em too," notes Larry.
So,
as Larry, Steve and Rudy close out one chapter of their lives, they are
looking forward to the next one. Larry says, "We're not cutting back
because we can't draw a crowd or that we can't sing anymore. Today, we
sound just like we did 40 years ago…. pretty dad-burn good. We're not
being run out of the business. We're not going broke. We're not down
to bread and milk money. We just think it's time to do some other
things, slow down a little bit, and do it with class and dignity – on
our own terms. We are grateful to God for our fabulous run and we can't
wait to see what else He has in store."
Today, the brothers announced the first leg of their 60th Anniversa
ry Tour. In addition, the brothers will soon release a new Gospel album on Curb Records, titled, Larry Gatlin & the Gatlin Brothers 60th Anniversary Celebration. Larry says, "We were going to call the album, The Gospel According to Gatlin
because some of the new songs are a little edgy, a little bit
different. Then we realized it was our 60th anniversary, so we went
with that as the title." And speaking of edgy, Larry says, "Steve and
Rudy and I didn't get where we are by playing it safe. We have always
pushed the envelope, we have always crossed borders others were afraid
to cross and we're not going to stop now… and that is the Gospel
According to Gatlin."
Larry Gatlin & the Gatlin Brothers 60th Anniversary Tour dates:
February 6 – Harrington, DE – Harrington Raceway and Casino
March 10-11 – Surprise, AZ – Happy Trails Resort
March 13 – Bremen, GA – Mill Town Music Hall
March 14 – Weirsdale, FL – Orange Blossom Opry
April 11 – Rainbow City, AL – Alabama Chocolate Festival
April 24 – Springfield, OH – Clark State Performing Arts Center
May 16 – Prestonburg, KY – Mountain Arts Center
May 23 – Watseka, IL – Watseka Theatre
May 28 – Farmers Branch, TX – The Independent Bankers Bank
August 8 – Potosi, MO – Washington County Fair
August 22 – Greeneville, TN – Niswonger Performing Arts Center
August 29 – Dumas, TX – Window on the Plains Museum
September 5 – Millersport, OH – Sweet Corn Festival
September 11-12 – Gstaad, Switzerland – Gstaad Festival
September 19 – Denton, NC – Dailey and Vincent Fest
September 20 – Alexandria, VA – The Birchmere
September 26 – Robinson, IL – Lincoln College County Theater
October 16-17 – Branson, MO – Oak Ridge Boys Theatre
October 23-25 – Las Vegas, NV – South Point Hotel & Casino
November 5-8 – Branson, MO – Oak Ridge Boys Theatre
November 14 – Highland Springs, VA – Henrico Theatre