MULTI-PLATINUM SINGER/SONGWRITER KIP MOORE WRAPS SOLD-OUT HEADLINING U.K. STINT TO "RAPTUROUS RECEPTION" IN LONDON
Moore Will Also Return Next Spring As Part Of Europe's Esteemed Country To Country Festival
Nashville,
TN – Oct. 9, 2017 – Multi-PLATINUM singer/songwriter Kip Moore is
continuing to build a fervent following across the pond, returning this
past week for a headlining sold-out stint kicking off in Birmingham, UK
on 10/2, also stopping in Manchester, UK (10/3), Glasgow, UK (10/4) and
London, UK (10/6). Playing to capacity crowds each night, Moore treated
audiences to songs from his "strongest, most artistic album" (Forbes), the recently released and critically acclaimed SLOWHEART, as CMT declares "it's the way he expresses what's on his mind that draws sold-out audiences around the world."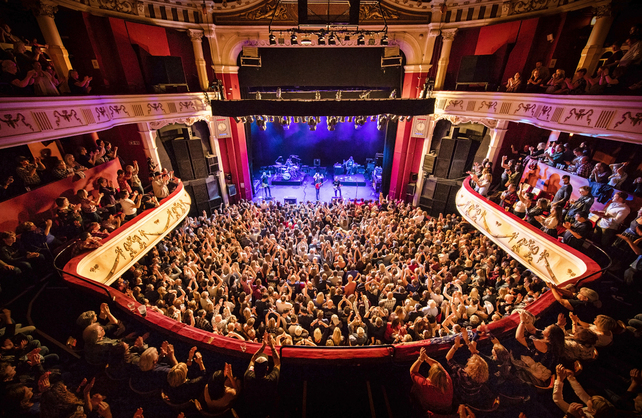 The
triumphant run culminated in a special show on Friday night (10/6) as
part of Country Music Week in London, UK at O2 Shepherd's Bush Empire,
with Entertainment Focus noting
the "rapturous reception from the audience…Throughout the set Kip
mixed in songs from all three of his albums, with highlights including a
raucous rendition of 'Beer Money', the high energy of 'The Bull', and
the sing-along 'Heart's Desire' and the rocky 'Bittersweet Company.'"
Moore, who first made an impression overseas at Europe's Country To
Country Festival in 2015, will return to the festival in 2018 for the
annual festival taking place March 9-11 in London, UK, Glasgow, UK, and
Dublin, I.E.
Moore has
hit his stride with SLOWHEART, and his current Top 5 single "More Girls
Like You," is the fastest rising single of his career and is receiving
praise from critics such as Entertainment Weekly declaring he "has made a
name for himself weaving vignettes of Southern, blue-collar life and
love into rollicking country anthems." SLOWHEART follows the acclaim
that surrounded his sophomore album WILD ONES heralded as "an
impressively singular release from Music Row" by The Guardian. Moore
first turned heads with his debut album UP ALL NIGHT which was recently
certified Double-PLATINUM by the RIAA and spawned three No. One hit
singles including GOLD certified "Beer Money," PLATINUM certified "Hey
Pretty Girl," and the DOUBLE PLATINUM breakout hit "Somethin' 'Bout
A Truck. Moore, who has trail-blazed his own path with his
reputation-making live show recently announced his headlining PLEAD THE
FIFTH TOUR kicking off on 10/19. For more information and a full list of
tour dates visit kipmoore.net.
###
Photo Credit: Anthony D'Angio