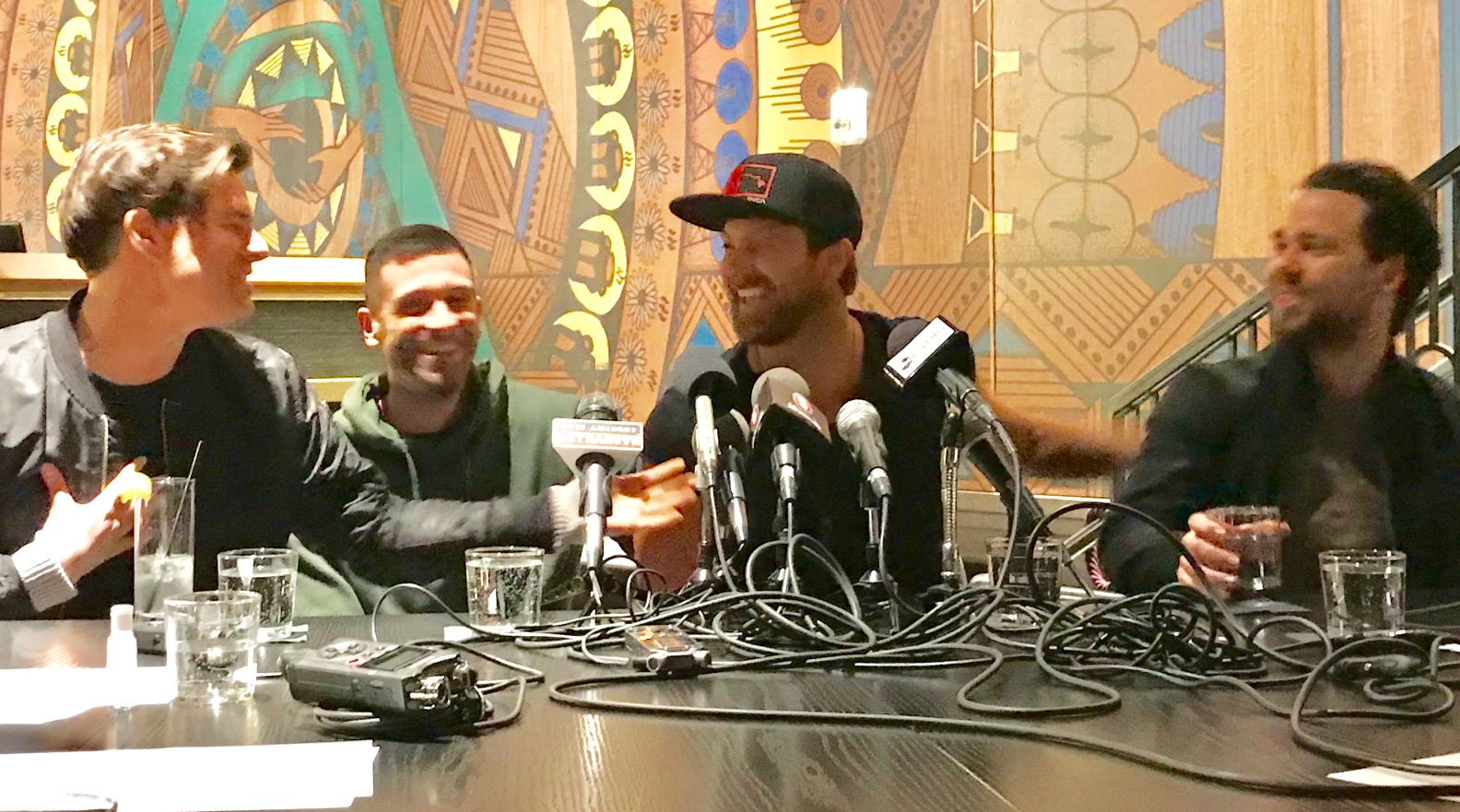 Kip Moore celebrates No. 1 with
songwriters
'More Girls Like You' lead single
from 'Slowheart'
by Preshias Harris for Country Music News International Magazine & Radio Show
MCA Nashville artist Kip Moore was at The
Hutton Hotel's Analog on Tuesday, February 13 to celebrate with fellow
songwriters of his newest Number One, "More Girls Like You." The party,
co-hosted by ASCAP and BMI, honored the song's four writers David Garcia, Josh
Miller, Steven Lee Olsen and Moore.
"More Girls Like You" is the lead single from
Kip's third studio album, Slowheart, following 2012's Up All Night and 2015's
Wild Ones.
Kip has undeniably paid his dues on his
trek to stardom. He made his first public appearance singing at a Mellow
Mushroom in Valdosta, GA, and moved to Nashville in 2004. He was signed to a
songwriting deal with the help of producer/songwriter Brett James. It would be
a further eight years before Kip was signed to a recording contract with MCA.
During the media session before the award
presentation, I asked Kip what he did with his career during those long eight
years to keep his eyes on the prize. With a smile, he said, "It was knowing I
wasn't going to be happy doing anything else.
There was no Plan B." He admitted, however, "It was a battle to keep one
foot in front of the other."
The four writers reminisced about the way
"More Girls Like You" came about. Steven Lee Olsen (whose first No. 1 as a
writer was the Grammy-nominated "Blue Ain't Your Color" for Keith Urban) noted
that when the writers got together, "something magical" happened. "We started
talking and that's how it started."
"It started falling together fast," added
Kip. "They knew where my head was, coming back from Cost Rica!"
"Kip almost didn't show up," said Josh. "He
was headed to the lake for some wake boarding." We were reminded that Kip has a passion for
the water, having been something of a 'beach bum,' surfing in Hawaii before
making the commitment to come to Nashville.
Discussing tour plans, Kip said he is
joining Luke Bryan on his 'What Makes You Country' Tour. "Luke has always been a gracious and nice guy,"
said Kip. "I'mlooking forward to touring with Luke and the Cadillac Three."
Kip will soon be crossing the pond for
concerts in Dublin Ireland, Glasgow Scotland and London England as part of the
CMA Songwriters' Series. He'll be joining his old friend Brett James for the
European dates, along with Luke Combs, Natalie Hemby and Nicolle Galyon. In addition to a packed U.S. tour schedule,
Kip also has 2018 shows booked in Canada and Australia.
Kip's story of his arduous journey to the
top is yet another reminder to aspiring artists and songwriters that there is
no such thing as 'overnight success.'
There will always be a battle to 'put one foot in front of the other' as
he put it. For Kip, there was no Plan B.
For tour dates and more info on Kip Moore's
new album Slowheart, go to http://www.kipmoore.net
# # #
PHOTO CAPTIONS:
Kip_Moore_No_1_Writers Photo:
(L to R): Steven Lee Olsen, David Garcia, Kip
Moore, Josh Miller. Photo credit: Preshias Harris
Kip_Moore_Group_Shot Photo:
(L to R): BMI's Bradley Collins,
songwriters Steven Lee Olsen, David Garcia and Josh Miller, Moore and ASCAP's
Evyn Mustoe. Photo credit: Ed Rode