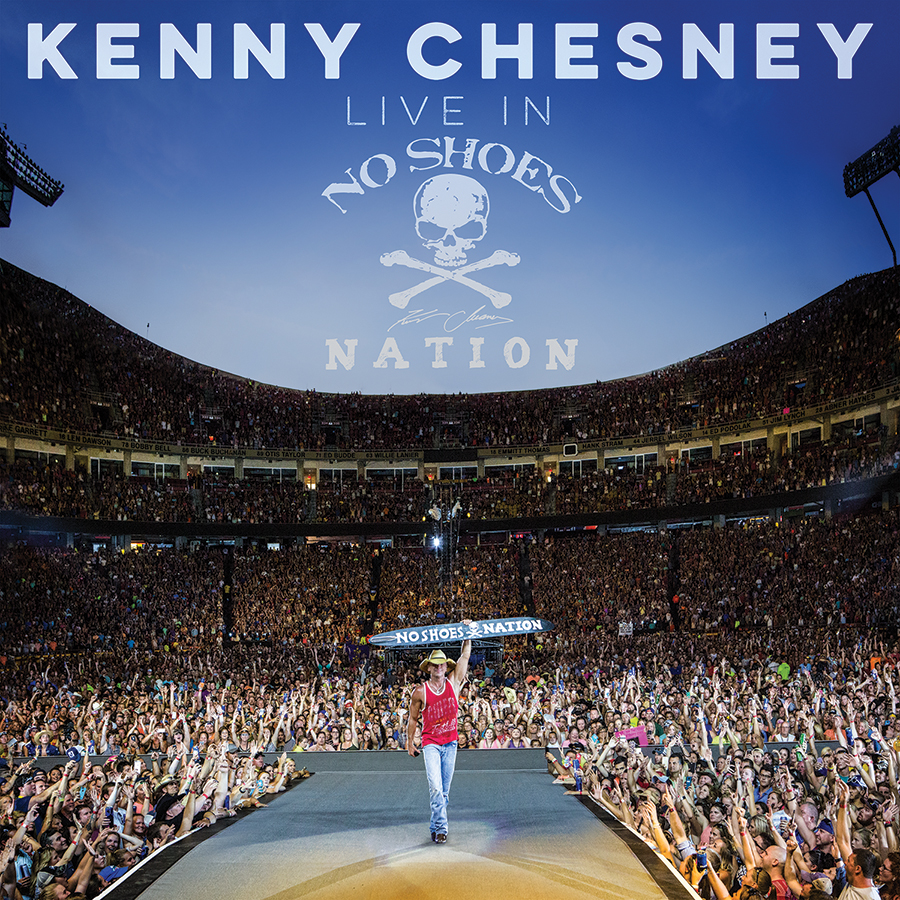 Kenny Chesney Live in No Shoes Nation
The Definitive Document of the Last Decade Hits This Friday
Nashville,
Tenn. — Denver. Asbury Park. Dallas. Atlanta. Tampa. Green Bay. Perdido
Key. Austin. Foxboro. Just some of the places and voices that populate Live in No Shoes Nation, Kenny
Chesney's second live album – and one that documents his rise as the
nation's leading stadium headliner. Beyond the massive stadium shows, LiNSN is laced with intimate performances, special guests and songs that have only been performed a handful of times.
"When we came off the road, I started listening to the last 10 years of
shows," Chesney says of the double disc, 30-song set. "What struck me,
beyond how much the band has evolved, was the passion of No Shoes
Nation! They're the reason for all of this; why we start
rehearsals in January and building sets in the fall, why I give up pasta
and every other thing that I love to eat… we want to be ready when it's
time to hit the stage."
"And
listening to show after show, the one thing that never changes is the
intensity of the fans. I figure if they're as caught up in the moment as
me and the guys are, they have no idea how awesome they sound. So in many ways, this set is about letting them hear what we get to plug into every single night."
Starting
with the medley of Steve Miller's "Space Cowboy" and Bob Marley's
"Three Little Birds" with Dave Matthews at the final show of 2007's Flip Flop Summer,
Chesney has patched a collection that traces the hits, the album cuts
and the friendships he's built over the past few years. Whether it's
playing "Flora-Bama" to a packed beach on the Alabama/Florida state line
or the hushed one-time only "I'm Alive" from a sold-out, three night
stand at Red Rocks, the collection shows the breadth, reach and intimacy
Chesney has created on his way to being the only Country Artist on Billboard's Top 10 Touring Acts of the Last 25 Years.
"We've
made a lot of music, and a lot of friends," Chesney enthuses. "They
come back year after year, tailgate in the parking lot and sing their
lungs out every night for the entire two-hour show. No Shoes Nation
lives these songs, and they remind me in very audible and visual ways
the way songs can burn into your life and hold memories like nothing
else can. Every night when those flickering lights go up during
'Anything But Mine,' it makes me pause. And it's like that with just
about every song I've ever played onstage."
For Chesney, crowned "The King of the Road" by The Wall Street Journal and "The People's Superstar" by the Los Angeles Times,
it has always been the fans who matter. It's why even during a year
off, he made his way to Boston for two shows at Foxboro's Gillette
Stadium, where No Shoes Nation was named.
"I
can't tell you the time spent getting the mixes just right, finding the
best tracks," Chesney marvels. "When I think about why I'm doing Live in No Shoes Nation, and
who's going to be listening; to me, everything on these
recordings needs to feel exactly as it was when we were all out in the
night air loving everything about these songs, being together and being
alive."
"There are a lot of memories made and in the making, and you can feel it all over this."
Kenny Chesney: Live in No Shoes Nation
Street Date: October 27, 2017
Flora – Bama
Summertime
Big Star (with Taylor Swift)
Boston
When I See This Bar (with Eric Church)
No Shoes, No Shirt, No Problems
Anything But Mine
Down The Road (with Mac McAnally)
Guitars And Tiki Bars
Hemingway's Whiskey
Everybody Wants To Go To Heaven (with Zac Brown Band)
I'm Alive
Save It for a Rainy Day (with Old Dominion)
Pirate Flag
Somewhere With You
I Go Back
One Step Up
American Kids
You And Tequila (with Grace Potter)
Young
There Goes My Life
Out Last Night
Dust On The Bottle (with David Lee Murphy)
Coastal
Boys Of Fall
Noise
Old Blue Chair
The Joker / Three Little Birds (with Dave Matthews)
Happy On The Hey Now