Kenny Chesney and songwriters celebrate "Knowing You" at No. 1 party
34th Number One for Kenny Chesney  By Preshias Harris for Country Music News International

Kenny Chesney joined with friends and members of Nashville's music business community to honor the writers of his 34th Number One hit, "Knowing You."
It seems like forever ago, but Number One parties were a regular occurrence in Music City – sometimes several in a month – but concerns for the coronavirus put an end to the festivities.  For those gathered at The Sutler in Nashville on January 25, it felt like a chance to reconnect and celebrate together.
Clay Bradley, Vice President of Creative at BMI Nashville, opened the proceedings saying that Number One parties celebrate the milestones in the lives of songwriters and there would be more such celebrations as the music industry returns to normal.
Released in March 2021 on Blue Chair/Warner Nashville, "Knowing You" was written by Adam James, Brett James and Kat Higgins, and produced by Chesney and Buddy Cannon.  It was the fourth single release from his 2020 album, Here and Now. The song marks the 26th Number One country hit for Brett and a first chart-topper for both Adam and Kat.
"Nobody's ever done country music better than Kenny Chesney, period," said Brett James. Addressing Chesney, he added, "Everybody knows you can't find anybody that has a bad word to say about anything that you and your organization do."
Turning to his co-writers, Brett noted, "I'd never met either one of you until the day we wrote this song. I was completely blown away by your talent, your amazing spirits, your amazing hearts and your love for music. You guys have massive careers ahead of you.  It was such fun to be part of this one. It's such a thrill for me." He added, "We are now all proud members of the People's Republic of Kenny."
Adam James said that he had been looking up to Brett forever, adding, "It turns out our one song was pretty good!" Turning to Kat, Adam stated, "You're so pure in your process and your spirit. When a song enters the room, you just know how to nurture it like nobody else. I'm so excited for you."
Kat responded, saying, "Writing with these guys, then having Kenny Chesney record this song the way that he did, it's what you hope for, what you dream."
Speaking about Entertainer of the Year Awards, Warner Music Nashville head John Esposito remarked that Kenny had "been there, done that" having won both the ACM and CMA Entertainer of the Year Award four times, second only to Garth Brooks.
Number One parties are all about the songwriters rather than the artist who recorded the song. Chesney is never one to hog the spotlight and remained inconspicuously in the audience while the songwriters were feted by the song's publishers and record label executives.  When called to the stage, Chesney noted that "Knowing You" was the first Number One credit for Adam James and Kat Higgins. He recalled his feelings when he achieved his own first chart-topper. Turning to them, he said, "I know the path you had to cut to sit up here."  He added that he was personally proud of them for their success.
Chesney, the songwriters and executives from the label and the music publishers all made a point of recognizing the tenacity and dedication of the promotion team at Warner Music Nashville who never gave up on the song throughout its climb to the top. There was also praise for the official music video of "Knowing You," directed by Shaun Silva.  See the video here: https://www.youtube.com/watch?v=PkrTvtIxUaA.
Chesney thanked the writers of "Knowing You" adding that he will be, "the person who gets up on stage for the rest of his life and sing this song."
More about Kenny Chesney, including new 2022 tour dates, here: https://www.kennychesney.com/home.
About the songwriters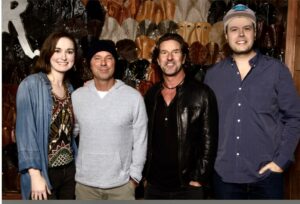 Brett James is best known for co-writing Carrie Underwood's massive hit, "Jesus Take the Wheel," taking the Best Country Song Award at the 2005 Grammy Awards and won Single of the Year at the 2005 ACM Awards. Brett has the unique distinction of quitting medical school at the University of Oklahoma to follow of his dream of a music career in Nashville, waiting tables and going to open mic nights before finding his niche as a hit songwriter.  He has writing credits on numerous Chesney hits including "You Save Me" and "When the Sun Goes Down." Brett James was inducted into the Nashville Songwriters Hall of Fame as part of the Class of 2020.
Kat Higgins, with her own career as a recording artist, grew up singing her family's traditional Irish songs in her home in Vancouver, Canada. She went on to tour as part of The Higgins Family, snagging CCMA nominations for Group of the Year in both 2008 and 2009.  Kat moved to Nashville in 2012 where her writing credits include "Mexico" for Carrie Underwood in addition to "Knowing You."
Adam James grew up near Buffalo, New York, and made his way to Nashville in a circular route. After graduating college with a music degree, he planned to head to Los Angeles. However, he moved south to Atlanta, Georgia, playing guitar, bass and keyboards in rock and R&B bands and beginning the recording of his Firecrackers EP. Moving to Nashville, he won a songwriting competition, signed a publishing deal and continues to perform solo, as a duo (Adam & Aubryn) and in a band (The Firecrackers).  As a songwriter, in addition to "Knowing You," Adam has had songs recorded by Dierks Bentley, Zac Brown Band, The Cadillac Three, Charlie Worsham and Filmore.
Kenny Chesney on stage: Photo: Preshias Harris
(L to R) Kat Higgins, Kenny Chesney, Mark James, Adam James. Photo: Alister Ann.
# # #
Here at Country Music News International we believe in Bluegrass and Country Music. During this difficult time we have to stand together. Almost everyone in the business is being impacted financially. In order to help artists, songwriters, musicians and any related music business like music stores, publicists, record labels, music bars, instrument companies, record studios … keep business moving forward, we are making an unprecedented offer. For more details: https://countrymusicnewsinternational.com/advertise