JESSI COLTER & JAMEY JOHNSON TALK
WAYLON JENNINGS ON THIS WEEKEND'S EDITION OF CMT'S SOUTHERN FRIED FLICKS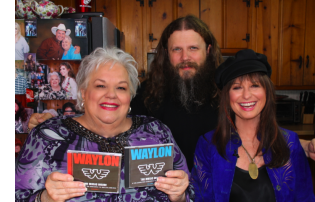 Nashville, Tenn (January 4, 2012) – This Saturday, January 7, on CMT's Southern Fried Flicks, country music matriarch Jessi Colter and modern day outlaw, Jamey Johnson, visit Hazel Smith's kitchen to talk-the-talk in preparation of the upcoming album, The Music Inside: A Collaboration Dedicated to Waylon Jennings, Volume II
.
Over a delicious southern dish, Nashville's favorite TV hostess Hazel Smith invites Colter and Johnson into her kitchen for a chat about one of country music's original outlaws, Waylon Jennings. This weekend's edition of Southern Fried Flicks features the 1984 hit film, Footloose
.
The Music Inside: A Collaboration Dedicated to Waylon Jennings, Volume II
, the second volume in the three-part musical dedication to the late Waylon Jennings, releases from Average Joe's Entertainment in early 2012. Stay logged in to waylonjennings.com for more details and the official album release date, to be announced soon.
Tune in:
CMT – Southern Fried Flicks
CMT – Southern Fried Flicks