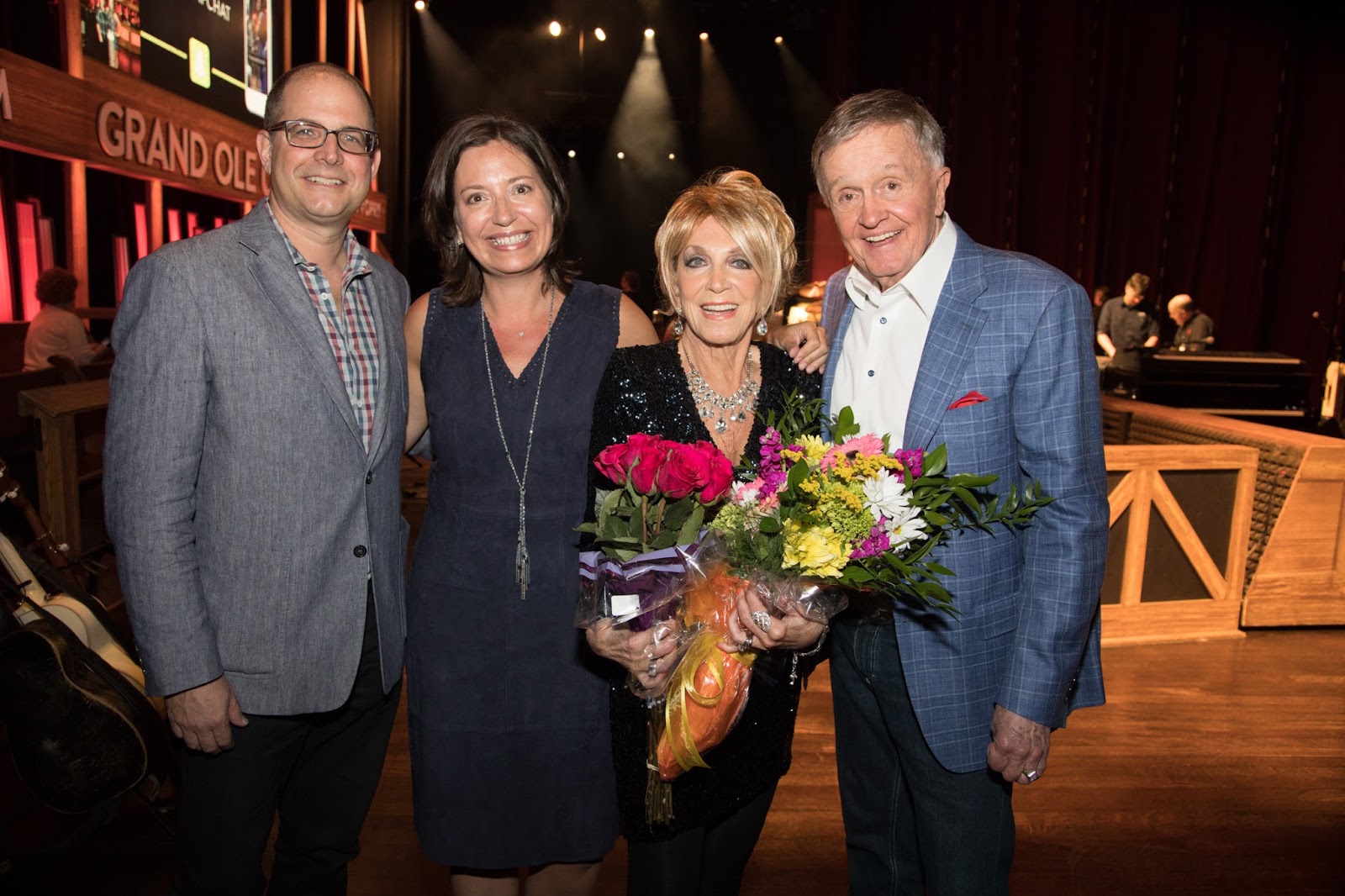 'MISS COUNTRY SOUL' JEANNIE SEELY CELEBRATES 50 YEARS AS A MEMBER OF THE GRAND OLE OPRY
(L-R Michael Guth, Chief Operating Officer,
Opry Entertainment Group, Sally Williams, General Manager, Grand Ole
Opry / Sr. Vice President, Programming & Artist Relations, Opry
Entertainment, Jeannie Seely, Bill Anderson)
Seely Becomes Sixth Woman Ever to Spend 5 Decades As An Opry Member
NASHVILLE, Tenn. – 'Miss
Country Soul' Jeannie Seely celebrates 50 years as a member of the
Grand Ole Opry. Exactly 50 years to the day she was first inducted on
September 16, 1967, Seely performed her Grammy®-winning classic "Don't
Touch Me" and other favorites before being joined on stage by fellow
Opry member Bill Anderson and Opry General Manager Sally Williams to
mark the occasion with gifts and presentations. Seely becomes the sixth
woman in country music history to reach the milestone, joining Minnie
Pearl, Jean Shepard, Wilma Lee Cooper, Loretta Lynn and Connie Smith
with that distinction.
"Jeannie
Seely lives and breathes the Grand Ole Opry," Williams said. "It is an
honor for all of us to celebrate such a talented, dedicated,
trailblazing member of our Opry family. Watching her perform tonight, I
think we can all agree she's just getting started."
"The
Opry has been my life for more than 50 years," said Seely. "I feel so
blessed to be a part of this Opry family, tonight was just the icing on
the cake."
The Pennsylvania-native first saw success with her hit single, "Don't
Touch Me," which won a Grammy Award for "Best Country Vocal Performance
by a Female" in 1966. Along with dozens of accolades, including awards
from Billboard, Cashbox and Record World, Seely has achieved No. 1 songs
as a solo artist, as a duet partner and as a songwriter. Her songs have
been recorded by country legends such as Merle Haggard, Dottie West,
Ernest Tubb and Ray Price.
Most recently Seely released 'Written In Song,' a collection of 14
tracks all co-written or self penned by Seely. Distributed by Smith
Music Group, 'Written In Song' brings back the traditional country sound
that fans have been longing for. Standout tracks include "Leavin' &
Sayin' Goodbye" featuring special guests Kenny and Tess Sears, "Senses"
with guest Connie Smith and Marty Stuart and "We're Still Hangin' In
There Ain't We Jessi" with Jan Howard and Jessi Colter.
For more information, visit JeannieSeely.com or follow her on Facebook.
ABOUT JEANNIE SEELY:
"Miss Country Soul" Jeannie Seely is a GRAMMY® award-winning artist
who has been recording and performing for more than six decades. A
Pennsylvania native, Seely moved to LA where she met many songwriters
including Dottie West who ultimately encouraged her to move to
Nashville. Within a month, Porter Wagoner hired her as the female singer
for his road and television series. On September 16, 1967, Seely's
biggest dream came true when she became the first Pennsylvania native to
become a member of the world famous Grand Ole Opry. Seely subsequently
became the first female to regularly host segments of the weekly Opry
shows. She's also credited for changing the image of female country
performers by being the first to wear a mini-skirt on the Opry stage. On
March 2, 1967, the National Academy of Recording Arts & Sciences
honored Jeannie with the 1966 GRAMMY® Award for the "Best Country Vocal
Performance by a Female." A BMI-awarded songwriter, Seely's songs have
been recorded by Country Music Hall of Fame members Faron Young, Merle
Haggard, Connie Smith, Ray Price, Willie Nelson, Ernest Tubb and Little
Jimmy Dickens, as well as by many other artists including Doyle Lawson,
Lorrie Morgan and Irma Thomas. Along with placing records on the
Billboard country singles chart for 13 consecutive years, Seely also
served as a radio disc jockey on her own Armed Forces Network Show. For
more information, visit jeannieseely.com.
# # #