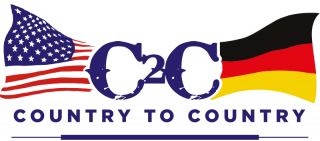 'Introducing Nashville' to join C2C
shows in Berlin and Amsterdam
By Preshias Harris for Country Music News International Magazine & Radio Show
Three of country music's rising stars will
join Brett Eldredge and Hunter Hayes on stage in Berlin. The Country Music Association's new
international artist-focused touring series, Introducing Nashville, will join
the C2C lineup in Berlin and Amsterdam. Lindsay Ell, Lauren Jenkins and Logan
Mize will open the first C2C Berlin at the Verti Arena Berlin with a mainstage
performance on Saturday, March 2 and follow up with a performance as part of
C2C Amsterdam at AFAS Amsterdam on Monday, March 4. Headlining the show at the Berlin Verti Music
Hall will be Brett Eldredge and Hunter Hayes. (On Sunday, March 3, Keith Urban,
Cam, Drake White and the Big Fire will appear at the Berlin Verti.) Tickets for C2C Berlin and C2C Amsterdam
dates are available https://c2c-countrytocountry.com
Following the stops
in Germany and the Netherlands, a second Introducing Nashville lineup will
visit multiple cities in Australia, as well as Auckland, New Zealand and Tokyo,
Japan.
In an effort to support CMA's mission of
expanding Country Music worldwide, Introducing Nashville provides a platform to
introduce artists to new audiences around the globe. The touring series brings
the unique Nashville-style songwriter's round to each city, with artists
appearing on stage together in an acoustic lineup, introducing their songs and
sharing highlights of their careers and personal stories. Introducing Nashville
builds on the remarkable response CMA has seen with artists presented alongside
hit songwriters during international tours of the CMA Songwriters Series.