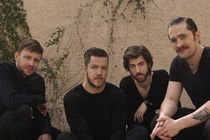 Imagine Dragons mit neuem Video zur Single "Natural" ++ Live beim Lollapalooza Berlin
Nur wenige Wochen nach ihrer gemeinsamen Single "Born To Be Yours" mit Kygo präsentieren Imagine Dragons jetzt ihre neue Single + Video "Natural". Anders als noch bei "Born To Be Yours",
das von einem kygo-typisch warmen EDM-Teppich getragen wurde, bieten
die Rocker aus Las Vegas mit den stakkatohaften Gitarrenläufen, dem
schroffem Drumming und dramatischen Chören in "Natural" eine moderne Rocknummer der Königsklasse.

Das Video zu "Natural" gibt es hier

Für ihr aktuelles Album "Evolve" wurden Imagine Dragons mit Gold sowie Platin für die Single "Believer"ausgezeichnet und erhielten zudem Doppelplatin für "Thunder" und Gold für "Whatever It Takes"!Im September kehren Imagine Dragons zurück nach Deutschland und werden beim Lollapalooza live auf der Bühne stehen.