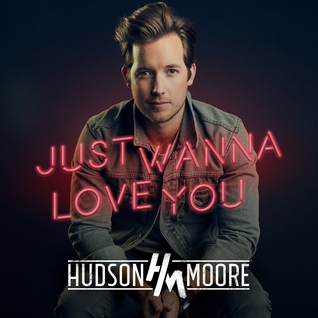 HUDSON MOORE ANNOUNCES FALL
"JUST WANNA LOVE YOU TOUR"
Nashville, TN—September 13, 2017—
Today, Country guitar slinger, songwriter and
multi-instrumentalist Hudson Moore premiered the new video for his
latest single "Just Wanna Love You", watch HERE.
Stream/Buy "Just Wanna Love You" HERE.
"We
had a blast shooting this video! This was the first time for my wife,
Sarah, to make an appearance in one of my music videos, so that was
really fun for us," Moore tells Taste Of Country. "She was six
months pregnant when we filmed it, so it captures a very special time
in our lives. We're excited to able to show it to our little girl,
Hadley, one day and say 'you were there for this!'"
A
multifaceted artist, musician, songwriter and producer, Moore solely
penned "Just Wanna Love You" and served as co-producer alongside
Austin-based producer Dwight Baker (Kelly Clarkson, Brandi
Carlisle, Josh Abbott Band and Blue October). The song has
already become a fan favorite, amassing over 800,000 views on YouTube of
the audio alone and nearly half a million streams on Spotify in just 8
weeks.
The
track has a catchy hook that immediately pulls the listener in, layered
in Moore's velvety, soulful vocals and sultry lyrics. "Just Wanna Love
You" has a feel-good vibe that sticks and won't let go. The inspiration
behind this song is his beautiful wife Sarah, who makes a special
appearance in the video as his love interest.
Earlier
this week, Moore announced his fall "Just Wanna Love You Tour" that
kicks off on On October 5 in St. Louis, MO. The tour will be making
stops from Denver to the Carolinas. Tickets are on sale now and include
special VIP and Meet and Greet options.
"JUST WANNA LOVE YOU" Tour Dates:
10/5 – St. Louis, MO // VIP
10/7 – Denver, CO // VIP
10/11 – Lubbock, TX // VIP
10/12- Amarillo, TX // VIP
10/13- Fort Worth, TX // VIP
10/14- Rockport, TX // VIP
10/19- Raleigh, NC // VIP
10/20- Charlotte, NC // VIP
10/21- Columbia, SC // VIP
11/2- Austin, TX // VIP
11/3- Ardmore, OK // VIP
11/14- College Station, TX // VIP
12/1- Dallas, TX // VIP
12/2- San Antonio, TX // VIP
12/7- Midland, TX // VIP
About Hudson Moore:
Without
the support of a major label, the rising star has independently
garnered over 4 MILLION streams on Spotify, over 8 MILLION YouTube views
and has also caught the attention of revered publications like Southernliving.com, Fender, Hollywood Life, Nash Country Daily, Taste of Country, The Boot, AXS, One Country, and more. Moore recently signed with APA Agency in Nashville. This Fall, he will hit the road on his own headlining dates for his "Just Wanna Love You Tour", kicking off October 5 in St. Louis, MO.
# # #