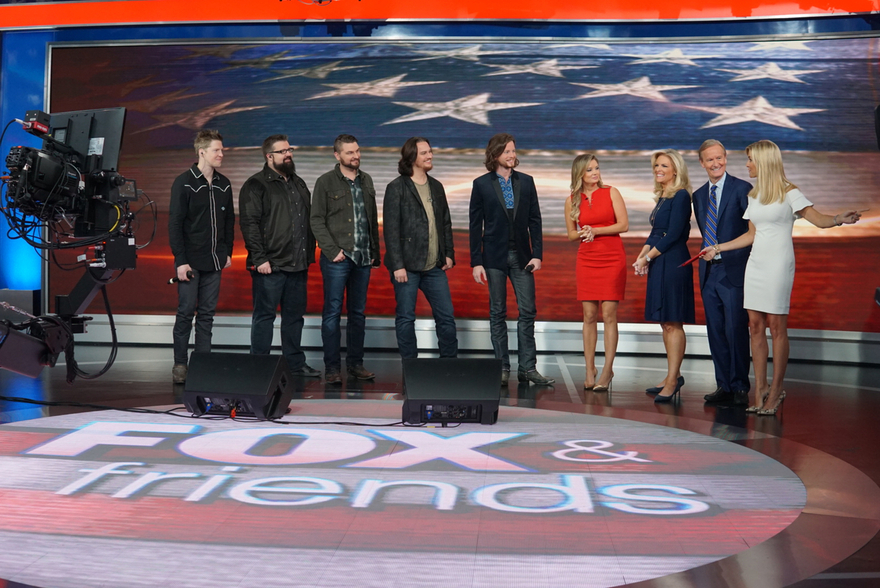 HOME FREE HEADS FULL-FORCE INTO TIMELESS RELEASE WEEK WITH FOX & FRIENDS PERFORMANCE
Hotly-Anticipated Album Available NOW
Excitement Amping Up For Homecoming Celebrations In Minneapolis And Nashville
Photo Credit: Olena Lysenko
Pictured (L-R): HOME FREE's Adam Rupp, Rob Lundquist, Adam Chance, Tim Foust, and Austin Brown; Fox & Friends' Jillian Mele, Janice Dean, Steve Doocy, and Ainsley Earhardt.
NASHVILLE, Tenn. (September 22, 2017) – All-vocal Country knockouts HOME FREE left their mark at Fox & Friends this morning (9/22) with booming bass and Country roots, officially launching their everlasting new album TIMELESS (out today, 9/22).
The band chatted with hosts Ainsley Earhardt, Brian Kilmeade, and Steve Doocy about the just-released project– their fourth on Columbia Records– and performed their Blake Shelton-approved take on his #1 hit "Hillbilly Bone." They also treated audiences to benefit single "God Blessed Texas" on FOX's After the Show Show.
Proceeds from the song support ongoing disaster relief efforts in and
around Beaumont, TX – bassist Tim Foust's home town – as the area
rebuilds following Hurricane Harvey. The group has already raised nearly
$79,000 for the cause.
In case you missed it, watch Home Free perform "Hillbilly Bone" and "God Blessed Texas" on Fox & Friends.
"Country music fans' favorite a cappella group" (Taste of Country) stopped by Facebook HQ in New York City Thursday (9/21) for a live Q&A session and a playful game deemed "How Well Do We Know Our Bandmates," answering fans' burning questions about one another.
The quintet will continue bringing TIMELESS
to the masses with two homecoming release shows, the first being a SOLD
OUT performance at the Pantages Theatre in Minneapolis Saturday (9/23)
followed by a stop at the CMA Theater in Nashville Monday night (9/25).
Additional tickets were just released and can be purchased at the CMA
Theater website. They'll be documenting Monday's show on @CMA Instagram stories.
The
celebration concerts will bookend a national anthem performance Sunday
(9/24) ahead of the Minnesota Vikings/Tampa Bay Buccaneers face-off at
U.S. Bank Stadium in Minneapolis. Fans can tune in to Home Free's
Facebook page to catch the musical action (1:00 p.m. ET) and follow
along as they take over HollywoodLife.com Snapchat (Hollywoodlifers) for the day.
For tour dates and more information on Home Free, visit www.homefreemusic.com.
Follow Home Free on Facebook, Instagram, Twitter and YouTube.
About Home Free:
Since being crowned NBC's The Sing-Off
victors, all-vocal quintet Home Free has made their mark on the music
scene selling more than 250,000 copies combined of their popular albums,
embarking on four major national tours and amassing over 178 million
YouTube views. In 2016, FULL OF (EVEN MORE) CHEER – an expanded version of their popular holiday album, FULL OF CHEER
– debuted at #2 on Billboard's Top Country Albums chart, cementing the
band as Country music's top all-vocal entertainers. The release of their
third studio album, COUNTRY EVOLUTION, elevated the band "from auxiliary entertainment to headlining attraction" (Times Leader)
and hit #4 on Billboard's Top Country Albums chart. Produced by Darren
Rust, the deluxe version includes five originals and nine new renditions
of hit songs that showcase the band's undeniable talents, tight
harmonies and intelligent arrangements that are uniquely their own. Home
Free's breakout debut album CRAZY LIFE (2014) hit #1 on iTunes Country chart and #4 overall. Their latest project TIMELESS
hit shelves September 22. Founded in 2000 during collegiate years, the
five-man band from Minnesota has been electrifying crowds with their
live show for nearly a decade, performing together for packed audiences
at major festivals, fairs, colleges and theatres. Their extensive
touring and reputation as extraordinary showmen has built a loyal
fanbase while bringing their homegrown Country style into the national
spotlight.
###