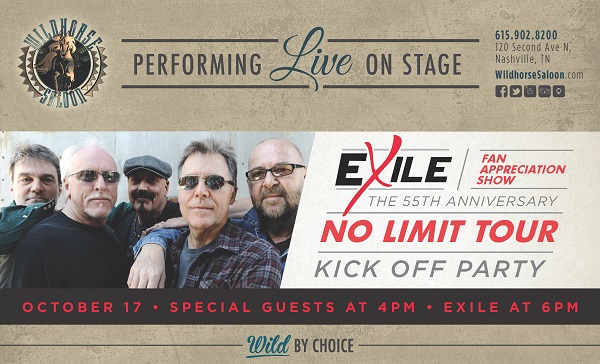 EXILE ANNOUNCES FAN APPRECIATION CONCERT AT WILDHORSE SALOON
Fans Can Catch EXILE Perform With Special Guests October 17
NASHVILLE, Tenn.
– Pop/Country crossover hitmakers, EXILE, announce a fan appreciation
concert at the Wildhorse Saloon October 17. Soon-to- be announced
special guests will help the band kick off the road to their 55th
anniversary "No Limit Tour" in 2018. Partnering with WSM-AM for the free
show, Exile is set to perform at 6 p.m CT with special guests starting
at 4 p.m. CT.
For more information on Exile's fan appreciation concert, visit WildhorseSaloon.com
2018 will be the 55th anniversary for the band, which formed in
Richmond, KY. Since beginning in 1963 the band has had No. 1 hits on
both the pop and country charts, achieving ten No. 1 hits on the country
chart.
Today, The Kentucky Music Hall of Fame members continue to tour
performing their greatest hits, fan-favorite on-the-road songs from over
the years, and this past December the band released their first
Christmas album, "Wrapped Up In Your Arms For Christmas."
For more information on Exile visit Exile.biz or follow them on Facebook and Twitter.
About EXILE:
EXILE formed in 1963 looking to play small clubs in Richmond,
Kentucky, but managed to top both the pop and country charts during
their over 50 year-long career. Their most successful hit, "Kiss You All
Over," spent four weeks at the top of Billboard's pop chart in 1978. In
the early 1980's EXILE start to focus on country music. During their
run on the country charts EXILE has successfully had ten No. 1 singles
including "I Don't Want To Be A Memory" and "Give Me One More Chance."
They have toured with acts including Aerosmith, Fleetwood Mac, The Oak
Ridge Boys, The Gatlin Brothers and The Judds. The 5 original EXILE
members reformed in 2008 and continue to tour today. Current members of
the band include J.P. Pennington, Les Taylor, Sonny LeMaire, Marlon
Hargis and Steve Goetzman.