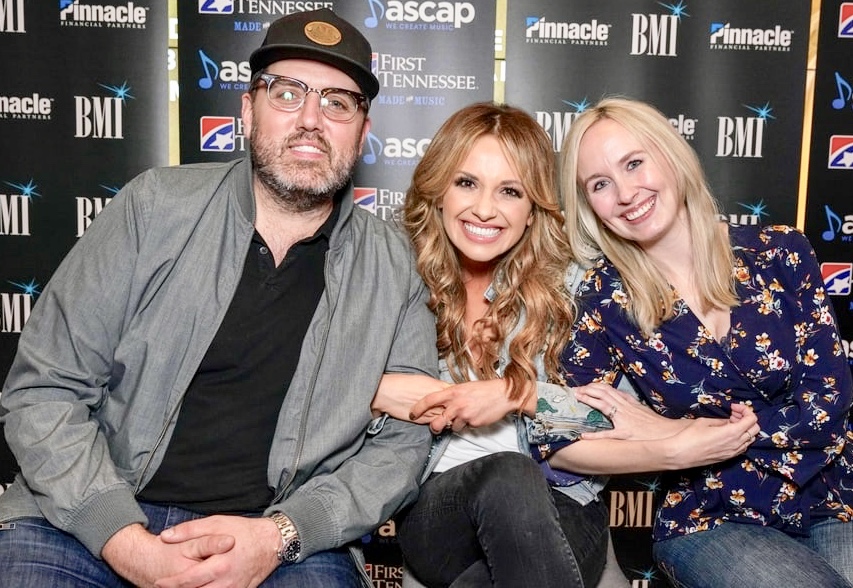 'Every Little
Thing' first Number One for Carly Pearce
By Preshias Harris for Country Music News International Magazine & Radio Show
It was a Number One in more ways than one,
Monday afternoon, when Nashville's music community came out to celebrate the
success of Carly Pearce's 'Every Little Thing' (Big Machine Records). The Number One party, co-hosted by ASCAP and
BMI was held at the CMA's headquarters on Music Row, to honor Carly and her
co-writers, Emily Shackelton and busbee.
The party celebrated 'Every Little Thing'
reaching Number One on Mediabase and Billboard's Country Airplay chart. Not only was it Carly's first No. 1 single,
it was also the first No. 1 for one of her co-writers, Emily Shackelton.
busbee, who also produced the song, is a music industry veteran with a string
of hits both as a songwriter and producer.
Carly's whole life, she told us, has
focused on music. She was speaking at a media session before the awards
presentation. "I dreamed about being on stage since I was nine years old," she
said.
"I'm an only child, and my parents have
always supported my dreams," Carly said. When she was sixteen, her family
relocated to East Tennessee so she could follow her dream by finding work at
Dollywood, the entertainment complex and theme park owned by Dolly Parton. On
moving to Nashville, she had to find ways to support herself, often with menial
jobs such as cleaning Air B&Bs. She said that her parents' support and
encouragement kept her going, even when she became disheartened and didn't feel
she could go on.
It's been a long journey from those days in
her mid-teens at Dollywood to standing on a stage, holding an award for a
Number One hit song. There have been ups and downs in her career, but "I
wouldn't change anything about my personal journey in the industry," she said.
"I had to figure out who I was as an artist. I'm glad this didn't happen when I
was twenty-one. I wouldn't have appreciated it as much as I do now."
Speaking about this special occasion, Carly
revealed, "I've dreamt of what it would be like to have a No. 1 song since I
moved to Nashville," She continued, "If I am living proof of anything, it's
that one song can change everything. I have experienced that with my peers over
the years and have listened to the stories behind the songs that changed other
people's lives." She added that, at the time she recorded 'Every Little Thing' she
had no idea that was going to be the song that changed her life.
Carly was scheduled to appear at The Grand
Ole Opry the next evening. I asked her if it will be different this time, with
a GOLD-certified single to her credit.
"I'm nearing my 50th Opry performance," she
said. "The Opry has always showed me support, even when I didn't have a record
deal or a publishing deal [and] I had nothing going on. It's a special time
every time I step on the Opry stage."
Carly added, "I dream of being an Opry
member one day."
The song's co-writer and producer, busbee,
has written or produced songs for artists such as Christina Aguilera, Tony
Braxton, Adam Lambert, Lady Antebellum and Gwen Stefani. I asked Carly what it
was like working with busbee. Carly said that, when she first met him, she
thought, "he's more pop and I'm country. I'm not sure he's going to 'get'
me." However, she soon realized that it
was a great working relationship. "It was amazing," she said. "Like it was
meant to be."
Carly was asked how she found out she had
been nominated for an ACM award in the 'New Female Vocalist of the Year'
category. She said she was in-flight on a plane when she received the news.
"It's hard to explain my feelings," she said. "I just screamed!" She said that
she used to sit on a her couch, watching the show and dream of being nominated
one day. Even if she does not win,
"Being recognized in an honor on its own," she emphasized.
Carly also talked about her experiences as
part of Blake Shelton's 'Country Music Freaks Tour' with Trace Adkins and Brett
Eldridge. She said that Blake and Gwen Stefani were so kind to her. "Gwen is
the most 'down to earth' person I've ever met, even though she's a megastar,"
Carly recalled. However, she admitted she was 'too scared' to ask Stefani for
any fashion tips!
Asked what she learned from the tour, Carly
said, "I'm stronger than I think I am. I can go with less hours sleep than I
thought I could!" She added that she learned
a lot just from watching Blake Shelton and Trace Adkins. "They know how to 'work' an audience," she
said.
Carly is a true 'country' girl, born and
raised in the small town of Taylor Mill in northeastern Kentucky, and is 'pure
country' to her soul. Her next single, 'Hide the Wine,' is already climbing
Billboard's Country Airplay chart. More
at https://www.carlypearce.com and
follow her on Facebook and Twitter.
·
Co-writer Emily Shackelton, a
native of Biwabik, Minnesota, is signed to Liz Rose Music/Warner-Chappell
publishing in Nashville. In addition to 'Every Little Thing,' her first No. 1,
her songs have been recorded by Wynona Judd, Sara Evans, Cassadee Pope and
X-Factor winner Tate Stevens, among others.
# #
#
PHOTOS:
Photo 1: [left to right]: busbee, Carly
Pearce and Emily Shackelton celebrate at Number One party Monday 19 March.
Photo credit: Ed Rode
Photo 2: Carly Pearce in front of the
'Country Forever' wall at the CMA Offices on Music Row. Photo Credit: Preshias
Harris