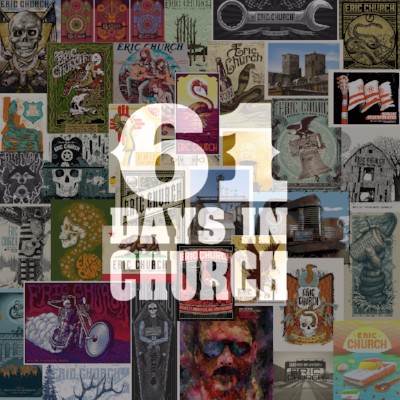 ERIC CHURCH'S 61 DAYS IN CHURCH CONTINUES: NEXT 30 SONGS RELEASED TODAY
New Set of Live Recordings From Holdin' My Own Tour Goes Exclusively to Apple Music; Total of 100+ songs to be Released Throughout the Year
NASHVILLE,
Tenn. – From the tour that brought fans more than 200 hours of music
across 61 dates in the form of double-set, 3+ hour shows sans-opener,
Eric Church releases the next 30 live recordings of his 61 Days in Church. Having delivered the first 30 Holdin' My Own Tour
live recordings on September 1, Church plans to continue subsequent
releases throughout the year in chronological order of the tour to
complete a total of more than 100 tracks.
The man Rolling Stone Magazine deems "the most consistently engaging live arena act in country music," Church's 61 Days in Church includes
a variety of catalogue cuts and singles as well as cover songs inspired
by each tour stop. The wide assortment of tracks in the collection are a
reflection of Church's version of, as he told Billboard, "calling an audible," and making a decision on fresh songs for each stop upon arrival.
The 61 Days in Church
recordings will initially be released only on the Apple Music platform
for a two-week period before being made available on all streaming
services.
Unique,
individual tour posters from each tour stop serve as the artwork for
each of the songs' releases. Physical release of the music will be
released soon to meet fans' demand for the full collection.
The 30 songs released today include the following tracks performed at different cities:
Like a Wrecking Ball
Two Pink Lines
Mixed Drinks About Feelings (featuring Joanna Cotten)
Lotta Boot Left To Fill
Over When It's Over (featuring Joanna Cotten)
Ain't Killed Me Yet
Sinners Like Me
The Ballad of Curtis Loew
Record Year
Knives of New Orleans
Without You Here
The Weight (featuring Joanna Cotten)
Three Year Old
Dark Side
Cold One
Homeboy
Jack Daniels
How 'Bout You
That's Damn Rock & Roll (featuring Joanna Cotten)
Before She Does
Where She Told Me To Go
Country Music Jesus
Round Here Buzz
Screw You, We're From Texas (featuring Ray Wylie Hubbard)
Lightning (Acoustic)
Longer Gone
Faster Than My Angels Can Fly
Oh Atlanta (featuring Joanna Cotten)
Talladega
The World Needs A Drink
Kill A Word (featuring Joanna Cotten)
Memphis Medley (How I Got To Memphis/Walking in Memphis)
The Hard Way
Ophelia
Livin' Part of Life
My Town
Creepin'
Ramblin' Gamblin' Man
Pledge Allegiance to the Hag
Up on Cripple Creek
Like Jesus Does (featuring Joanna Cotten)
Don't Do It
Young and Wild
The Night They Drove Old Dixie Down
Hell on the Heart
The Shape I'm In
Mr. Misunderstood
Get Up Jake
Chattanooga Lucy (featuring Joanna Cotten)
Sundown
Smoke A Little Smoke (Acoustic)
Alberta
Drink In My Hand
It Makes No Difference
I'm Gettin' Stoned
Portland, Oregon (featuring Joanna Cotten)
Can't Take It With You
Jolene
Better Man
Church's Holdin' My Own Tour sold 930,000 tickets at the end of its run notching his as the top music tour in the first quarter of 2017 (Pollstar), but as Dave Brooks (Billboard Magazine)
noted, "Fans will remember that tour by another metric: the marathon
three-and- a-half hours Church played nightly as he crisscrossed the
United States and Canada."
Information on 61 Days in Church can be found here: ericchurch.com/sixtyonedaysinchurch
Fans can catch a different show from Church as he continues touring throughout 2017. Find tour dates here: https://www.ericchurch.com/events