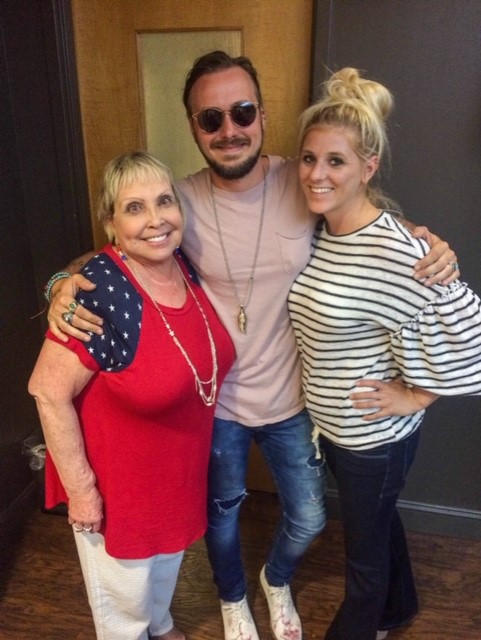 Elvie Shane's "My Boy" most added at Country radio
His love of stepson captures No. 1 spot on TikTok with #MyBoy
By Preshias Harris for Country Music News International Magazine & Radio Show
Elvie Shane knows just how much dedication
and hard work (and patience!) it takes to see one of your songs eventually
begin to climb the charts.  The Billboard
Country Airplay chart for October 16 shows Elvie's "My Boy" jumping in at No.
56.  The song also tops Billboard's
"Most Added" chart that lists the songs added to the playlists of Country Radio
stations nationwide. For six weeks straight, Elvie has performed roughly five
full-band shows per day—miraculously maintaining his stamina, gaining believers
and setting the bar high for future newcomers.
The song also leapt to No. 1 on TikTok's
Country chart with well over 775 million uses of #MyBoy and more than 1.5
million streams in the USA alone.
This achievement is no overnight success –
either for "My Boy" or for Elvie himself.
Growing up in rural Caneyville, KY, Elvie absorbed influences from the
Gospel music of his church and the gritty rock music favored by his
truck-driving dad. He credits a professor at Western Kentucky University for
encouraging him to develop his creative writing, but, much as he enjoyed
listening to music it wasn't an immediate career choice, particularly as he
devoted his attention to providing for his wife and stepson. After he watched
the now-famous Chris Stapleton/Justin Timberlake duet at the 2015 CMA Awards,
he saw that his voice and personal style of songwriting might find an outlet in
country music.  He started performing
anywhere he could find a mic.
Matt Cooper, one of my 'kids' (as I call my
clients) is responsible for me meeting Elvie. Matt said, "Hey Momma P, there is
a guy we've been playing with up at Somerset, Kentucky, and he's one of the
best singers I ever heard. He needs you to watch out for him, because he's
going to be big. His name is Elvie Shane."
I was immediately struck by his unique talent and (equally important) by
his unshakable work ethic and determination. He soon became one of my 'kids'
and I was able to connect him with other writers while helping him steer clear
of some of the pitfalls that can derail a music career before it even starts.
His appearance on the 2016 season of American Idol opened him up to a
national audience.
In 2018, he self-released "My Boy"
(co-written with Russell Sutton, Lee Starr and Nick Columbia) about Elvie's
stepson. The heartfelt song and Elvie's honest rendition immediately got
through to listeners with lyrics such as these:
He ain't my blood, ain't got my name/
But if he did I'd feel the same/ I wasn't there for his first steps/ But I
ain't missed a ball game yet/ And that ain't ever gonna change/ I could never
walk away." 
The video of his performance quickly racked
up six million views, leading to a publishing deal with Rome Phrey Publishing.
It was this song that drew the attention of Broken Bow Records and, in early
2019, BBR signed him to the label.
A personal note:one day, Elvie had called me and asked me to have lunch with him.
As we set out he turned to me and said that it wasn't exactly a lunch date. He
then told me he was on his way to BBR to sign his record deal and he wanted me
to be there with him.  It was a very
emotional moment for me. My heart swelled with happiness to see the culmination
of his hard work and determination as Elvie and the BBR execs signed the record
deal.
When the Coronavirus pandemic hit in the
spring of 2020, song promotion was just one of the aspects of the music
business that was put on hold. As Tom Roland reported in Billboard
Country Update (Oct 12, 2020), country radio adopted a "safer posture," during
the early months of the pandemic, playing big hits from the recent past and fun
records from established stars, making it hard to 'break' new artists.
But now labels are finding new ways to get
emerging artists in front of radio programmers, and BBR's promotion team are
proving that with Elvie's "My Boy" being added to more radio playlists every
day.
BBR/Wheelhouse hooked Elvie into a six-week
virtual radio tour, proving in-person radio tours aren't the only way to go. BBR
Music Group reimagined the traditional radio tour with an innovative approach
involving customized, high-quality live-streamed, full-band performances and
video chats, which deliver extraordinary experiences for the viewer. This will
likely become the model of radio tours for the foreseeable future. With the
increased radio exposure, #MyBoy sparked a massive jump in TikTok videos too.
Elvie joined an impressive roster of
artists at BBR that includes headliners such as Jason Aldean, Dustin Lynch,
Chase Rice, Craig Morgan, Jimmie Allen, Lindsay Ell, Kid Rock, Blanco Brown,
LOCASH, Runaway June, Billy Ray Cyrus and more.
In a story about Elvie posted by MusicRow,
Jon Loba, EVP BBR Music Group said, "The first time I heard 'My Boy' it had me
and our SVP of Promotion, Carson James in tears and it garnered the same
reaction from many people throughout the building. As we dug in deeper from
there, we got to know Elvie as an accomplished writer and storyteller."
As Elvie's story demonstrates, talent is
only the beginning.  Success means taking
the long view: refining songwriting and vocal skills, networking, getting 'out
there,' taking advantage of down time (such as the pandemic), understanding
setbacks are inevitable and part of the journey, and being fully prepared to
grasp the opportunity when it presents itself.
BBR Music Group/Wheelhouse Records artist
Elvie Shane is managed by Maverick, booked by United Talent Agency and is
signed to Nashville based Rome Phrey Publishing. For more information, visit
his website https://www.elvieshane.com/
Photo credits:
[group shot] Preshias Harris, Elvie Shane and Elvie's wife Mandi. Photo credit: Catrina Engelby
[performance photos] Elvie Shane performing at CMA Fest, 2019.  Photo credit: Catrina Engelby
# # #