THE WISE & WONDERFUL WORLD OF EILEEN CAREY
Eileen Carey's "That
Town" Summer Tour 2018
(Photo: Eileen
Carey Outside the Hanger Stage, OC Fair, August 2018)
Eileen Carey has
spent a lifetime proving them wrong. Another winning awards, having chart
successes and repeat engagements from Nashville to her longtime home in
Altadena, California, the Foothills of Pasadena, the seat of education and
culture on the east side of Los Angeles. Told it was too late, music too
positive and that women artists have a hard time competing with the men, she
has never backed down, and has created her own vivid brand independently. Her rise comes amidst, or arguably as a contributing
part of, the growing current Country and Americana music movement in
California. She herself pioneered a California Country-Pop in Southern
California since the late nineties, a time when few would see the region as
Country music fertile.
When asked about
what it was and is still true for women musicians, she offers the real time sober
assessment that a person needs to have faith in themselves and keep reaching
for whatever it is in life that you want to attain. In fact, one of her hit
songs is titled "Faith," that she describes as personal favorite tune she has
written or sung. Carey also known as The Music Mom, for a blog she writes for
parents who are also entertainers and musicians. Giving back and paying forward
is part of Eileen's nature.

It has been said that "Carey's songs (like
"That Town," "Good Bad Girl," "In The Air" "Bottle Your Crazy Up," "Bring on
the big" and "Faith") display a particular genius for zeroing in on moments
that give life its tension and flavor."Eileen credits such Pop acts as
Martha Davis, Chrissie Hynde and Bruno Mars as influences in her music, as well
as some of past and present Country artists like Patsy Cline and Keith Urban
for her the width of her music genre-wise.
As one reviewer put it,"Eileen Carey
is an original. Country, Pop, Rock, her music blends all three styles together
in a way that feels uniquely hers," and anotherpundit described her music as"Carey—a little bit
cosmopolitan, a little bit country, a true musical chameleon, blending pop and
rock and country influences with ease. Fans have recognized Carey's
star-quality for years, but now the critics are starting to take notice as
well". – (ElmoreMagazine.com)" 2017
(Photo: Eileen Carey,
sharing the stage with Willie Nelson's granddaughter Raelyn at the Whisky A Go
Go in Los Angeles, July 6, 2018)
This summer's 2018
Southern California – Nashville Region Tour saw Carey's fan base quadruple in
size opening and sharing the stage with iconic artists like Rita Coolidge,
Johnny Rivers, The Raelyn Nelson Band; Classic Rock acts like Jefferson
Starship, Nelson (Ricky's twins), Peter Noone (Henry the 8th I Am);
and her regular season fair and festival circuit
"My fifth straight
year playing the OC Fair," says the singer-songwriter. She laughs and offers
that her opening for Jefferson Starship at the Rose, was her fifth appearance
there in 18 months as well. "It is nice to be wanted back, and that my fans and
friends don't seem to tire of my show."
Pasadena Weekly Arts
& Entertainment Editor Carl Kozlowski, in a cover story on the actress
turned singer-songwriter, specifically notes the enthusiasm of her fans during
a show in 2017, "Her opening slot for
pop singer Tal Bachman at The Rose nightclub in Pasadena appeared to draw far
more fans than Bachman himself managed to attract, with the crowd of about 200
loudly roaring their approval in multiple standing ovations."
(Photo: Eileen Carey
opening for the legendary Rita Coolidge at the Rose, Pasadena, California. July
14, 2018)
Eileen, as down to
earth as she is, lights up a stage, a room, a studio, as well as a convention
center, as she has done so many times in her career. When you can get her to
talk about her acting career, she will tell you that it was almost an accident
that she found roles in Basic Instincts, Hoffa, Original Batman and even the
attorney role in the Ray Charles Super Bowl Diet Pepsi commercials. "When I got
my first role I had just got here from Cleveland, Ohio where I was born and
raised; and is what my current single "That Town" is about. You know, leaving
home, taking a chance on more than where you would be if you stayed home, and
in your comfort zone. The music video of "That Town" should be out any day
now."
""That Town"is an upbeat, bittersweet acknowledgment of
the fact that most of us finally reach the point when we have to move on
from the comfort of what we know to the excitement of what we can only
anticipate. The vibe of the video is young college students escaping the
trappings of their hometowns and coming the bright lights, and big city of
Hollywood, to a backyard pool setting, known as the garden of opportunity,"-
Eileen Carey
Carey is a bundle of
energy. Her songs are up-tempo and driven by a ferocious vocal reach that makes
her well-crafted songs take on lives of their own. Her stage presence reverberates
with her between-song laughter to the story of the song about to be performed.
You can tell that she loves being up on that stage. "My songs are little films,
that is why I so enjoy the making of the music videos," she further says.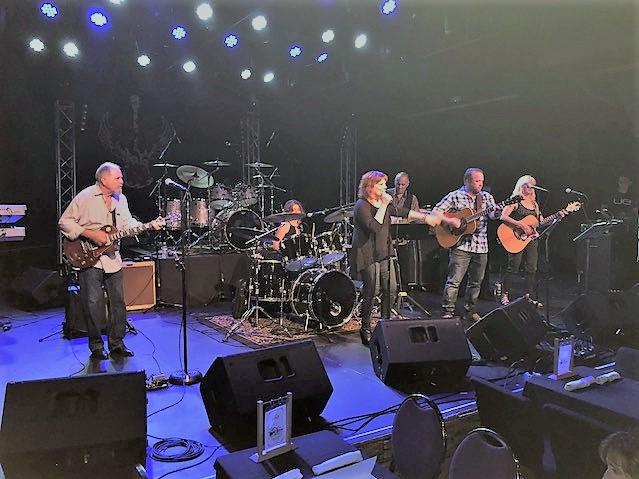 (Photo: Eileen Carey opening for Jefferson
Starship on the 18th of this August)
There are changes
coming for the songstress; her longtime producer Travis Allen of Nashville
tracks, is moving his business to Nashville from the Southern California he has
helped move toward the Nashville sound." I have been back and forth to
Nashville for years so his move doesn't overly impact my next music. I am going
into the studio in Nashville on the 9th of next month (September).
Going to do a few radio station visits. Sing the next single.
"I have been playing
the honkytonks of Nashville for years. Had a great night recently at The Slider
House in Nashville, and put on a last night in Nashville special for my friends
there at Rippys. I opened my summer tour there in May,"
Named Los
Angeles Music Awards "Live
Country Performer" in 2017. In 2018 New Music Weekly voted Eileen its "Breakthrough Country Artist of the
Year" which followed her 2017 crowning of their "Crossover Artist of the
Year." In April 2018 Eileen
was awarded "Country
Female Solo Artist of the Year" by the Las Vegas Producers
Choice Honors event held at the Hard Rock in Las Vegas.
(Photo: Eileen Carey
being awarded"Country Female Solo Artist of the
Year" by the
Las Vegas Producers Choice Honors event held at the Hard Rock in Las Vegas)
Kick-boxing, animal
rescue, blogging to parents Eileen Carey is unique in so many ways it is hard
to pick out a few of her interesting interests and habits, but In all the years
I have been in the music business I have never seen an artist roll up and toss
out her swag for the crowd with such consistency and glee. Carey is one of a
kind, and the growth of her following nationally reverberates for women, and
indie musicians across the country.
You can catch Eileen
at the House of Blues in San Diego in October, and at the Avalon in Hollywood
on the 5th and 6th of December, her second year in a row
playing the Sync Summit. Her "That Town" music video will be released in
September after her return from Nashville, and her next single is planned for
the end of September.
OTHER RELATED PIECES:
Eileen Carey Interview in the Huffington Post!
http://www.huffingtonpost.com/entry/590a77a1e4b03b105b44bf33
Eileen Carey Cover Story in the Pasadena Weekly
https://www.pasadenaweekly.com/2017/02/16/breaking-big/
You can visit Eileen Carey at:
www.facebook.com/eileencareyofficial
www.reverbnation.com/eileencarey