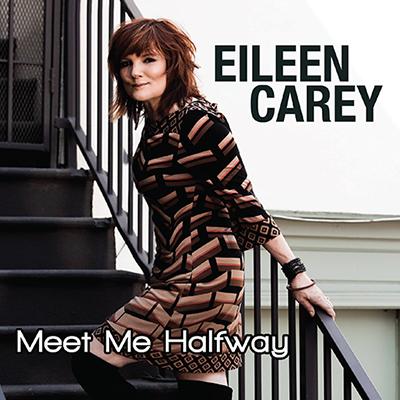 Eileen Carey Talks Sense in a World Distracted by
Technology in New Single Meet Me Halfway
(Announces August 2019 Dates at the OC Fair and The Rose in Pasadena, CA),
Music Video Drops, July 8th.
In a long line of radio hits, "That Town, Faith, Good Bad Girl, In the
Air," "Bottle Your Crazy Up and "Bring on the big," Eileen Carey's last
single "Anything That Reminds Me of
You" reached the top rung on the New Music Weekly's Radio Charts
earlier this spring, earning Eileen Carey a near permanent residence on their
radio charts, and the title of AC/Hot AC Breakthrough Artist of 2019, a
complete musical circle for the actress turned singewr-songwriter.
"It is always special," says Carey, "I
never get tired of it. I just count my blessings, put my head down and go forward,"
laughs the singer. "I try to maintain balance in my life, but of course it is
wonderful to know my music resonates with people." Seems that to know Eileen is
to love Eileen, her upcoming date opening for The Grass Roots at The Canyon
at the Rose this coming August, is her 8th appearance in that
top rung dinner concert venue in the San Gabriel Valley, California. And last
July Eileen blew away a rock heavy audience at the Whiskey A Go Go in Hollywood
scoring this reviewer's comment, The crowd was hooked from
the moment Hearts of Time
kicked off the night. Carey's sassy yet humble stage demeanor gave off
Gretchen Wilson meets Miranda Lambert vibes, which clearly appealed to
the crowd, which engaged in hand clapping, line dancing and singing
along. From "Bottle Your Crazy Up
to "Lazy" to her rousing
send-off, "Faith…Heather Allen, Music Connection
(Eileen Carey and Band at the Rose in
Pasadena, CA June 8th, 2019)
An kick-boxing Indie Country-Pop star that writes one of the
coolest music blogs in the business TheMusicMom.com, Ohio native, who's long
lived in Southern California, Carey has developed a reputation for singing
songs that strip the human experience to its essentials. The lyrics
she chooses display a particular genius for zeroing in on moments that give
life its tension and flavor—whether it's via her romantic fantasy In the Air, her sadder-but-wiser Let It Go or her sisterly advice to an
out-of-control friend, Bottle Your
Crazy Up.
(Lead
Guitarist John McDuffie and Eileen Carey, the Rose in Pasadena, CA June 8th,
2019)
Eileen Carey's songs offer clear
solutions to many of the headaches romance creates with a plea for self-esteem.
She generally aims her lyrics at women, but is quick to mention that the same
advice would be good for men as well.
The just released new single, already making noise in the UK, Meet
Me Halfway is a cry from the
heart, co-written by Eileen Carey, Travis Allen,
Bjorn Charles Dreyer, Odd Harald Jensen is a song "whose images are as current
as today's headlines but whose sentiments are as old and wise as love itself. "At
first, we seem to have it all–Paradise in our smart phones: "Isn't it
great–technology perks? You press a button and everything works." Ultimately,
though, these satisfactions are illusory and short-lived compared to the fulfillment
of engaging in real life: "What's more important than what's in front of
you? Life's passing you by and you never knew. Meet me halfway."
Meet Me Halfway on Spotify https://open.spotify.com/album/3JeLpiMdhxewfjPdCOvCa8