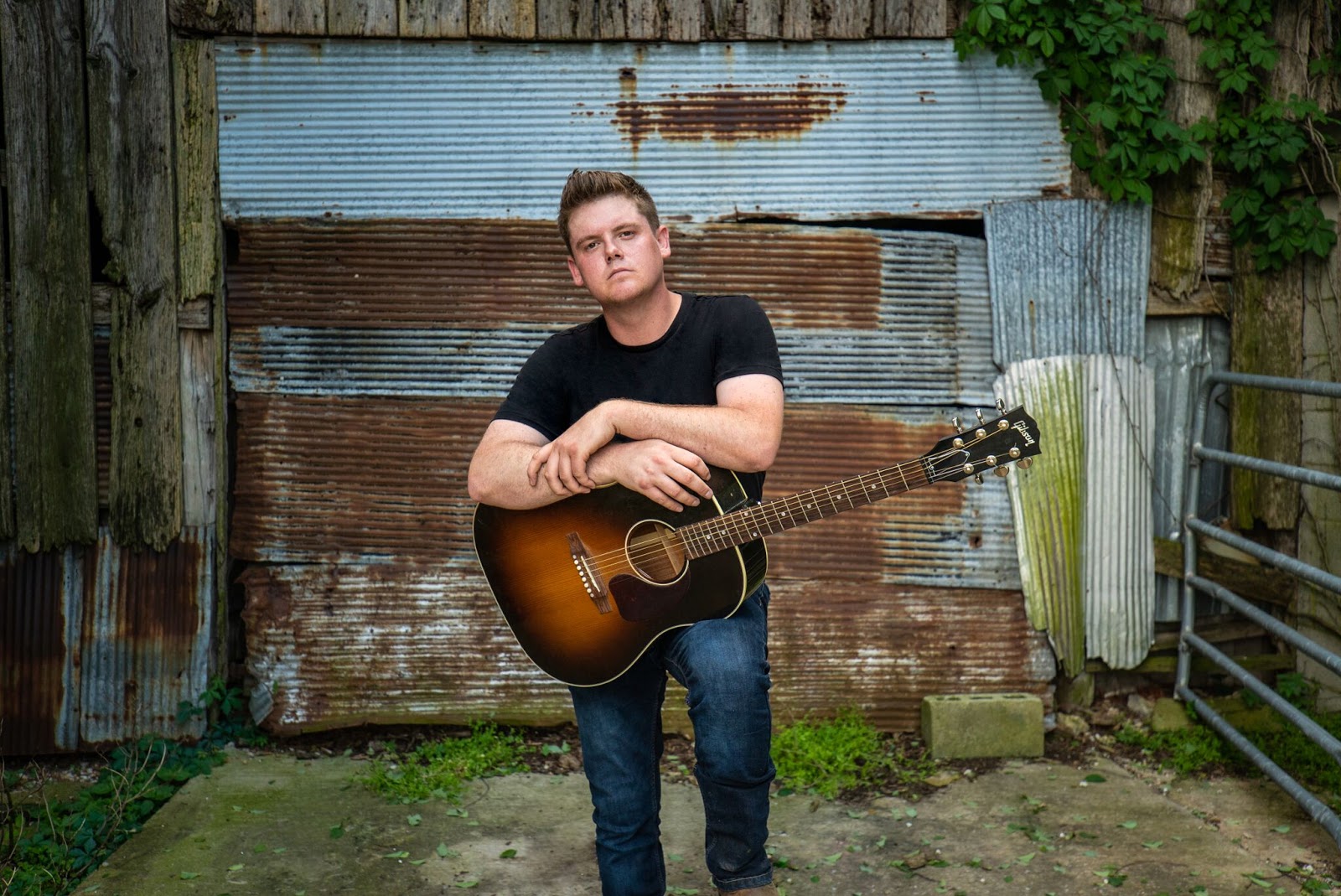 Dustin Collins Interview by Preshias Harris for Country Music News International Magazine & Radio Show
Music is a way of life for Dustin Collins.
Growing up in a family where music was always present, it was a natural
progression for Dustin to focus on a musical career. His music-savvy parents
weren't quite so sure, but, as he told me during our interview, he knew he had
to be involved some way with music for the rest of his life.
Coming off a Number One hit, this Kentucky
boy is back with a new album, due out in August. IT'S BEEN AWHILE was produced
and mixed by Bill McDermott and mastered by Noah Gordon.  Dustin invests much of his time touring
throughout the Midwest and his home state of Kentucky, including a slot on
Aaron Watson's Vaquero Tour, as well as opening for Chris Janson, Granger
Smith, Kane Brown, The Kentucky Headhunters and many more.  
He took time away from a hectic tour
schedule to sit down with me and talk about his music.  Knowing he shares my love for UK (Kentucky)
basketball, the first thing I asked him was, "Does your blood run Kentucky
blue?"  With a wide grin, he replied,
"You betcha life it does!"  I knew it was
going to be a great interview!
Preshias Harris: You are quite a road warrior.
You've driven hundreds of thousands of miles playing everything from honky
tonks to fairs and festivals.  What are the pros and cons of touring like
that?
Dustin Collins: Money! [laughs] That's the 'pro.'
And the 'con!'  The pro is, you make
enough money to stay on the road.  The
con is, you don't make enough money to pay your car insurance. It is what it
is. But I love it. I'd rather be on the road. I sleep better in my bunk than I
do in my bed. I love getting out to meet new people, to see new people, play my
songs for people who never heard of 'em. It's what I've always wanted to do, so
I love being out there.  So anytime we
get a chance to take a road trip, all my guys are the same. They're like, "Let's
Go!"  By week two, they're like, "Let's
go back home!"
PH: 'Cold Dead Hands' was your first Number One.
Can you remember where you were when you heard the news?
DC:  In my
living room. I was doing dishes. It's a vivid memory.  But I thought someone was foolin' with me. I
hung up on him the first time he told me. It was a guy who works over at
Billboard in New York.  He called and
said, "Hey, is this Dustin?" I said, "Yeah." He said, "This is Billboard. Your
song, 'Cold Dead Hands,' is number one on the Hot Singles Sales chart." I was
like, "Whatever." Click. I thought it was just someone who was messin' with me.
Then he called back and said, "Did we get disconnected?" and I said, "Sure
did!"
PH:  You have
a new album, IT'S BEEN AWHILE, dropping August 3. And the lead-off single is
'The Barn.' Tell us about this new project.
DC:  It's a
project I started last September.  We
kinda finished it in January, February. It's taken this long to get it all together
and get all the promo stuff. And get ready to do the album the right way.
PH:  That's
the key word. The right way.
DC: I wrote four songs on it myself and we took
three other cuts.  We had Neil Thrasher
[co-writer of 'Texas Was You'], and Troy Johnson and Jack Williams who wrote
'The Barn.' That's just a fantastic song. The cuts we've got on this album… you
know, I've been a big fan of Neil Thrasher's work with Jason Aldean and Eric
Church.  I didn't know how to cut a song
like that. But as it turns out, it's pretty easy! [laughs] All you gotta do is
fill out the right paperwork and you can cut the song. So we've got some good
cuts on the record. We've got another Kentucky boy, [songwriter] Lincoln Parish
from Cage The Elephant.
PH: That band is from Bowling Green, Kentucky,
right?
DC:  Yes,
they started out in Bowling Green, probably playing Tidball's, the same bar I
played in. So yeah, we've got some great cuts on the album. And my writing has
just improved over the years. I try to write as much as possible and I've got
some really good songs on here that I really thought people will enjoy.   
PH:  You've
written four of the tracks on the new album.  I believe your goal is to
try and write at least one song every day.  How do you go about that?
DC:  I
force myself.  Even if I'm in the car,
I'll get something out.  I'll get a
melody that I throw on the voice recorder. Whatever scenario or situation I'm
in throughout the day, I try to take some kind of story from somebody. You hear
a hundred stories a day, specially being down here [in Nashville].
PH: So it's for your 'hook book.'
DC: Exactly. I used to have a notebook. Now it's
the phone.  If something ever happened to
my phone, I'd be… [shakes his head]. You've got to send it over to The Cloud!  But yeah, I try to write every day. I try to
write one song, at least.
PH:  You're
a Kentucky boy from Bardstown.  You grew up with music as your dad was a
musician.  Did that have an influence on you deciding to make your life in
music?
DC: Yes, absolutely.  He didn't want me to do it at all!
[laughs]  He knew.  He's been here. But it came to a point where
everybody was like, "Well this is what you have to do now."  It gets to a point where you've been wasting
so much time on something that it becomes necessary [to just do it]. I've
always been that way. A lot of people come in with a backup plan. This IS my
backup plan.  I would like to be involved
with music or do something musical for the rest of my life.  If you leave yourself an escape it's always
easy to just fall out of it, but if you put yourself in the mindset that this
has to work, I believe that if anybody applies themselves enough to something,
they can accomplish it. I was in the military, so it was like training. 
PH:  You approach
your music like your military training.
DC:  If you
think you can do something, you can do it.
All you've got to do is keep your mind focused and push over the hard
times. I find that whenever you're climbing a hill, you'll eventually get to
the top. You get 'little hills' in music. The first time you hear your song
played on the radio, you're like 'Ah!' That drives you to do the next thing. 'Maybe
I need to record some more songs.' The first time you get five or six hundred
people come to a show, it's the same thing.
We were in Lexington, Kentucky, Saturday night, and there were people
singing every word to 'The Barn.' And that song is brand new, and they already
know the words. It grabs you. It makes you want to do the next thing.
PH:  What kind
of music did you listen, growing up?
DC:  Let's
see… Thin Lizzie. My parents were huge rock fans. Janis Joplin. Waylon
Jennings. Garth Brooks.  And I'm a big
Steve Earle fan, so I like everything he's done. Steve Earle was a big
songwriting influence. And Townes Van Zandt, that whole era of music.  When I did my music, I felt I would like to
be like the stories that Waylon told but with the guitars that Van Halen
played. That's where we got the sound from. It's Country music and I'm singing
it because I'm from the country.
PH:  You
stand out from the people that I interview, and there's a lot, but you stand
out as 'the new kid on the Row.' You're an individual.
DC:  That's
what I wanted to do with this album. You can hear several different types of
songs on this record from 'The Barn' being more pop-country that you hear on
the radio now. Then you go to 'It's Been Awhile' and it sounds almost like a
stadium ballad. And 'It Always Starts With You' is a real country song. Then
you've got 'Bonfire Songs' and 'Pieces' that are more meaningful story songs.
So I wanted with this album that anybody who listens to this album will find
something that they like.
You can read a full bio of Dustin, find tour
dates and check out his videos at his website,https://dustincollinsmusic.com/home You can pre-order his
new album, 'It's Been Awhile,' here: https://lnk.to/DC_ItsBeenAwhileAW
# # #