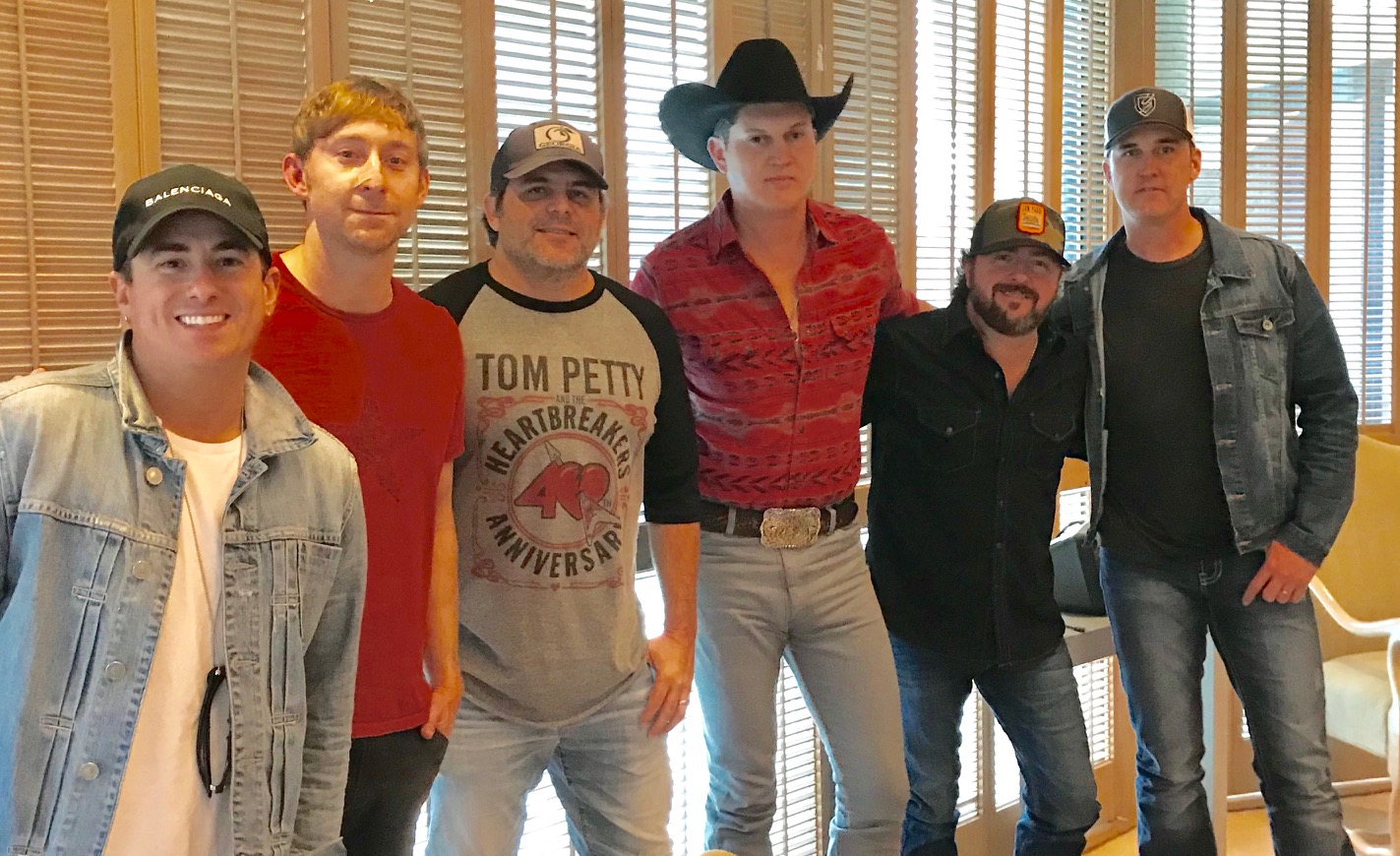 Double the fun for Jon Pardi
Back-to-back Number Ones
By Preshias Harris for Country Music News International
It was party time for Jon Pardi and the
writers of his two recent Number One hits, 'Dirt on My Boots' and 'Heartache on
the Dance Floor.' The Pardi party was at
BMI's Nashville HQ and was co-hosted by ASCAP, BMI and SESAC.
Honored for writing 'Dirt on My Boots' were
Rhett Akins, Jesse Frasure and Ashley Gorley. The awards for 'Heartaches on the
Dance Floor' went to songwriters Bart Butler, Brice Long and the artist
himself, Jon Pardi.
Before the official presentations, Pardi
sat down with his fellow songwriters for some Q&As with the music media.
Pardi has been touring with Miranda Lambert
and will continue through March. Speaking about those tour dates, he said, "Being
out west with Miranda was a lot of fun, specially since it was January! Last
year I spent January in Canada. Out on the west coast there was sunshine!"
He added that he has been performing in
some markets he had not been to before. "We were up in Washington and Oregon
and it was just like, packed houses. We played the venue where I went and saw
Paul McCartney last year. It was kinda like 'Paul played this stage and now here
we are playing this stage! It's a packed house and people are going crazy. San
Diego was great. Everything was great about the Miranda tour, and we're still
going."
I asked Jon about performing at the New
Faces show at this year's Country Radio Seminar (CRS) in January. CRS in
general – and the New Faces Show in particular – is considered a 'golden ticket'
to radio airplay because artists are playing before a captive audience of
hundreds of radio program directors and air personalities.
"I give fans what they want," said Pardi, "Whether
they're program directors or not. I mean, I'm not, 'Oh, there's no program
directors here, I can slack off tonight.' I just look at it like that and I
give it my all anyway I can. And I think
that programmers know that. If I [go to a station] they know I'm gonna show up
and have a good time and give it my all."
Boots seem to figure prominently for Pardi,
both as footwear and as musical success. 'Dirt on My Boots' is his second consecutive
Number One, following 2015's Platinum-selling 'Head Over Boots.' Both 'Boots'
songs are cuts from his second studio album, 'California Sunrise.'
Pardi said that he thought Mike Dungan,
Chairman/CEO of Universal Music Group, might not want to release another song
with 'boots' in the title so soon after 'Head Over Boots.' However, that wasn't
a problem. "He [Dungan] said, 'I don't care about back-to-back boot songs, I
just care about back-to-back hits,'" recalled Pardi.
Speaking about the writing session that
produced 'Dirt on My Boots,' songwriter Ashley Gorley noted that Pardi and the
other writers all had very busy schedules and the only timeslot that worked for
all of them was 8:00a.m. "When Rhett arrived, he said, 'I am NOT a morning
person,' but we all wanted to be a part of this," noted Gorley.
As they got started, Akins came up with an
idea. "I remember looking at my boots and they were really dirty," he said. "I looked down and said 'What about the dirt
on my boots?"
During the awards presentation, Pardi noted
that he has been working on his career in Music City for several long years. "Thank
you so much for believing in me," he said. "Thank you everybody. You
guys know who you are. You've been there since day one. I've been here for a
while now and Feb. 23, 2008 is when I moved to town. Ten years later, I have
three number ones and we're at a double number one party. Thank you. Thanks for
believing in me."
As with most apparent 'newcomers,' Jon
Pardi has worked long and hard at his career leading up to this afternoon in
the limelight. Growing up in Dixon, California, he started writing songs when
he was 12 and was performing in a small band by his mid teens. Leaving high
school, he headed to Nashville with his eyes on a career in music. As he noted
in his comments above, it has taken him years to get where he is today.
More about Jon Pardi, including upcoming
tour dates at www.jonpardi.com
# # #
PHOTO 1:
Left to Right: Jesse Frasure, Ashley Gorley,
Rhett Akins, Jon Pardi Bart Butler (also producer) Brice Long. Photo Credit:
Preshias Harris
PHOTO 2:
Rhett Akins 'dirty' boots. Photo Credit:
Preshias Harris