Deeper Shade of Blue Interview
by Nigel Sharpe for Country Music News International
North Carolina can once again be credited for producing great bluegrass. Hailing from just east of Charlotte, Deeper Shade of Blue is comprised of Jason Fraley (mandolin/vocals), Troy Pope (guitar/vocals), Frank Poindexter (dobro/vocals), Scott Burgess (bass/vocals), and Steve Wilson (banjo). The band has been together for 21 years and self-produced six albums. A quick search on YouTube will no doubt prove why this band has been a favorite in their region for so long. With their tight harmony singing, dynamic instrumentation and energetic stage show, they've been lauded as one of the best touring groups in the industry and one that festivals have added to their lineup year after year.
Subscribe to Country Music News International Newsletter:
Go to https://countrymusicnewsinternational.com and scroll to the bottom of the page where you will find the form to join the newsletter. After you register, a confirmation email will be sent to you to confirm your email address.
Here at Country Music News International we believe in Bluegrass and Country Music. In order to help keep business moving forward, we are making an unprecedented offer. For more details: https://countrymusicnewsinternational.com/advertise
THE BAND:
Jason Fraley has been involved in bluegrass music throughout his life. His first glimpse of bluegrass music was the night he was brought home from the hospital as a newborn! Band practice was at his house that night. He was just eight years old when his Dad, retired Deeper Shade of Blue banjo player, Jim Fraley, first tried to teach him the banjo, but at that time, his only interest was the guitar. At age eleven, his musical interest shifted to the mandolin which has been his main focus ever since. He spent High School in the marching and concert bands playing trombone and various instruments, and spent his senior year as the drum major. Jason's vocals took shape with his high school Honor's Chamber Ensemble. He earned awards like the Marine Band Recipient and Superior ratings for solo performances. His first stage appearance was with the Jones Brothers and the Log Cabin Boys and was later asked to play guitar for the "All Star" teen bluegrass band, Remington Ride. He also performed with "No Other Name", "Bluegrass 76" and proudly alongside his Dad in DSOB, until his recent retirement.
Troy Pope brings to the band his powerful lead vocals. Having been raised in his Father's church, he acquired a deep background in gospel music that adds to the unique arrangements of the bands material. He has sang with his family his whole life and with other groups as well. Troy's big smile and personality, along with his well known vocals have helped make A Deeper Shade of Blue what it is today.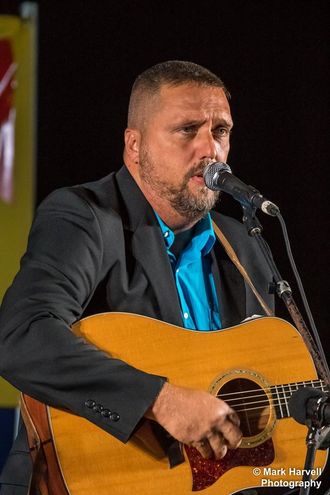 Frank Poindexter is no stranger when it comes to the acoustic music scene. He is an accomplished and champion Dobro player. He has recorded and performed with many of the worlds greatest musicians in all sorts of genres from bluegrass to country and rock to movie soundtracks. Frank has played on the Grand Old Opry stage and with the late, great Vassar Clements, Dickie Betts, Larry Rice and Brothers Leon and Walt from the All American Music Tour. Frank has also released two solo projects, and has recorded with the Rice Brothers, including several of the late Larry Rice projects. He has toured Japan twice, Europe with nephews Wyatt and Larry, Richie Simpkins, Sammy Shelor and Ronnie Simpkins. His dobro playing is included in two movie soundtracks as well.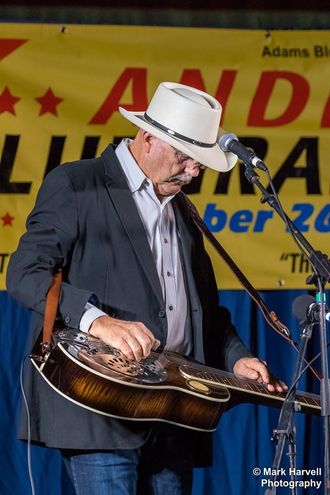 Scott Burgess grew up with bluegrass music. Both of his parents played bluegrass and his earliest memories include going to church with them as they played various churches and small venues around home. His first regular group was a family band with his two brothers and their mother called Right Track. They performed from 1996 until 2005. After a short break from music, Kevin Richardson asked him to help him form KRACE which enjoyed regional success from 2009-2015. A Deeper Shade of Blue reached out to Scott in April 2015, and Scott says he was excited to join such an incredibly talented group of musicians. In each band, he had sung lead, tenor and played bass. He enjoys writing songs, and is honored to have had several of his songs recorded and played on various stations including Sirius XM Bluegrass Junction. "Bluegrass is the purest form of acoustic music. I appreciate the opportunity to play music with great friends."
Steve Wilson started off as most musicians likely did, growing up with a love of playing music with his family. He developed a respect for the sound, look and feel of the instruments themselves. Later in life, he was fortunate to find himself working in Nashville at Gibson, within the Custom Art Shop, designing and building custom art pieces. Many of these were special orders for a long, distinguished list of players. He learned from the best, and this experience would leave an imprint on his life that stayed with him to this day.
While in Nashville, Steve also honed his craft in Bluegrass music, specifically, playing the Banjo, which became his favorite and master instrument. Studying with many of the well-respected teachers in the area, playing countless hours with local bands, and lending his talents in the recording studio from time to time, Bluegrass music was definitely where Steve planned to hang his hat for the long haul.
It was during a short relocation back to Upstate NY,  that Steve also discovered his love for recording music. He engineered and produced his first bluegrass project for one of the bands he played in one winter.  He's been hooked ever since.
Steve has enjoyed playing bluegrass music and cutting albums with several bands over the years including most recently, Wilson Banjo Co. and Dale Ann Bradley. Also now a professional recording engineer and producer, Wilson spends his time off the road, capturing hit records for many of his long time heroes like Dale Ann Bradley, Flashback, The King James Boys, Gena Britt, Shawn Lane & Richard Bennett, Wilson Banjo Co., and many more. Steve is truly enjoying and looking forward to the journey with Deeper Shade of Blue.