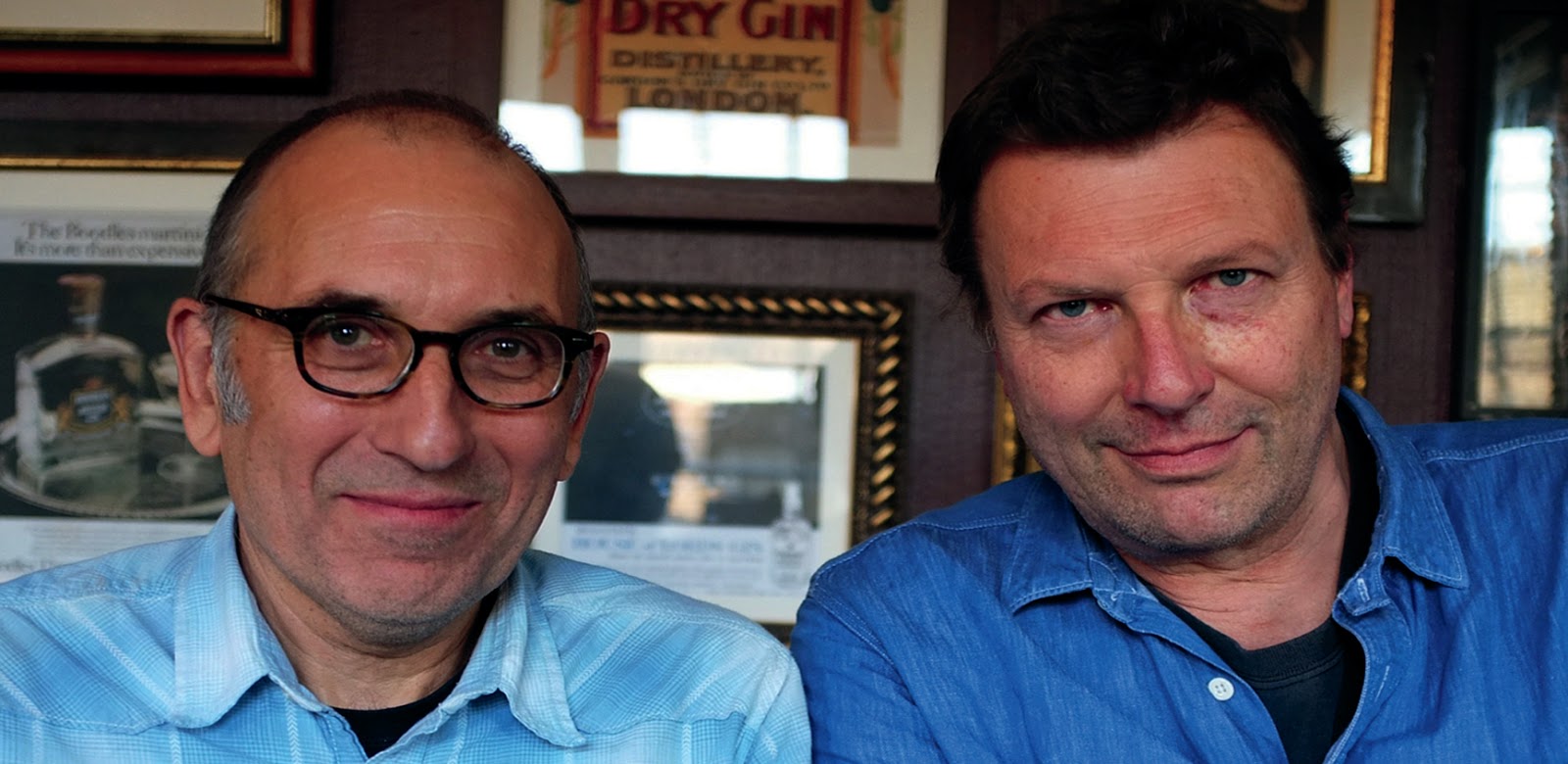 David Osborne from Osborne Jones Interview by Christian Lamitschka for Country Music News International Magazine & Radio Show
Lamitschka:  Music has many new fans throughout
Europe who may be hearing about you for the first time. How would you describe
yourself and the music you play to someone who has never seen or heard you?
Answer:  We're firmly in the Americana area. Heavily
traditional country music focused – especially lyrically – but with an extra
buzz to bring the sound up to date. The Modern Sounds Of Country if you like.
We're big Ray Charles fans too…
Lamitschka:  How was the last year for you? What were
your highlights?
Answer:  Last year was excellent. We've been very
lucky. Ever Closer, our last album had just come out and had a great response –
thanks to our partnership with CRS and support from the press. We seem to have
a very popular song (Dominos Fall from Ever Closer) in South Africa at the
moment which is pretty exciting. We've also been working on other outlets and
with some other musicians – which is always fun. And then we've been preparing
for the release of TWANG!
Lamitschka:  What is your latest CD and how's it
doing?
Answer:  Our latest album is TWANG! which features
some of the great guitarists we've worked with over the past few years
including Albert Lee, Jerry Donahue, Kenny Vaughan, Pete Anderson, Rich Shea
and Will McFarlane produced by Teddy Thompson (Richard's son) and Rick Shea. Basically
some of the of greatest country players of today and it has just came out but I
have to say we've been blown away so far by the interest.
Lamitschka:  How did you choose the title for the
CD?  Is there a story behind the name?
Answer:  When you're talking about country guitar the
first word that comes to mind is TWANG! It seemed pretty appropriate so we took
it!
Lamitschka:  Do you write the songs yourself? If not,
how do you go about finding the songs for your CD?
Answer:  We do write all our own songs. We have a
large stash of them – we're always working on new ones – and then we go through
the painful process of selecting the ones we want to put on the albums. That
takes some time and one or two discussions…but I think we always come out
with the best stuff.
Lamitschka:  Please tell us about the songs on your
album (influences, etc).
Answer:  Lots of influences – guitar players,
songwriters, producers. I'd highlight a few people like Gram Parsons, Emmylou
Harris (especially when featuring Albert Lee), Dwight Yoakam (with Pete
Anderson), Merle Haggard, Marty Stuart (with Kenny Vaughan), Dave Alvin (with
Rick Shea), Bonnie Raitt (with Will
McFarlane), and from the English side Fairport Convention (especially with
Jerry Donahue)
Lamitschka:  What is the difference between your last
CD and your current one?
Answer:  Well this new album – TWANG! – is really an
amalgam of the previous two albums (Only Now produced by Rick Shea, and Ever
Closer produced by Teddy Thompson). We thought it would be a nice idea to put
something out, a single album that really highlighted the great work these
featured guitarists have done with us – and for us it was a celebration of just
being able to work with such talents.
Lamitschka:  Your current single is being played by
radio. What do you feel is special about this song that makes people want to
hear it?
Answer:  It's got Albert Lee in full flight on it!
Just joking but it's a catchy little number with a good beat and we think it's
commercial and gets peoples attention. We've been told in the past that some of
our work grows on people – you have to hear it it few times until it really
hits. A Million Teardrops  hopefully hits
you full on the first time you hear it.
Lamitschka:  What will your next single be?
Answer:  We're not sure yet but we're thinking Always
Write in Blue might be a good choice.
Lamitschka:  What kind of songs do you like to record
the most?
Answer:  We love the whole process – going into the
studio, working with new people, working with great musicians, learning from
them, and listening back to the final product. It's just great fun.
Lamitschka:  How much creative control do you have
over your music?
Answer:  A lot. We spend a lot of time working on
arrangements and structure together then provide that to our producers who
tweak it and change it – always for the better – and we come out with something
we all like but at the end of the day it's got our name on it.
Lamitschka:  What do you think about today's music
scene versus its post and where do you see it going in the future?
Answer:  Well it's very different isn't it? There's
great stuff out there – just look at the CRS catalog. Amazing music there – but
it's not as easy to find as it used to be. There's just so much of it. Also the
role of the record companies have changed alot – with companies like Warner
Brothers – who seemed to only put out great records in the 60's and 70's not
playing that role anymore. I will say we're lucky to be associated with a
company like CRS who have really helped nurture and support us. They're just
great to work with.
Lamitschka:  If you had the chance to change something
about the music industry, what would it be?
Answer:  Spotify and the like would increase what
they pay for streaming. It's very difficult for many people – great musicians –
to support themselves from recordings.
Lamitschka:  What inspired you to become a
songwriter?
Answer:  Other songwriters – Gwyn, my partner in
crime, has been writing for a long time…way before I jumped in…so seeing
him do it inspired me plus all the great songwriters I grew up listening to –
if I could only write something as good as Harlan Howard, the Louvin Brothers
or Jimmy Webb I'd be happy. People like that being there inspire you because
they're so good but they make it seem easy so that makes you think maybe, just
maybe I can get close. Very hard though….those guys are so great.
Lamitschka:  What's your favorite song that you wish
you could have recorded?
Answer:  There's so many great songs. I hear a new
one every time I stick on my iPod. Right now it's Everybody Knows This Is
Nowhere by Neil Young. But in 5 minutes it might be Bugler by the Byrds or Cowboys
and Girls by the Hacienda Brothers
Lamitschka:  What message would you like to send your
European fans?
Answer:  Hi! We're European too. Thanks for all the
support and hope to see you soon!
Christian Lamitschka ( Ch.Lamitschka@t-online.de ) for
Country Music News International Magazine & Radio Show