Darius Rucker reunites with Hootie and
the Blowfish during surprise CRS appearance
Keith Urban forgets words to new song
By Preshias Harris for Country Music News International Magazine & Radio Show
CRS featured an unforgettable show at the
Ryman Auditorium in Nashville as Darius Rucker reunited with his Hootie and the
Blowfish bandmates. Unforgettable? Well…
Keith Urban DID forget the words to his new song, which made the show
unforgettable for a forgetful reason!
Universal Music Group Nashville (UMG)
invited attendees of this year's Country Radio Seminar (CRS) to a lunchtime
showcase at the Ryman Auditorium on February 14. CRS, now in its 50th
year, is the world's largest gathering of radio decision-makers and the
recording artists who wish to interact with them. Royce Risser, UMG's Executive
Vice President of Promotion emceed the event, getting in a few witty 'digs' at
radio execs in the audience as he light-heartedly urged them to add these songs
to their playlists. In a fast-moving
show, each act came on stage to perform one song – generally a cut that would
impact Country Radio in the days or weeks ahead. (See below for a full list of
performers.)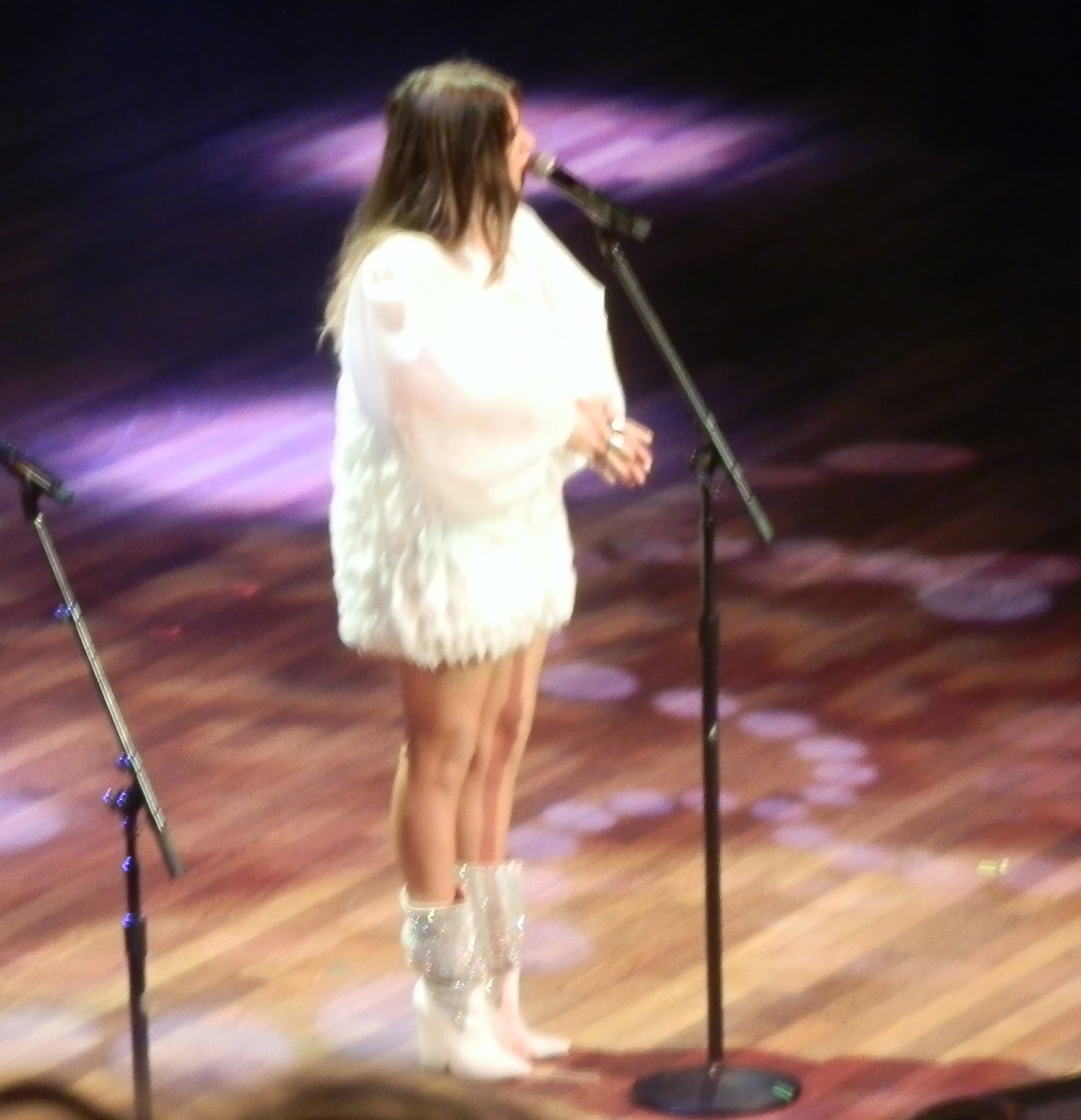 Keith Urban came out on stage to perform "We
Were," a song so new that he brought out his cell phone so he could sing and
play along to it. Technology is subject
to Murphy's Law (If anything can go wrong, it will) and the track stopped
playing after just a few bars. Undeterred, Urban re-started the track and, when
it once again failed, he carried on singing to just his acoustic guitar. But a
minute or so later he suddenly stopped. "Oh my gosh!" he told the audience.
"I've forgotten the words to this dang song! Can you believe it!"
A less experienced artist might have
suffered a total meltdown, blowing a song in front of hundreds of radio
professionals who make the decisions about what gets aired. But being a true
professional, he picked up the threads of the song and carried on, much to the
delight of his audience. If nothing
else, they will all remember Urban's "We Were" when they get back to their radio
stations.
Later, Vince Gill took the stage and, as he
sat on his stool, he jokingly said he had been planning to bring his phone out
and play to a track on it. "Keith said that was a really cool idea," said Gill
glancing off to the side of the stage with a smile. Guess no one is going to
let Keith forget that. 2019 marks the 30th
year that Vince Gill has been with MCA, part of the UMG family of labels.
Risser noted that Vince has earned 18 CMA Awards and 20
Grammys, including wins for ten consecutive years.
Among the many highlights of the show…
Dierks Bentley revealed that when he's on
tour, it seems he hardly ever leaves the bus. Indicating his band members, he
recalled that one day these guys returned to the bus with grocery bags filled
with toothpaste, deodorant, those kind of things. "I asked them where they'd
been," said Dierks, "and they said 'Walgreens.' Man! These guys really did some
livin'!" It was a neat lead-in to his performance of "Living," his current
single. "I hope this is my third No. 1,"
he told the radio industry audience.
UMG's Risser introduced Caylee Hammack
saying this was her first time on the Ryman stage. "When she arrived in
Nashville," he said, "Caylee slept in her car in a Target parking lot. Before long, all the labels were fighting to
get her. But we won." As she began her new song, "Family Tree," Caylee said
that it was inspired by her own family and every family has its quirks. "My
sister has a smoking habit," said Caylee.
"She thinks we don't know. But we
know."
When Chris Stapleton took his seat in front
of the mic, he said, "There used to be a rule. No electric guitars, no more
than three people on stage including yourself. Looks like that's all changed."
He paused and the audience laughed, noting the rocking performances that had
preceded Stapleton's spot. "Looks like I
didn't get the memo," he added, before launching into a solo acoustic
performance of "Millionaire."
Little Big Town opened the show with the
poignant "For The Daughters," about the role that women are expected to play if
they are to be successful. The thought-proving song includes lines such as, "pose
like a trophy on a shelf and dream for everyone but not yourself." In a similar vein, Kassi Ashton has a single,
"Violins," currently being promoted with a music video. However, she performed
"Pretty Shiny Things," a song about a woman's role in life. The lyrics include:
"Put your makeup on, girl / stand up straight / your face will take you
farther than your brain."
The program notes promoting the show
indicated that Darius Rucker would be appearing. Yes, he appeared, but to the delight and
surprise of the audience, he appeared with his 'old' band and performed as
Hootie and the Blowfish. Their
performance of Hootie hits "Only Wanna Be With You" and "Hold My Hand" was met
with deafening cheers and a standing ovation at the climax of the UMG luncheon.
The group will be heading out on their Group Therapy Tour and will be recording
a new album for UMG.
The full list of the performers at the Team
UMG At The Ryman luncheon: Eric Church, Dierks Bentley, Keith Urban, Little Big
Town, Maddie and Tae, Kassi Ashton, Chris Stapleton, Travis Denning, Brandon
Lay, Adam Hambrick, Caylee Hammack, Vince Gill and Darius Rucker (with the
reunited Hootie and the Blowfish band).
It will be interesting to see how many of
the songs heard during the show will be added to the playlists at the radio
stations represented by the broadcast executives in the audience.
# # #