DAILEY & VINCENT SNAG THREE 2011 IBMA AWARD NODS
GRAMMY-nominated Bluegrass Duo Earn Nominations for
IBMA Entertainer of the Year, Vocal Group of the Year
Jamie Dailey Nominated for IBMA Male Vocalist of the Year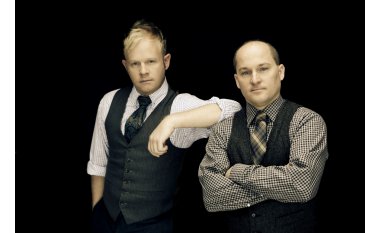 Nashville, Tenn (August 18, 2011) – Yesterday evening, Rounder Records duo Dailey & Vincent, the IBMA's (International Bluegrass Music Association) reigning Entertainer of the Year, earned three award nods at the organization's 2011 nominations ceremony.
From Nashville's Loveless Barn, the 2011 IBMA Award nominations were announced, with Dailey & Vincent claiming ground in three of the organization's top finalist categories: Entertainer of the Year, Vocal Group of the Year and Male Vocalist of the Year (Jamie Dailey).
"Though we were unable to attend last night's ceremony due to our tour schedule, we'd like everyone to know how excited and humbled we are to be nominated within these categories," says Darrin Vincent.
Jamie Dailey adds, "We'd like to thank the IBMA and all of its members for the support they continue to provide for us. As for our September competition, it would be an understatement to say we're in good company."
Recipients of the 2011 IBMA Awards will be announced at the organization's 22nd annual awards show, scheduled for September 29, 2011 (7:30 PM CDT), at Nashville's historic Ryman Auditorium. The ceremony will be broadcast live on SiriusXM's Bluegrass Junction.
To date, GRAMMY-nominated Dailey & Vincent has earned a total of 12 awards from the IBMA, including three consecutive yearly wins for Entertainer of the Year and Vocal Group of the Year (2008, 2009, 2010). Jamie Dailey took home the Male Vocalist of the Year honor in 2008.
In 2011, Dailey & Vincent, sponsored by Cracker Barrel Old Country Store, has kept the Bluegrass tour trail red hot. The group will have performed at over 100 live concert dates by the year's end. Earlier this month in Jonesboro, Arkansas, the duo joined Country Music Hall of Famers Kris Kristofferson and George Jones at the Johnny Cash Music Festival where they played to a sold-out crowd of 7,000. The festival raised $310,000 that will be used for the restoration of Johnny Cash's boyhood home in Dyess, Arkansas.
Next month, Dailey & Vincent travel 'across the pond' for international concert dates in Ireland and Switzerland. On September 8, while touring Switzerland, the band will make a special stop in Bern for a private 9/11 tribute performance for several heads of state and United States Swiss Ambassador Donald Beyer.
The duo recently recorded with fellow Tennessee native and Country music legend Dolly Parton on her latest album, Better Day, providing their signature Bluegrass harmonies on several tracks.
Earlier this year, Dailey & Vincent earned their first GMA (Gospel Music Association) Dove Award, becoming the 2011 Bluegrass Album of the Year recipient for their Gospel album, Singing From the Heart.
Dailey & Vincent's most recent project, Dailey & Vincent Sing the Statler Brothers, can be purchased exclusively at Cracker Barrel Old Country Store.