DAILEY & VINCENT MAKE EUROPEAN TOUR DEBUT,
WOWING SOLD-OUT CROWDS WITH BLUEGRASS HARMONIES
GRAMMY-nominated Duo Returns Home from Irish / Swiss Tour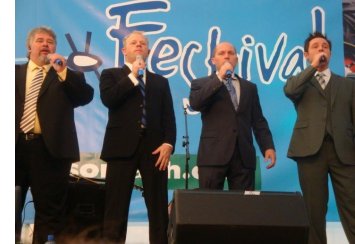 Nashville, Tenn. (September 13, 2011) – Dailey & Vincent, Bluegrass music's reigning IBMA Entertainer of the Year, kept Irish and Swiss toes tappin' last week as the duo toured Europe.
Dailey & Vincent recently made their way 'across the pond' for a four-concert tour of Ireland and Switzerland. The duo's debut in Europe proved to be a success, with sold-out box offices on all four concert dates.
Dailey & Vincent kicked off their tour in Omagh, Ireland, selling-out two performances as the band headlined the 20th Annual Appalachian and Bluegrass Music Festival and in turn received several standing ovations for their trademark harmonies.
"Our European fans are so loyal and dedicated," says Darrin Vincent. "We're having so much fun and we've made tons of new friends. I hope we get the opportunity to come back and tour these countries again and again."
Last weekend, along with Country stars Trace Adkins and Laura Bell Bundy, Dailey & Vincent headlined two sold-out shows in Gstaad, Switzerland at the Gstaad Festival.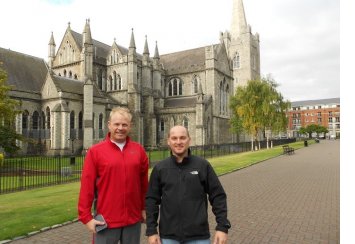 On performing and traveling abroad, Jamie Dailey notes, "We had a great time performing but we also had time to do a little sightseeing. We toured St. Patrick's Cathedral in Dublin and while inside, they gave us permission to sing a hymn from 'Amazing Grace.' The acoustics inside that church are absolutely incredible."
In addition to their live concert dates Dailey & Vincent made a special stop in the Swiss capitol of Bern, where they performed a private 9/11 tribute concert-dinner for United States Swiss Ambassador Donald Beyer and several heads of state. The evening was themed, A Bluegrass Celebration: The American Spirit Renewed
. Fried chicken was served as the concert-dinner's main delicacy.
The duo returned home this past Sunday to resume their regular United States tour schedule.
Three-time IBMA Entertainer of the Year Dailey & Vincent were recently announced among the performers for the 2011 IBMA Awards show ceremony scheduled for Thursday, September 29 at Nashville's Ryman Auditorium. The duo is in the running for several major awards including: Entertainer of the Year, Vocal Group of the Year and Male Vocalist of the Year (Jamie Dailey). The awards show will air live at 7:30 PM CDT on SiriusXM's Bluegrass Junction.
Dailey & Vincent's most recent project, Dailey & Vincent Sing the Statler Brothers, is available exclusively at Cracker Barrel Old Country Store.