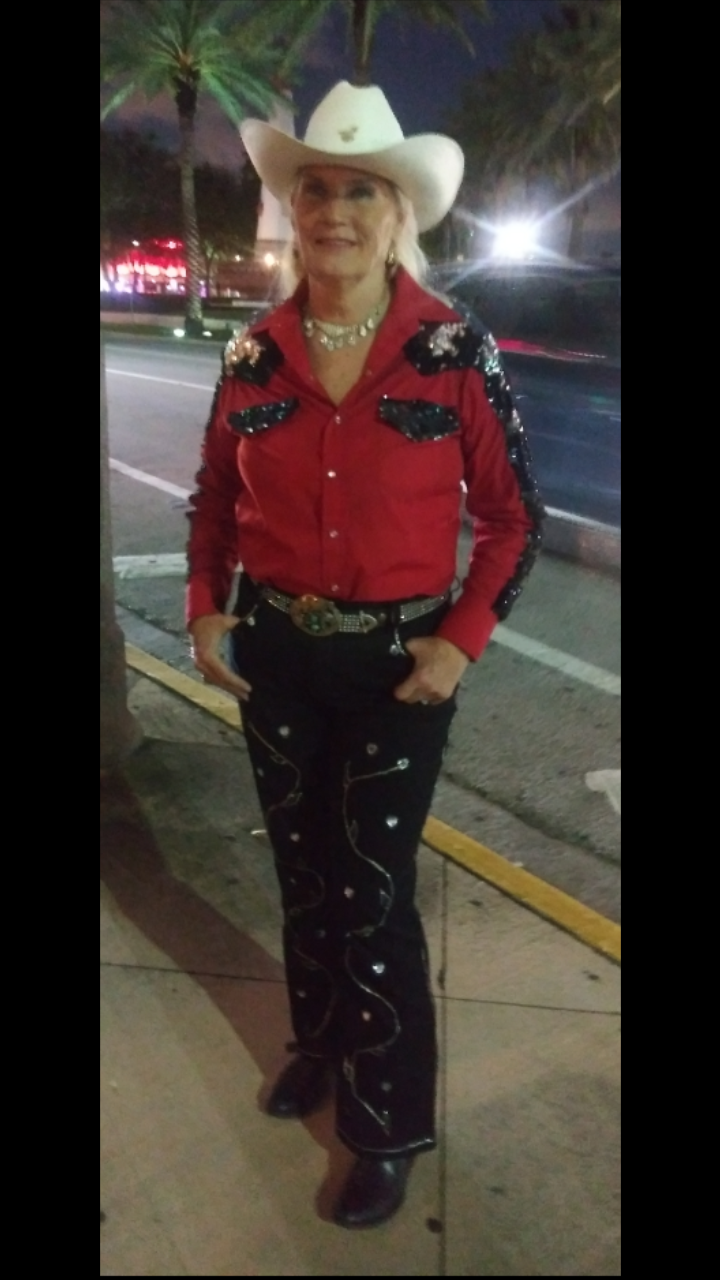 Lone,
is dealing with the pantomimic as best as she can. Here at home she
sings some times and gets on Face book. She loves all animals and all
people till they prove different. She
is known on Face book as Marianne L. Esch. She is like my self in one
aspect. We do not like Liar's and Thieves. Lone, in the past has Drove
Tractor Trailer's. Forklifts, and I don't think there is any thing she
cant drive.

When
she turned 60 she wanted to get her license to ride her own bike. Well
after a week of stumbling through the English worded test she finally
past. Then she said she wanted to pay
for lessons to learn how to ride a motorcycle. I pulled a 1980 Gold
Wing out I had restored completely, put her on it and told her to go for
it. (The Gold Wing is about the Easiest big bikes to ride. All the
weight is on the bottom.) At one end of the street
we live on is a dead end. The other has a road that turns off that is
also a dead end. I told her to go from one to another practicing. I got a
lawn chair and set in the drive way timing her. When after a few trips
she did not come back, I freaked. I jumped
on my bike to go find her. Here she came from the opposite way. Big old
grin on her Face. I threw up my hands and said I give up. Ha! Ha! At
the time she was working 4:00 PM to 12:00 AM 40 miles one way to work up
in Pulaski Tennessee. She road that Gold Wing
Every Day to work and back. No problems. She did run over an Armadillo
on the way home one night. Also staid upright in the ordeal. God has his
hands on this Gal. After two years she wanted a Harley because every
one we knew had them. She Bought a 1200 Harley
Custom. She replaced every thing on the bike that was not paint or
rubber to Chrome. It had Custom wheels put on it. Not off the shelf mind
you but Custom made. She entered it in two Motorcycle Shows. She took
fires in both. Mad a lot of Harley people mad!
She then wanted to sell it and get a Bigger one. OK! We went to the
local Harley Dealer. She set on all these bikes. Only really liked one. A
Road King. Holey cow! The Price!! They did not have a used one there.
We talked to the sails man. He said they just
got one in. It was on the rack being serviced at the time. We went to
look at it. It was a 2005 Road King Classic. Low millage and was owned
by a woman that swapped it in only because she had to buy a trike. It on
the rack, Lone saw it and said I want it!
That is! The sails man said bring your 1200 around back and I will
wright it up. So we took it around and waited. He came out with a
clipboard and took a look at her 1200. Threw the clipboard up in the
air. Papers went every where. I jumped up from a bench
and asked what was the matter? He said I do not have enough paper to
right this Custom up. It will take a week. He said wait I will get the
owner of the shop. He came out saw the bike. He medially grinned from
ear to ear. He turned to the Sails man and said
sternly, Wright it! So now she has added a full Faring with a 600 watt
Stereo with CD player, and fore 6" Jensen Speakers. I will and have road
Handle Bar to Handle Bar with her any time at high way speeds. Wont do
that with people that has been riding a lot
longer. She has been riding 10 years now.