CMA Fest 2019 wrapped up with a great
Day Four
Four straight days of sold-out shows
and capacity crowds
By Preshias Harris for Country Music
News International Magazine & Radio Show
The fourth and final night at the 48th
annual CMA Fest came to a close with a crowd-pleasing performance by Luke Bryan
as he cranked up the fans in Nissan Stadium with his cover version of Jon Bon
Jovi's "Livin' on a Prayer."
Keith Urban, Chris Janson and Maren Morris
were also on hand to make sure thousands of country music fans went home happy
with four days of musical memories.
Many fans went home wet, too, as the 2019
CMA Fest was memorable for several sudden rainstorms.
"Despite some weather challenges, this
year's CMA Fest was truly one to remember," said Sarah Trahern, CMA Chief
Executive Officer, who noted that the annual festival is a great event for fans
to see their favorites and discover new artists. "The feedback I received from
artists is how much they enjoy the more intimate interactions with fans that
CMA Fest offers," Trahern added. "We managed to integrate the CMA Foundation
and our music education efforts throughout the festival, which culminated with
the Eagle Honor Choir belting out Carrie Underwood's 'The Champion' to a packed
house at Nissan Stadium Sunday night. It was certainly one of the highlights of
the festival."
Among the memorable highlights of this
year's CMA Fest:
·
Thomas Rhett hosted an album
release event for Center Point Road Saturday afternoon at Bridgestone
Arena, which raised $100,000 that will be donated directly to the CMA
Foundation.
·
For the first time this year,
CMA Fest offered attendees the opportunity to donate directly to the CMA
Foundation through several special events and activations, as well as a
text-to-donate option.
·
Miranda Lambert's MuttNation
Foundation was a "pup-ular" highlight inside Fan Fair X again with all 61
adoptable dogs finding their forever homes. Fans and their canine companions
paraded from Nissan Stadium to the Chevy Breakout Stage at Walk of Fame Park
Thursday morning with Lambert, Dan Smyers (of Dan + Shay) and adoptable dogs
during MuttNation's Mutt March.
·
More than 300 artists
participated in meet-and-greets and played to large crowds at the Xfinity Fan
Fair X inside Music City Center over the course of the four-day festival. One of the most-attended attractions at
Xfinity Fan Fair X was Randy Travis' booth; the Country Music Hall of Fame
member met with fans all four days, the first time he returned to host
meet-and-greets in more than two decades.
·
The nightly concerts at Nissan
Stadium were all sold out, with more than 50,000 in attendance each night. Tens
of thousands of fans attended the festival's outdoor stages and activations as
well as Xfinity Fan Fair X inside Music City Center. Chevy Riverfront Stage,
Budweiser Forever Country Stage and the Nashville Acoustic Corner Stage all
reached capacity during CMA Fest.
·
Musically Fed, an organization
that fights to end hunger by working with the music industry to distribute
excess food from touring shows and events, donated food from Nissan Stadium, Chevy
Riverfront Stage and Firestone Country Roads Stage at Ascend Amphitheater
catering, feeding more than 800 people.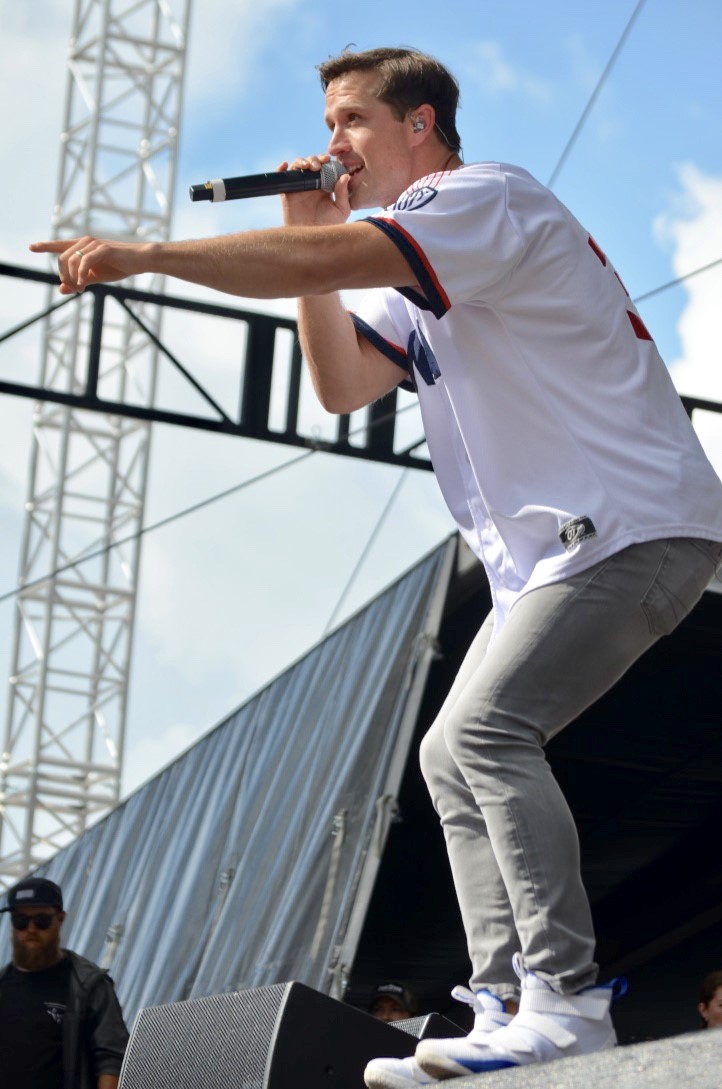 ·
Florida Georgia Line was joined
by HARDY during "Y'all Boys" and Morgan Wallen for "Up Down," with an
additional surprise including Midland performing "Mr. Lonely" Thursday night.
·
Raelyn and Ryan Hurd had crowd's
full attention. Newcomer Riley Green showed the fans he is just getting started
and Walker Hayes was definitely feeling at home on the stage.
·
The Firestone Country Roads
Stage at Ascend Amphitheater, which returned for a third year, sold out Friday
and Saturday nights with a capacity of 6,800. BBR Music Group led the charge
with co-headliners Randy Houser and Chase Rice (who last week celebrated his
first number one as an artist) getting the party going Thursday.
Four
straight days of sold-out shows and capacity crowds, as well as surprise
performances and collaborations, made the 48th annual CMA Fest one for the
record books.
Next year's CMA Fest will take place
Thursday, June 04 through Sunday, June 07, 2020. Four day passes for CMA Fest
in 2020 are on sale to the public Friday, Aug. 02, 2019 at CMAfest.com/tickets.
The longest-running Country Music festival in the world welcomed visitors from
all 50 states and 37 International countries, marking first-time visitors from
Israel, Peru, Saudi Arabia, Taiwan and Thailand attending the festival. Over 30
International artists performed at CMA Fest this year, representing Canada,
U.K., Australia, New Zealand and for the first time, The Netherlands and South
Africa.
More info at https://www.cmaworld.com/
Photos and credits:
Walker Hayes performs during Day 4 at
CMA Fest. Photo credit: Catrina Engleby
Ryan Hurd performs at CMA Fest. Photo
credit: Catrina Engleby
RaeLynn on stage on Day 4. Photo credit:
Catrina Engleby
Riley Green performing at CMA Fest
2019. Photo credit: Catrina Engleby
Singer-songwriter Hardy enjoying CMA
Fest. Photo credit: Catrina Engleby
Ryan Hurd and Maren Morris. Photo
credit: John Shearer Getty Images/CMA
Brett Young and wife Taylor Mills show
off their 'baby bump.' Photo credit:
John Shearer Getty Images/CMA
Kix Brooks and Ashley McBryde. Photo
credit: John Shearer Getty Images/CMA
Brothers Osborne relax backstage. Phot credit: John Shearer Getty Images/CMA