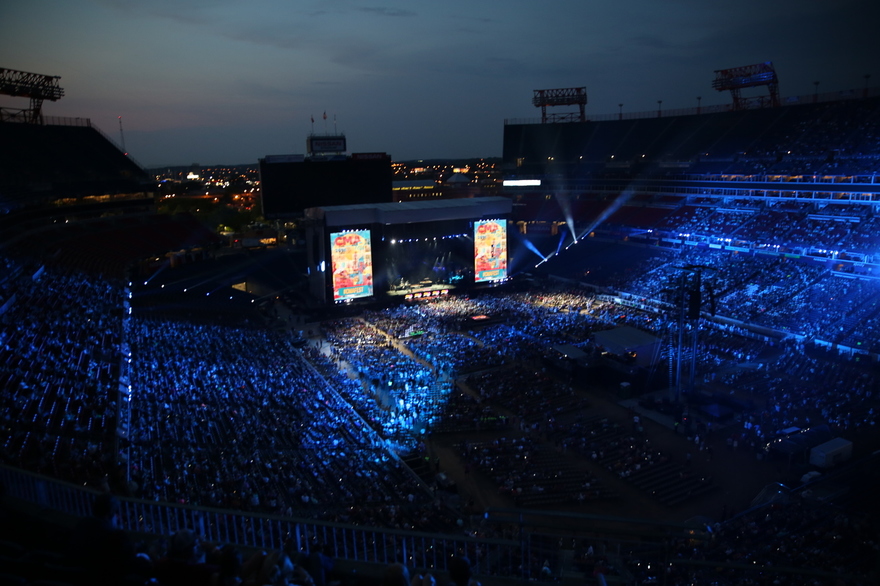 CMA Fest 2018 a record-breaker with
capacity crowds – by Preshias Harris for Country Music News International
Magazine & Radio Show
47-year high in 'fan engagement'
CMA Fest 2018 was a huge success by just
about any standard. The Country Music Association (CMA) reported the 'highest
fan engagement' in the festival's forty-seven year history. Country music fans
from all fifty states, Puerto Rico and thirty-six international countries
poured into Music City to attend the longest-running country music festival in
the world.
Overseas fans arrived from as far away as
Australia, Argentina, Brazil, South Africa and Chile. Attendance from European
countries, including Germany and Poland was up, as was attendance by fans from
Great Britain, possibly helped by new direct flights between Nashville and London,
England, on British Airways.
This year, fans could see more than 300
acts performing on 11 official stages.
Ticket proceeds go directly to helping enrich and sustain music
education programs across the country through CMA's nonprofit arm, the CMA
Foundation, thanks to every artist at the festival donating their time.
Among this year's highlights..
·
A sold-out CMA Songwriters
Series show at the CMA Theater at the Country Music Hall of Fame and Museum
featuring Mary Chapin Carpenter, Vince Gill, Mac McAnally and Don Schlitz.
·
The Ultimate Fan Experiences
Drawing, which offers fans special access to artists meet-and-greets and
performances, saw a 36 percent increase in participants. Traffic on the
festival's official website CMAfest.com increased by more than five percent
over last year.
·
Over the course of the four-day
festival, Xfinity Fan Fair X welcomed 71,000 attendees, up 10% over 2017, and
hosted 365 artists across meet-and-greets and three indoor stages in the
exhibit hall, including the expanded Radio Disney Country Stage.
·
Fans enjoyed listening to and
meeting the 51 up-and-coming artists featured on the new CMA Spotlight Stage.
·
Miranda Lambert's MuttNation
Foundation was a "pup-ular" highlight inside Fan Fair X again with 55 dogs
finding their forever homes.
·
Fan safety and security was
enhanced this year. A 'clear bag' policy was implemented across the CMA Fest
footprint. CMA ramped up safety precautions with upgraded breakaway fencing at
the Chevy Riverfront Stage, which was utilized Sunday afternoon as lightning
neared the area allowing fans to exit
the area swiftly.
·
Fans got see some of country's
biggest stars, including Carrie Underwood, Charley Pride, Chris Stapleton, Dan
+ Shay, Darius Rucker, Dierks Bentley, Florida Georgia Line, Garth Brooks,
Jason Aldean, Jon Pardi, Kane Brown, Keith Urban, Kelsea Ballerini, Luke Combs,
Maddie & Tae, Trisha Yearwood and many more.
For me, and for many other country fans,
CMA Fest offers an unrivaled opportunity to see and meet the rising artists who
are performing here just as their careers begin to take off. Many years from
now, when those acts are headlining, we'll look back and say, "I saw them
when…"
Among the emerging artists that I saw and
spoke to this year were Adam Rutledge, Band Steele, Dallas Remington, Dugger
Band, Harper Rae, Mags, Matt Rogers, Patrick Darrah, Shane Owens, Uncle Si and
the Sicotics and Zach Stone. Many of my
interviews with these artists have appeared (or will soon appear) here at this
blog. Although they are all unique in
their own way, each of these acts
impressed me with their courage, their persistence and their resolve to do what
it takes to achieve their goals. Remember those names!
The festival was filmed for a three-hour
special, 'CMA Fest,' which will be hosted by Thomas Rhett and Kelsea Ballerini
and airs Wednesday, Aug. 8 on the ABC Television Network. This year marks the
15th consecutive year of the broadcast.
Ready to get your tix for next year? Verified fan pre-sale for CMA Fest 2019 begins Monday, July 30, with a national on-sale
Monday, Aug. 6 at www.cmafest.com/tickets
Watch a 'sizzle reel' of all four days of
CMA Fest 2018 at YouTube here https://t.e2ma.net/click/tchs0/dg1to2/xb7q5n
#cmafest2018 #preshiasharrisofficial
Photos:
Michael Ray at CMA Fest. Photo credit: Caitlin Harris/CMA
Nissan Stadium during CMA Fest. Photo credit: Hunter Berry/CMA
# # #