SOCIAL MEDIA GIANT CJAYE LEROSE TAKES PLUNGE INTO
DATE WITH THE TUB ON JULY 12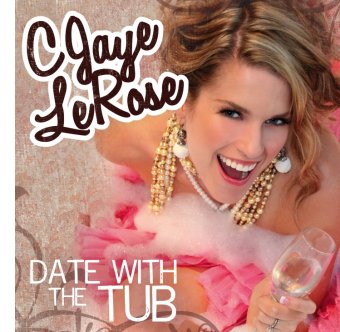 Nashville, Tenn. (July 5, 2011) –
Blossoming country artist and social media sensation CJaye LeRose releases her debut album Date With The Tub, on July 12. LeRose's new album is a mix of real life experiences and witty lyrics.
"I've been waiting so long for this day," laughs LeRose. "I'm finally ready to take the plunge into my 'Date With The Tub!' Thanks so much to everyone for their support. I love you all!"
Making the move to Nashville earlier this year from her home in Houston, Texas was a major leap of faith, but she didn't lack support. In 2009, LeRose created her own YouTube channel to raise awareness about animal adoption, but it was when she began posting videos of her songs that she really received a reaction. She now has over 2.5 million views and 35 thousand subscribers. LeRose has also garnered over 18 thousand Twitter followers and more than 15 thousand Facebook 'likes.'
The nine-track album includes her self-penned single, "The Porch", which debuted exclusively on Sirius-XM's The Highway in May. In addition to receiving national airplay, LeRose acted as The Highway's official video blogger at last month's CMA Music Festival, taking fans from their homes to the busy streets of downtown Nashville.
Date With The Tub Track Listing:
4. Love You Like A Country Song
5. Declaration of Independence