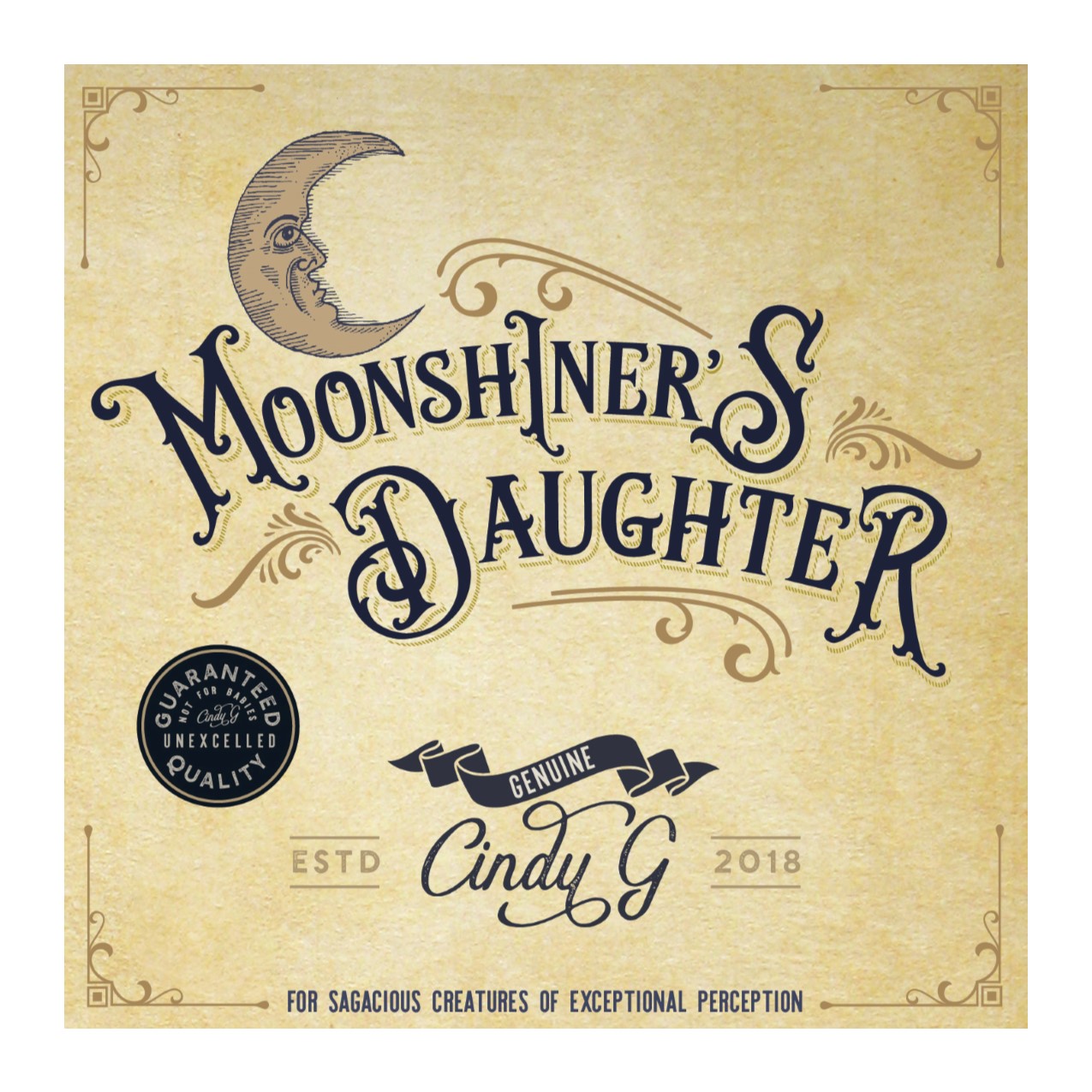 Cindy G releases Moonshiner's Daughter
New album produced by Jim VanCleve available 9.21.18
Nashville, TENN —The latest album from Pennsylvania native, Cindy G, has arrived. Produced by Grammy winner, Jim VanCleve, Moonshiner's Daughter includes the title cut with its accompanying music video and 11 more highly original tunes, 9 of which were written or co-written by Cindy G.
Teaming up once again with producer, Jim VanCleve, the new project features fine appearances by special guests including Rob Ickes, Todd Phillips, Cia Cherryholmes, Cory Walker, Ashby Frank, Seth Taylor, Dustin Benson and VanCleve.
As a teenager, Cindy started out playing folk and bluegrass music in the
northern-most reaches of Appalachia …. the hills of southwestern
Pennsylvania. She began to play guitar at the urging of her father, a
fiddler who took his daughter to jam sessions and introduced her to
local musicians. Songwriting came naturally and crafting her own songs
quickly became part of Cindy's journey. In her 20's, Cindy moved to New
York City and enjoyed success as a touring artist in blues and rock, but
eventually her musical roots began to show. Adding mandolin to her
repertoire, Cindy released her first bluegrass album in 2012. The Road
(Blue Road Records) for which Bluegrass Unlimited called Cindy a "new
and different song writing voice," showcased the strength of her
story-telling in song. The magazine also called Cindy "a forceful and
confident singer." The Road includes "444 Chicken Bone Road" which has
an accompanying music video that reached #1 on the Y'allwire Bluegrass
National Video Chart.
The success of her independent debut release caught the ear of Grammy winner Jim VanCleve, who then produced Cindy's Jail Break CD
(Blue Road Records), with an all-star cast of musicians including Sam
Bush, Bryan Sutton, Seth Taylor, Rob Ickes, Todd Phillips, Scott Vestal,
Aaron Ramsey, and Rhonda Vincent. The album debuted in the Top 20 of
the Bluegrass Today chart in late 2015. Cindy took third place in the
bluegrass category of the annual Chris Austin Songwriting Competition in
April of 2016 with the title track from Jail Break. VanCleve is not
only Cindy's producer. He's become a fan as well.
"Cindy has really got a lot of great influences that show up in her writing. We had a blast making Jail Break,
so I was excited when she presented the first batch of songs for a new
project" VanCleve says. "There were several strong cuts at first blush,
so we had some great stuff to work with. We also had a stellar crew in
the studio to present these songs. I am excited to see what happens next
for Cindy, and for Moonshiner's Daughter. She is very genuine and classy, which made it a real pleasure to produce both of her projects."
Cindy
has appeared on Heartland TV's "Bluegrass Ridge" and several other
video outlets, including "Cheyenne Country TV" on the Family Channel,
ZUUS TV, GAC, and CMT Online with her chart-topping music videos, the
most recent being "Moonshiner's Daughter," a
video for the title track from this latest album. Cindy has been
touring with many of the stellar musicians who played on both the Jail
Break and Moonshiner's Daughter albums.
Moonshiner's Daughter 9/21/18
TRACKS
Moonshiner's Daughter 4:34 Cindy Giejda
Truckload of Troubles 3:57 Cindy Giejda
Heiress 4:26 Cindy Giejda, Jim VanCleve
More Good Looking On You 3:00 Cindy Giejda
The Drive 3:29 Cindy Giejda
Love Train 3:32 Kim Fox
Long Line of Love 3:45 Mark "Brink" Brinkman, David Adkins
The Forgotten 3:07 Cindy Giejda
Pennsylvania Dirt 2:51 Cindy Giejda
Wait On Your Love 3:40 Cindy Giejda
This Old Man 4:25 Cindy Giejda
Two Feet On The Floor 2:56 Ed Williams