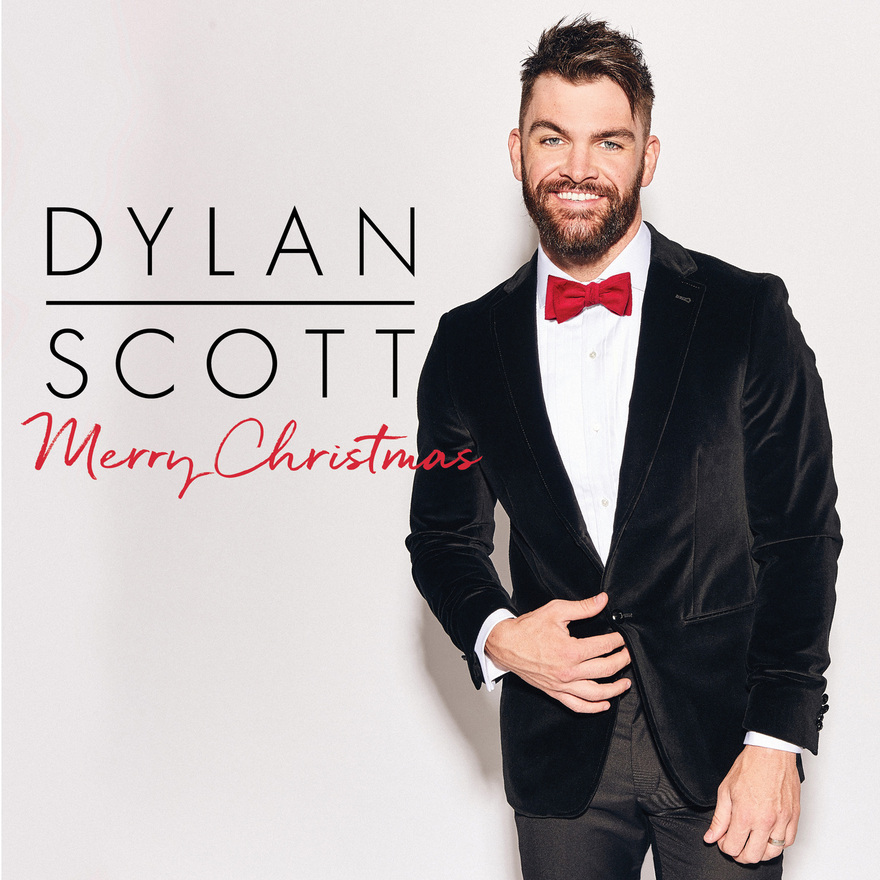 CHRISTMAS COMES EARLY FOR DYLAN SCOTT –
FIRST HOLIDAY EP ARRIVES THIS FALL
"My Girl" Hitmaker To Release MERRY CHRISTMAS On October 13
Launching Justin Moore's HELL ON A HIGHWAY TOUR
The Same Day
Nashville, Tenn. (September 22, 2017) – #1 hitmaking Curb Records star DYLAN SCOTT
has made a list – and checked it twice – and decided that this
Christmas, his incredible fans deserve an early gift. Scott's first
holiday EP, MERRY CHRISTMAS, will arrive on October 13.
Featuring brand new renditions of five traditional Christmas songs, the
EP is a classic throwback brought to life by Scott's warm and expressive
baritone vocal. And with a track list that includes "Winter
Wonderland," "Jingle Bell Rock," "The Christmas Song," "White
Christmas," and "Santa Claus Is Coming to Town," the singer-songwriter
says MERRY CHRISTMAS is filled with his own happy memories.
"Christmas is my favorite time of the year, and I am really excited
about the release of my first Christmas EP," shared Scott. "I grew up
listening to the holiday classics and to be able to record and perform
some of these songs is a dream come true."
MERRY CHRISTMAS arrives just as Scott is riding an avalanche of
breakthrough success. This summer he celebrated his first-ever #1 hit,
as the intensely romantic "My Girl" rose to the top of the Billboard and
Country Aircheck/Mediabase Country Airplay charts. Co-written with Josh
Kerr about Scott's wife, Blair, the standout track has now surpassed
the one million combined sales and streams mark, with a RIAA PLATINUM
certification on the horizon.
Likewise, his self-titled album debut landed inside the Top 5 on
Billboard's Country Albums chart, and he followed up with the release of
an expanded DYLAN SCOTT DELUXE EDITION in August. Scott's
current single, the sharp and sexy anthem "Hooked," looks to build on
those achievements. Already surpassing seven million Spotify streams, it
is now making its way up Country radio playlists.
Meanwhile, the MERRY CHRISTMAS EP coincides with yet another
big step in Scott's career. After spending the summer headlining his MY
TOWN TOUR – which included a milestone sellout of Los Angeles'
world-famous Troubadour – Scott will join Justin Moore's HELL ON A
HIGHWAY TOUR as the featured supporting artist.
Kicking off on October 13 – the same day MERRY CHRISTMAS comes
out – the marathon run begins in Monroe, LA, just 30 miles from the
heartthrob's hometown in Bastrop, LA, and will continue with
coast-to-coast dates scheduled all the way through May of 2018.
For more information on Dylan Scott and a complete list of tour dates, visit http://www.dylanscottcountry.com/. Reach out to him on Facebook, Twitter, Instagram and YouTube.ABOUT DYLAN SCOTT:
A Louisiana native with a lifelong passion for country music, Dylan
Scott is the total package – a powerful singer with a deep, resonating
drawl; an old-soul songwriter with a young spirit; a heartthrob with an
easy smile; and a dreamer who followed his father's footsteps to
Nashville. Prior to landing his record deal, Scott learned the basics of
singing and playing guitar from his dad – a former guitar player for
country legends Freddy Fender and Freddy Hart. He then launched onto the
country music scene in 2013 with "Making This Boy Go Crazy," the debut
single from his self-titled EP. His follow up, the infectious "Crazy
Over Me," debuted at #14 on the Billboard Country Digital Song Sales
chart and hit the Top 40 on the Billboard's Country Airplay chart. In
the summer of 2016, his debut album for Curb Records, DYLAN SCOTT,
landed in the Top 5 of Billboard's Country Albums chart, and its
romantic standout single, "My Girl," is nearing PLATINUM certification
by the Recording Industry Association of America, while also becoming
his FIRST CAREER #1 at Country radio. Having been named one of Spotify's
Spotlight on 2016 Country Artists, fans have streamed Scott's songs a
staggering 250 million times and counting, and sales have topped 2.4
million stream equivalent songs – figures that continue to grow by leaps
and bounds. After wrapping up his successful MY TOWN TOUR in the summer
of 2017, Scott's MERRY CHRISTMAS EP is due on October 13, the same day he will embark on Justin Moore's HELL ON A HIGHWAY TOUR as the featured supporting act.
###