Chris Janson, Chris Young celebrate
Number One hits
By Preshias Harris for Country Music News International Magazine & Radio Show
Two Number One parties, two hit songs, six
hit songwriters. Tuesday, March 6 was a busy day in Nashville. It was a day to
celebrate the writers of Chris Janson's 'Fix A Drink' and Chris Young's 'Losing
Sleep.'
'Fix A Drink' fixed Chris Janson another
Number One and he celebrated with co-writers Chris DuBois and Ashley Gorley at
a Number One party on the afternoon of March 6th. The party,
co-hosted by ASCAP and BMI, was held at BMI's Nashville location.
"Fix Me A Drink" follows Janson's previous
hit, 'Buy Me A Boat,' that Warner Bros. Records released after Janson self-released
it, gaining airplay on the Bobby Bones radio show. As a songwriter, Janson has co-write credits
on numerous cuts by Tim McGraw, Hank Williams Jr., Joe Nichols. Jerrod Niemann,
LoCash and more.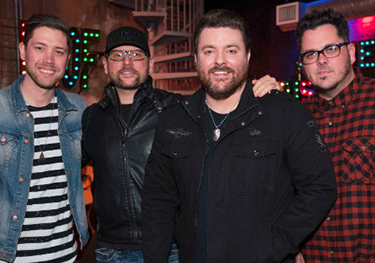 Dubois & Gorley are 'Star'
Songwriters
Chris Dubois is one of Nashville's most successful
independent music publishers, heading up Sea Gayle Publishing that he started
with partners Brad Paisley and Frank Rogers. As a songwriter, DuBois has had
more than 30 Top 20 singles including 17 #1s. He has received more than 40
ASCAP awards (including ASCAP's Country Songwriter of the Year in 2004) and has
twice been named NSAI Songwriter of the Year. He has notched up over 1.1
billion radio impressions in the course of his career.
Ashley Gorley (Janson and DuBois's
co-writer on 'Fix Me A Drink') has become a human 'hit machine' over the years.
He has been named ASCAP Songwriter of the Year for an unprecedented five times.
2017 was a particularly good year for
Gorley. The Performing Rights Organization ASCAP bestows a prestigious Triple
Play Award on any ASCAP songwriter who scores three Number One songs within a
12-month period. At an awards luncheon
in February, Gorley received three Triple Play Awards, marking NINE number one
hits that he has co-written during a single year. With a total of eleven Triple
Play Awards, Gorley has become the most awarded Triple Play recipient of all
time.
At the Award ceremony, Gorley said he had
another personal reason to celebrate: The previous week, his kids had been on
the winning team in a Nashville basketball tournament!
On March 20, Chris Janson will become the
newest member of the Grand Ole Opry – and its youngest member to date. He is
currently on the road, touring with Cole Swindell.
Chris Young's tenth Number One
Later that day, it was time for Chris Young
to celebrate the success of 'Losing Sleep.' That Number One party took place at
Nashville's Tin Roof – renamed TEN Roof for the evening in honor of Young's
tenth Number One hit.
Young was joined by co-writers Chris
DeStefano and Josh Hoge, co-hosted by ASCAP, BMI and SESAC. During the party, Young treated the invited
audience of friends and music industry folks to a live performance of 'Losing
Sleep' and several more of his ten chart toppers.
Chris DeStafano is a Grammy-winning
songwriter and producer, with a string of major hit songs to his credit. He has penned cuts for Carrie Underwood, Luke
Bryan, Billy Currington, Florida Georgia Line, Miranda Lambert, Thomas Rhett
and more.
Josh Hoge was named SESAC Songwriter of the
Year in 2016 with cuts for artists that include Backstreet Boys and Kane Brown
as well as Chris Young.
Chris Young rose to fame after winning the
TV talent show, Nashville Star, in 2006 and signing to RCA Records
Nashville. Like Janson, Young was recently inducted as a member of the Grand
Ole Opry and is currently touring in support of his 'Losing Sleep' album. News and tour dates are at www.chrisyoungcountry.com
# # #
PHOTO 1:
(Left to Right): Ashley Gorley, Chris
Janson, Chris DuBois, Brent Anderson (producer of 'Fix A Drink'). Photo credit:
Steve Lowry
PHOTO 2:
(Left to Right): Corey Crowder (co-producer
of 'Losing Sleep'), Chris DeStefano, Chris Young, Jason Hoge. Photo credit:
Steve Lowry