CHARLEY PRIDE 'MAKES HIS MARK' ON MISSISSIPPI
Pride Gets Very Own Mississippi Highway Road Marker
Nashville, Tenn (March 30
, 2011) –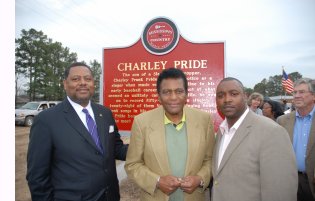 Country music legend Charley Pride has been honored with his very own road marker on the Mississippi Country Music Trail. The ceremony was held Tuesday, March 29, at 1 p.m. on Highway 3 in Pride's hometown of Sledge, MS. A portion of the highway has also been renamed "Charley Pride Highway."
(Photo credit: Jeff Holder; L to R: MS Senator Robert Jackson,
Charley Pride, MS Country Music Trail's Alex Thomas )
"I'm honored and humbled at the same time. It was wonderful!" gushes Pride. "Who'd have thought that a kid who walked four miles to school and four miles home every day would ever get such a tribute?"
Charley Frank Pride first garnered notice as a singer when music was just a sideline to his early baseball career. Taking a shot at what seemed an unlikely music career in Nashville, he went on to record 52 Top 10 singles, including 36 No. 1 hits. Singing honky tonk songs in his remarkable baritone, Pride has become a country music legend and the most successful African American artist of the genre.
Born on March 18, 1938, Pride was one of 11 children and the outgoing son of poor sharecropper parents. Pride family entertainment focused on the radio – dramas, baseball broadcasts and his father Mack's favorite, the Grand Ole Opry. Even though Pride would first pursue baseball as a career, music was never absent. He would sing for teammates on bus trips and make appearances in Montana clubs. After a Nashville audition launched Pride's career, from there it was a legendary story in the making.
Pride's greatest success came in the early- to mid- 1970s, when, at that time, he became the best-selling performer for RCA Records since Elvis Presley. He has won multiple awards and honors including: the Country Music Association's Entertainer of the Year (1971) and Male Vocalist of the Year (1971, 1972), the American Music Award's Favorite Country Album (1973) and Favorite Country Male Artist (1973, 1976). In 1972, Pride won a GRAMMY Award in the Best Country Vocal Performance category for "Charley Pride Sings Heart Songs." He has also been inducted into Country Music Hall of Fame, the Grand Ole Opry and has his very own star on the Hollywood Walk of Fame.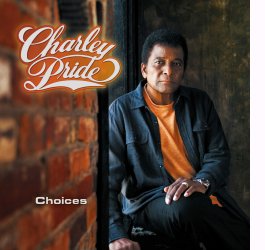 Charley Pride has traveled a lot of highways and seen many mile markers, but his journey isn't over yet. He continues to tour regularly and recently released his first studio album in five years, Choices (Music City Records).
For additional information on Charley Pride, visit www.charleypride.com.