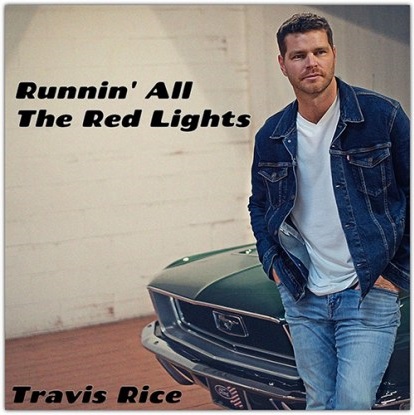 CD Review: Travis Rice – Runnin' All The Red Lights – by Jeffrey Kurtis for Country Music News International Magazine & Radio Show
Independent Release
Since bursting onto the scene with
"Women, Water and Beer," Tennessee native Travis Rice has been honing his craft
and getting stronger with each release. Whereas "Don't Waste The Rain" and
"Sinking Ship" saw him slowing the pace and allowing his strong vocals to grip
you and pull you into the lyrics, "Turn Me On" saw him grabbing hold of a
catchy, feel-good groove and allowing us to float along with it.
He now returns to his more rock kissed
country side with his latest single "Runnin' All The Red Lights," which pulls
as much influence from the storytelling of the early 2010's era of country music
as much as it does the current crop of today's mainstream country.
The lyrics are easily relatable as they
explore a familiar high school type relationship like we've all experienced;
one that's a little wild, a little crazy, and a whole lot of rebelling against
the rules.
Rice uses the opening verse to take us
to the middle of that carefree feeling when he describes the night he's
reminiscing on as "Friday night, no headlights," and then gives us a glimpse of
his better half with "Sundress sneakin' down a gravel road." By very cleverly
not describing her as much more than wearing a sundress (never mentioning hair
color, eye color, etc.), Rice allows the listener to fondly connect their own
memory to the song while listening to it.
As the song progresses, we're also given
insight into the younger mindset as he gives the song a steamy aspect with
lines about not knowing how to slow down and holding on for the ride as they
were "letting it go in the heat of the night."
However, even though the song gets your
attention you through the verses, it's the ultra-catchy, sing-a-long chorus
that immediately has you dancing as he further describes their moving too
quickly with a comparative lyric to going zero to sixty in that Mustang, but he
also reveals a touch more about his better half as he takes us deeper into her
rebellious side when he sings, "not her mama's teachin' or her daddy's
preachin' was keepin' her from my side."
There's an unspoken checklist that gives
us some of the ingredients that will make a song work or not, which includes
the strong ability to connect with the listener. Travis Rice has certainly
checked off that box with "Runnin' All The Red Lights" and it will be
interesting to see how secondary radio reacts to this ready for airplay single.



Take a listen to "Runnin' All The Red
Lights" at: https://www.youtube.com/watch?v=a5o9YpQjfog