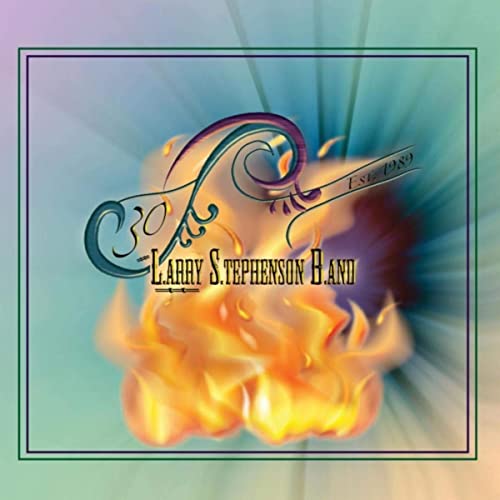 CD REVIEW: LARRY STEPHENSON BAND – 30 – BY RITCHIE RITCHISON
FOR COUNTRY MUSIC NEWS INTERNATIONAL MAGAZINE AND RADIO SHOW

Blue Memories
Two Country Boys Like Us
Who Are They?
Tears
Two Hearts on the Borderline
Just When I Needed You Most
Timber, I'm Falling in Love
Darling Little Joe
Sweet Little Miss Blue Eyes
Journey's End
Love Lifted Me
I Was Bluegrass (When Bluegrass Wasn't Cool)
Two Country Boys (Bonus Track)
I first met Larry Stephenson when he was in the Bluegrass Cardinals. His soaring tenor
vocals and mandolin skills were in full bloom even then. Through the years Larry has
continued to be a force to be reckoned with in bluegrass music, winning many IBMA and
SPBGMA awards along the way.
HIs current CD is called 30 in honor of the Larry Stephenson Band's 30 year
anniversary and it is a great collection of traditional and modern material performed
expertly by Larry and Derek Vaden on Banjo and Vocals, Nick Dauphinais on Guitar and
Vocals and Eddie Faris on Bass and Vocals.
One cannot listen to this album without making a comparison to the legendary Bobby
Osborne. Larry's high lead and even some of his phrasing is reminiscent of some of the
classic Osborne hits. This is mentioned because only the best in any art form can be
influenced by the past, leave their stamp in the present and create a future all at the
same time. The Larry Stephenson Band has the gift and the talent to do just that.
Taking from their influences and stretching out the Larry Stephenson Band in this
collection have blazed a trail for the future purveyors of bluegrass doing essentially what
the Osborne Brothers and many others did for Larry Stephenson.
The top songs for me are Who Are They?, Timber I'm Falling in Love, Sweet Little Miss
Blue Eyes, Darling Little Joe and Journey's End, but there is not a bad song in the set.
The song I was Bluegrass (When Bluegrass Wasn't Cool) made me laugh because
when I saw Larry for the first time with the Bluegrass Cardinals back in 1983 I
remember thinking…Dang! that is one of the coolest bands I've ever seen!

The Larry Stephenson Band is celebrating 30 years together. For bluegrass music's
sake I wish them 30 more!
Rating 5 out of 5 Stars
https://www.larrystephensonband.com/