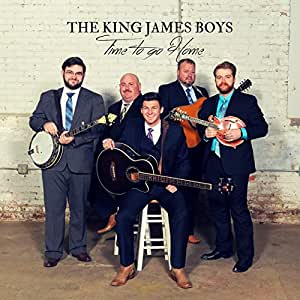 CD REVIEW: KING JAMES BOYS – TIME TO GO HOME – BY RITCHIE RITCHISON
FOR COUNTRY MUSIC NEWS INTERNATIONAL MAGAZINE AND RADIO SHOW
The Master's Standing By
He's Holding On to Me
Was Nots
Sign of the Time
Superwater
Time to Go Home
That's Love
Let Not Your Heart Be Troubled
He'll See You Through
He Arose
Children of God
If you are a fan of bluegrass gospel music this album will not be a hard sell.
What is there not to like? Great Vocals, Superb Picking and Gospel Songs. It Is a nobrainer.
The opening notes of the Master's Standing By give away exactly what you are gonna
hear to the very end of the disc.
I'd be hard pressed to find something bad to say about this album from a very talented
group. It might be easier to say what I like about it but I don't have enough room.
I play every instrument on this record myself so I know how hard it is to make all of them
sound good together and then to sing in harmony on top of that. The King James Boys
do an admirable job in all respects and deliver on ever cut.
I do think there are some outstanding cuts: The Master's Standing By, He's Holding on
to Me and That's Love. Then again I like Time to Go Home and Let Not Your Heart Be
Troubled and He'll See you Through and of course how could you not like the acapella
Children of God?
All in all I recommend this album to anyone who likes Bluegrass Gospel, Gospel Music
in general or anyone who just like good music!
Rating 5 out of 5 Stars