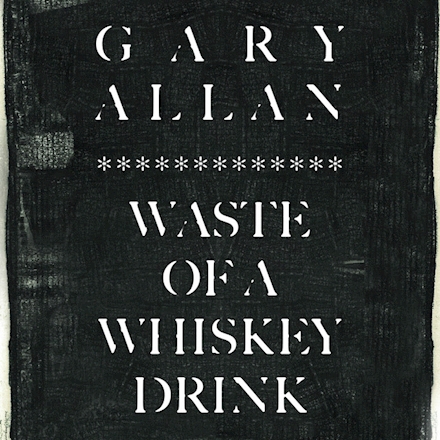 CD Review: Gary Allan – Waste of a Whiskey Drink – by Jeffrey Kurtis for Country Music News International Magazine & Radio Show
EMI Records Nashville
I was recently having a conversation
about country music with a longtime friend and Gary Allan's name came up. My
friend said, "Gary comes out with a great song or album, disappears for a
while, then comes back again with another great song or album."
It's been three years since we last
heard from Gary Allan with "Mess Me Up," but now he's roaring back and already
starting to impact radio with his brand-new single "Waste of a Whiskey Drink.
The song, written
by Josh Kear, Michael Hardy, and Mark Holman, is perfectly suited for Allan's gravelly
voice as he pulls you through a verse that steadily builds to a strong punch in
the chorus that only he can deliver with the rawness that it takes to satisfy
this lyric.
The lyric is
simple enough; a warning to the guy buying a shot for the girl at the end of
the bar – the type of girl you don't want to see your friend end up with
because she's a heartbreaker.
The chorus
paints the picture of how the entire night (and the six months thereafter) will
proceed after he buys her that shot as it sings of how she'll climb in his car,
mess up his sheets, and take his heart, before flirting with his friends,
stringing him along, and ultimately, leaving him right back at the same bar
alone and broken hearted.
Allan continues
to give his warning while also offering some stern advice; "you're better off
going home, send out a drunk text or two," "save yourself the trouble," etc.
Though it's never
really said how Allan (as the narrator) knows all of this about the girl at the
bar, you can make the assumption that it's because he's been the guy buying her
drinks in the past and is now speaking straight from his own, been there done
that experiences with this very scenario.
It's been since
"It Ain't The Whiskey" in 2013 that Gary Allan has found Top 40 chart success,
but could "Waste of a Whiskey Drink" be his next big push back onto the
mainstream charts?
This song gives
us that distinctive flavor that makes you instantly recognize this as Gary
Allan. In a sense, he's bringing us back to his classic, rock kissed country
sound reminiscent of what we got from Living Hard and Get Off on the
Pain. On the other hand, Allan's always had an uncanny ability to keep up
with the here and now while staying true to his roots.
The difference
this go around that will absolutely work in Allan's favor, is that the mainstream
country has been teasing a more classic sound as of late with artists like Luke
Combs and Jon Pardi. Allan, as the bold veteran, can easily slide in alongside
this hot new crop of artists and be the reliable centerpiece to the re-emerging
sound that once dominated the entire scene.
Check out
"Waste of a Whiskey Drink" at:https://www.youtube.com/watch?v=s44FiQToB6E