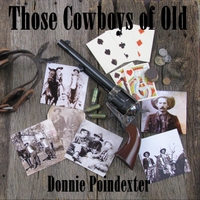 DONNIE POINDEXTER
Those Cowboys of Old
Echoes of the Trail – Roving Gambler – Colorado Trail-Those Cowboys of Old – Born To Be a Cowboy – Dust On The Barbed Wire –
The Old Double Diamond – Full House – Roundup In The Spring – Rambling
Gambler – Pawhuska Jane – We Were Cowboys
This is a very interesting approach to 'western'
music. Donnie Poindexter sounds like a very young cowboy, though I
think he's probably not 'young.' Still, it's the way he puts his voice
forward, and the way he 'impresses' with certain passages that he is
singing. He knows the 'message' and he knows 'how to get the message
across.' I enjoyed the instrumentation backing too, quite different
than the usual. One of my favorite songs is the 'Roving Gambler' and
the way Donnie Poindexter 'tells this tale' is very different, very
original, very creative, and very believable. His son, Donnie A.
Poindexter is the hand on the dials in the studio, he produced and
engineered it as well as playing lead and rhythm guitar; bass; banjo
(especially nice on 'Rovin' Gambler') and mandolin; Curtis Krigbaum on
lead guitar on "Roundup In The Spring" and "Pawhuska Jane." Good mix,
pleasant listening experience, and a brand new approach to keeping
'western' music alive in America. Every song on this album is a very
unique and beautiful 'picture' of western life, with Donnie adding three
of his own originals to the mix. Nicely done. I also like the pleasant
way the 'picture' changes with the words Donnie is singing. He takes
us out to work with the cowboy (mending fences) and on a roundup, and a
chance to be a gambler, a couple of times. Super nice selection of
material, super nice presentation and production, super nice listening
experience. I will be forwarding this exceptional CD to the Rural Roots
Music Commission to see what their opinion is of this production. I
think I know.
RECORD REVIEW BY: Bob Everhart, President, National Traditional Country Music Assn. www.music-savers.com
For Country Music News International