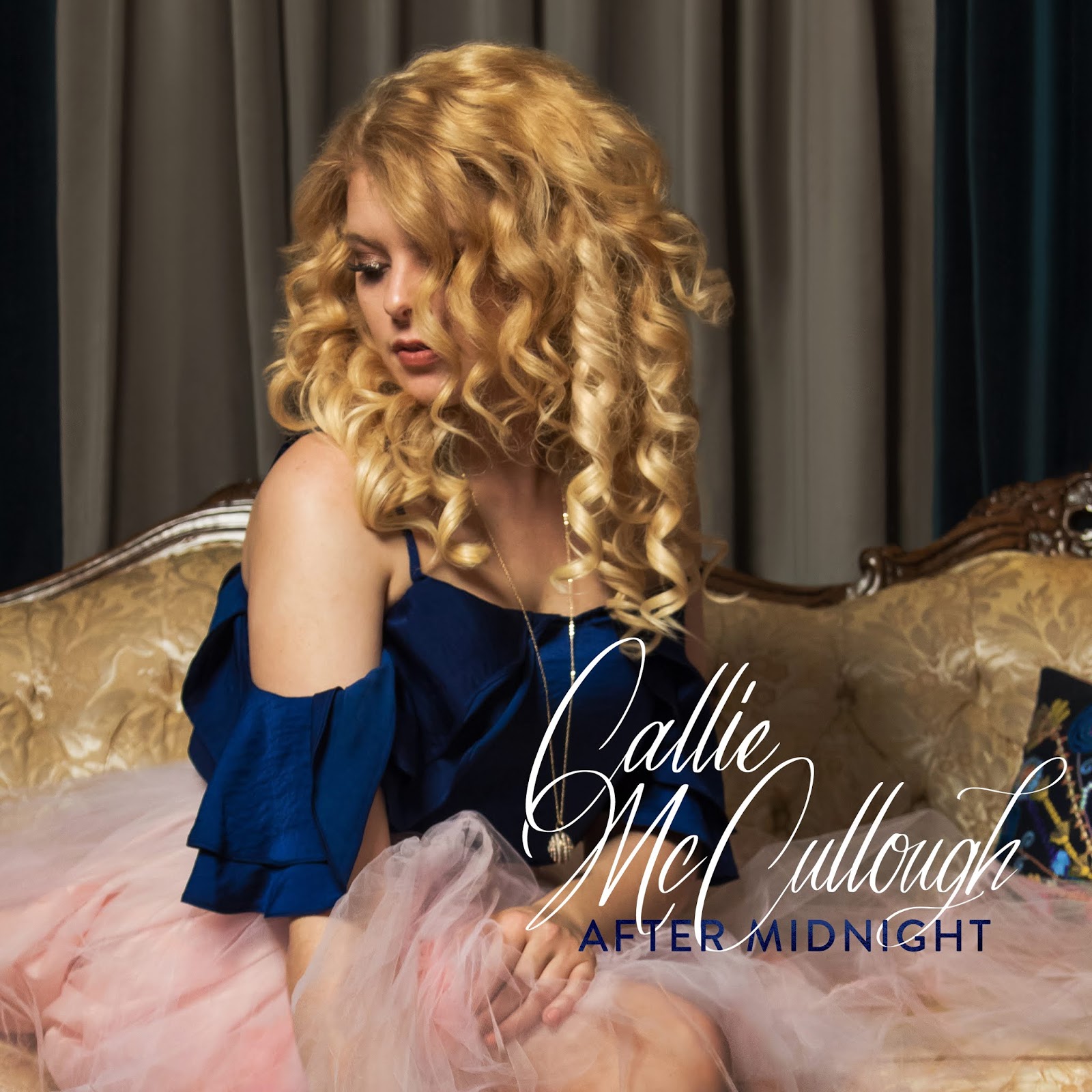 Callie McCullough Interview by Christian Lamitschka for Country Music News International Magazine & Radio Show
 Lamitschka:
Music has many new fans throughout Europe who may be hearing about you for the
first time. How would you describe yourself and the music you play to someone
who has never seen or heard you?
Answer: 
Hey Christian, thanks so much for having me! I had the chance to tour in Europe
a couple times in different cover bands before moving to Nashville, and I loved
it so much! This is my first album as a solo Artist, so it's new to everyone! I
would say this new album After Midnight
borders between Contemporary Bluegrass, Folk, Singer-Songwriter, Traditional
Country and Adult Contemporary Influences. It's very heartfelt and honest music
with soft acoustic instrumentation… There's a common thread of ballads and
vulnerable story telling…these songs are all written from stories in my life
the past few years in Nashville, so it's a very personal record. Some of my
favorite artists are Don Willams, Eva Cassidy, James Taylor, Simon and
Garfunkel, Carol King, Norah Jones, Alison Krauss and Dolly Parton…there are
traces of those influences in there for sure!
Lamitschka:
What is your favorite song among all the songs you have recorded and what's the
story behind it?
Answer:  Five Dollar Pearls is probably the most
honest song I've ever written- it's about feeling like you don't fit in, or
that who you or where you come from is not good enough. It was the first song I
wrote with my co-writer Ryan Sorestad that really paved the way for the sound
and direction of this album. My Producer Dustin Olyan built this recording one
track at a time playing almost every instrument on it and perfectly captured
the honest and vulnerable sentiment of the song. Of all the songs I have written
and recorded so far it's my favorite.
Lamitschka:
How much creative control do you have over your music?
Answer:  Alot!
Despite other challenges, being an Indie Artist does come with the luxury of
creative control! With this album After
Midnight  I had been in Nashville
writing, playing shows and trying to get noticed already for a few years…and
I was ready to just make a record and say this
is who I am to the world! I knew I wanted to do something very different
from the mainstream country music coming out of Nashville…I had written a
collection of songs with my two song writing buddies Scotty Kipfer and Ryan
Sorestad that really fit together for an album- our best friend Dustin Olyan
was a brilliant young Producer in town- together we sat down and dreamed up the
idea for this album!         We wanted
to blend new, fresh ideas and energy with the sounds and roots of traditional country,
bluegrass and folk. We called up some of our favorite musicians and musical
heroes guys from Western Swing Super Group The
Time Jumpers and members of the famed Bluegrass Band Union Station (Alison Krauss and Union Station) and some of the
coolest up and coming players in town and asked them to come make a record with
us. My Producer Dustin Olyan has this ability to cut right to the heart of a
song and hear how it should come to life…. he plays several instruments on
the record and really captured the essence of these songs! Each song was a
little different and needed its own treatment… Some are grand and sweeping
productions, some are intimate and vulnerable- so we let the songs lead the
way.
Lamitschka:
What kind of songs do you like to record the most?
Answer:  I
definately have a soft spot for ballads and broken hearted songs. When I was a
kid growing up listening to records I would always fall in love with never the
hit, but always the lesser known ballads and album cuts. Music to me is an
emotional thing- and I have always connected with those songs and those
stories. I definately like to have a good time- But I could sing sad songs for
hours if they let me…
Lamitschka:
Who inspires you musically and how deep do your musical roots run?
Answer: I
take alot of inspiration from artists like James Taylor, Carole King, Joni
Mitchell, Gordon Lightfoot, John Prine, Eva Cassidy, Don Williams and Sturgill
Simpson. These are Artists that have stuck unapologetically to making great
music, and letting music rather than marketing drive their careers. They have
long legacies of meaningful songs- and that is the kind of path I hope to pave
for myself. I have roots in alot of traditional country and folk music- I was
born into a musical family and grew up singing my Mom- I've was probably
singing before I was speaking, nd started making up songs by the time I could
walk, it's just a part of who I am. For me, it's all about making music that
makes you feel something…
Lamitschka:
When you get time off, how do you like to relax?
Answer:  I'm
a huge book nerd! I love to curl up with a book and just read it cover to
cover! I also just love going for walks outside! If I get a week or two off I
love to head home to Canada and spend time with my family.
Lamitschka:
When you're on tour, do you have time to play tourist?
Answer:  I
definately try! I love travelling and seeing new places, meeting new people and
eating new food! I try to get out and about as much as possible for walks to
break up the long drives and explore new places as much as the schedule allows!
I always make a point to try local restaurants and cuisine famous to the area-
especially in Europe the food is so amazing!
Lamitschka:
Is there any place you haven't played that you would like to?
Answer: The
Grand Old Opry!
 Lamitschka:
What do you think about today's music industry?
Answer:  Well
it's both a very exciting and difficult time for the music industry. The fact
that Independant Artists, (like me) have the ability to reach fans worldwide
without needing a record label is exciting! That said, the industry hasn't
really caught up with how to get musicians, songwriters and everyone else
paid…Music matters, and there are so many talented artists, writers,
engineers, musicians, and behind the scenes folks that scrape to make a living-
if we want to keep hearing good music as a society we need to care about that
and pay for it. Coming out of Nashville and growing up on Country Music, I have
such a deep love for the roots and of that music- I've been pretty outspoken
about my disappointment in most current Country Radio. We dove into that
sentiment with the last track on my album called Three Quarter Time.. I'm hopeful that lyrics with some meaning and
production with some originality may come back to Country Music one day soon- I
might be a bit of a pureist- but I think music matters too much to settle for
less.
Lamitschka:
Many music fans today get their information about artists online. Do you have
your own website and what will fans find there?
Answer:
Absoulutely! All my info is at www.calliemccullough.com
and fans can buy signed hard copy albums there (we ship to Europe) as well as
read more of my story, find music, photos, tour dates and song lyrics, join my
mailing list and more! For day to day updates follow me on Facebook and
Instagram @calliemcmusic