Brett Eldredge Glow
Tour opening night review by Karen Cotton for Country Music News International Magazine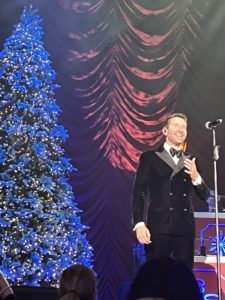 What started out as a private Christmas show at very small venue in Nashville, Brett Eldredge said at his opening night of his Glow tour at the Ryman Auditorium in downtown Nashville, has sold out three nights in a row at the historic theater to kick off the holiday season.
His first show opened with his jazzy band playing some smooth Christmas carols. Once their set was over and the mood was set for his show the curtains opened and Mr. Christmas was welcomed by an enthusiastic crowd. He sang hits from his Glow albums as well as some beautiful Christmas carols that he said he often sings at church with his large family every year that are his favorite songs.
Eldredge mentioned during his show that he once traveled to New York City to take in the jazz scene, before making his Glow album. That explains the jazzy feel of his holiday show that's reminiscent of Frank Sinatra or the Glenn Miller Band. He also said he will be performing at the traditional televised Rockefeller Plaza tree lighting ceremony in the Big Apple.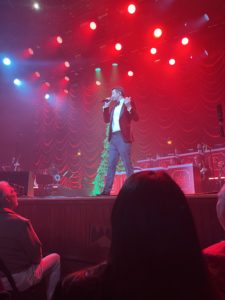 During his first show after one if his trumpet players performed a solo he mentioned that he played trumpet in a band in school and thought he may give it a try at his Glow tour shows next year. Eldredge has an amazing charisma. He had the crowd captivated as he sang popular Christmas carols like "Let it Snow," "I'll be Home For Christmas" and "Oh Holy Night."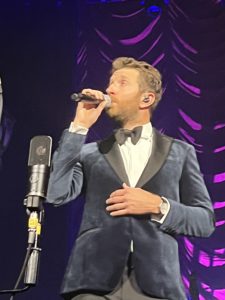 He even got a standing ovation several times during his show and ended with an encore that required the crowd to hang on his every note and be silent. He sang without the mic and not to ruin this surprise song I won't mention it, but I will say that the country crooner can hold long notes as if they're easy and come as second nature.
He definitely should come out with more Christmas albums as well as try his hand at some good jazz standards and drop a jazz album in 2023. He's got the talent for it and is already there. His band is amazing and as a fellow jazz pianist I give great credit to his piano player, who is also fabulous.
If tickets are available on any of Eldredge's upcoming Glow dates be sure to grab them while you can! Or if you can't catch a show buy his album! He's amazing and the money spent on tickets won't disappoint you!