Billy Ray Cyrus, Lil Nas X, Keith Urban
take "Old Town Road" to CMA Fest
Kelsey Ballerini gets surprise No. 1
news during Day Three
By Preshias Harris for Country Music
News International Magazine & Radio Show
Day Three of the 2019 CMA Fest saw a trio
of stars that had never before taken the festival stage together. Fans were surprised and delighted to see Lil
Nas X, Billy Ray Cyrus and reigning CMA Entertainer of the Year Keith Urban
take the Nissan Stadium stage to perform the No. 1 song in the country, "Old
Town Road."
The surprised crowd roared as Cyrus, Nas X
and Urban played the hit song, standing, dancing and singing along with the
stars.
Backstage at Nissan Stadium, Metro
Nashville Police Chief Steve Anderson presented Cyrus with a 2019 MNPD coin
commemorating Metro Nashville's new headquarters building and acknowledging the
sacrifices made by their officers. The
coin bears Cyrus' song "All Gave Some, Some Gave All."
There were more surprises during Tim McGraw's
headlined Nissan Stadium show, when he was joined by Luke Combs to perform
"Real Good Man," McGraw's 2003 number one hit written by Rivers Rutherford and
George Teren.
Miranda Lambert (who had 61 dogs adopted at
CMA Fest through her Mutt Nation project) performed her new song "Locomotive."
Dierks Bentley brought Tenille Townes to the stage, celebrating Women in
Country. Together, they performed covers
of Trisha Yearwood's "She's in Love with a Boy" and Deana Carter's "Strawberry
Wine."
It was a 'sold out' night again at The
Firestone Country Roads Stage at Ascend Amphitheater as fans were entertained with
performances presented by Warner Music Nashville. During his co-headlining set,
Cody Johnson recognized military and law enforcement in the audience, asking
them to stand while thanking them for their service.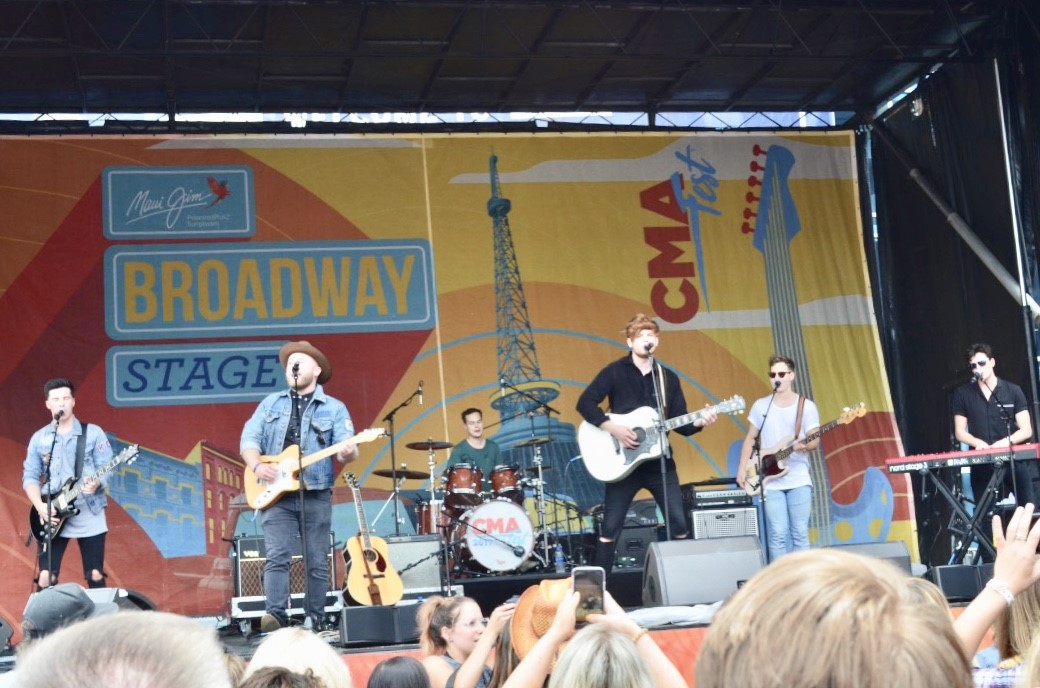 Ashley McBryde, King Calaway and Steve Moakler
had the crowd on their feet. Wait and see where these guys will be next year. I
expect BIG things!
Chris Young was featured as the Artist of the
Day on the CMA Close Up Stage. Young
took part in a discussion with Country Countdown USA host Lon Helton
about his music and the CMA Foundation.
The audience surprised him by singing him an early "Happy Birthday" for
his June 12th birthday.
The fans weren't the only one who were
treated to surprises during CMA Fest. Kelsea Ballerini was participating in a
surprise meet and greet at Xfinity Fan Fair X when she received a super
surprise of her own. She was given the
news that her single "Miss Me More" had just hit No. 1 at Country radio. Of
course, her fans were NOT surprised to hear that!
CMA Fest is the longest-running Country
Music festival in the world with a portion of ticket proceeds directly
benefiting high-quality music education initiatives across the United States
through the CMA Foundation, thanks to all the artists performing at CMA Fest
donating their time.
Photos and credits
Billy Ray Cyrus, Lil Nas X and Keith
Urban perform on Day Three. Photo credit: CMA
Billy Ray Cyrus performs at Nissan
Stadium. Photo credit: John Russell/CMA
Tim McGraw greets Luke Combs on stage.Photo credit: Donn Jones/CMA
Kelsea Ballerini gets the news that
"Miss Me More" is No. 1. Photo credit: Kimberly Whiting/CMA
Steve Moaker performs at CMA Fest Day
Three. Photo credit: Catrina Engleby
Ashley McBride on stage during Day Three
of CMA Fest. Photo credit: Catrina Engleby
King Calaway performing at CMA Fest.
Photo credit: Catrina Engleby
Chris Young on the CMA Close Up Stage.
Photo credit: Hunter Berry/CMA
# # #