BILLY DEAN BRINGS FANS FIRST ALL-NEW ALBUM IN
NEARLY FOUR YEARS, A MAN OF GOOD FORTUNE
New Album In Stores September 25 and Available for Pre-sale Purchase Now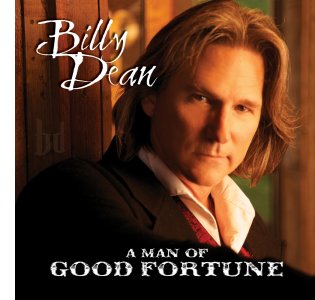 Nashville, Tenn. (September 11, 2012) – GRAMMY Award-winning Country music star
Billy Dean
is back with his first studio album in nearly four years,
A Man Of Good Fortune (Rainman Records)
. The all-new ten track album is slated for a national retail release via Red Distribution on
September 25, 2012
.
Earlier this week, through his VIDDY account, Dean uploaded a special
video teasing a song from the forthcoming album. Watch the VIDDY preview
HERE
.
In
2009, Dean took a break from the recording studio, spending his time
developing Billy Dean Music Group (BDMG – his very own publishing and
production company) as well as continuing to tour regularly, keeping a
connection with fans, both old and new. This hiatus from the studio gave
Dean the time to pen many of the songs included on the new album. Dean
co-wrote seven of the ten songs included on A Man Of Good Fortune.
"Music
has deeply enriched my life," notes Dean. "My fans have waited
patiently for this new release because they know this one is for them.
It's because of my fans and their support that I've spent most of my
life on a musical journey and that's why I truly feel like 'A Man Of
Good Fortune.'"
Dean
adds, "I owe a great deal of gratitude to my manager, Ron Rainey, for
giving this new music a home at his label, Rainman Records. I hope it
will be worth the wait."
In
his music career spanning more than 20 years, Dean has claimed eleven
top ten Billboard country singles, including five #1 hits: "I Miss Billy
The Kid," "Somewhere In My Broken Heart," "If There Hadn't Been You,"
"You Don't Count The Cost" and "It's What I Do." Dean recorded eight
major label studio albums, three of which have been certified gold by
the RIAA, as well as a greatest hits album which is also certified gold.
He has also released four studio albums on BDMG, including a tribute to
America's family farms, Earning Our Place On Earth, through his
partnership with Naturipe, and a tribute to truck drivers, For Those Who
Move America, through his work with Averitt Cares For Kids.
Earlier
in his career, the Academy Of Country Music named Dean Top New Male
Vocalist and also awarded him Song of the Year for "Somewhere In My
Broken Heart." In 2000, Dean sang harmony vocals alongside Alison Krauss
on Kenny Rogers' rendition of "Buy Me A Rose," which earned a GRAMMY.
In addition to his successful recording career, Dean has also acted in
several movies and appeared in numerous television shows.
A Man Of Good Fortune Track List:
1. I Can't Leave
2. A Seed
3. Middle Of Nowhere
4. Dear John
5. All The Difference In The World
6. I Don't Need As Much Hell To Raise
7. Crazy Beautiful
8. Imagine What I'd Do
9. Made For You And I
10. Laura Nadine