BILLY DEAN DEAN SIGNS WITH
FLYING ISLAND ENTERTAINMENT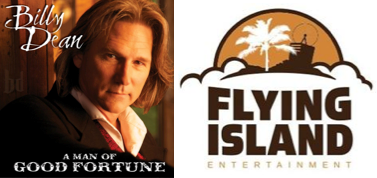 "I Can't Leave a Good Thing" Impacts Country Radio on March 12
Nashville, Tenn. (February 19, 2012) – Country music crooner
Billy Dean
has signed on with Nashville-based
Flying Island Entertainment
for radio promotion representation on his first single since 2006. "
I Can't Leave a Good Thing
" impacts country radio on
March 12
. Preview the new song,
HERE
.
"I am so honored that my team is working the radio promotion on Billy's new project," notes Flying Island President Shelia Shipley Biddy. "I have long admired Billy's music and the impact it has had on country music."
"We
feel fortunate to be working with Shelia Shipply Biddy, one of the most respected music executives in Nashville. She has a track record of success that we are sure to beni

fit from," says Ron Rainey of the LA-based Ron Rainey Management Company.
Last September, Dean released his first album in four years, A Man of Good Fortune.