BELLAMY BROTHERS LET THEIR GLOBAL LOVE FLOW
Bellamys Set For International Tours in South Africa, Bulgaria, Australia,
Sri Lanka, Switzerland, Germany, Norway, Sweden, France and Austria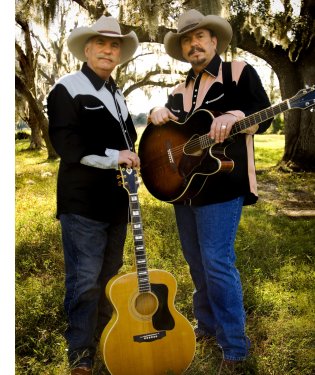 Nashville, Tenn (April 26, 2011) – Multi-platinum selling country music duo the Bellamy Brothers are certainly no strangers to international touring. While most traditional country musicians keep their sights set on the U.S. tour trail, David and Howard Bellamy have always taken an alternate approach, maintaining solid international concert bookings for the past 35 years.
In 2011 and 2012, in addition to playing approximately 300 U.S. dates, the brothers will travel and perform in South Africa, Bulgaria, Australia, Sri Lanka, Switzerland, Germany, Norway, Sweden and France, among others.
"Our international career has been a phenomenal blessing," says David Bellamy. "When we started the band over three decades ago, we never anticipated having such an amazing global reach."
This May marks 35 years since "Let Your Love Flow" went to No. 1 in 15 countries worldwide, including the U.S. In 1979, their "If I Said You Had A Beautiful Body Would You Hold It Against Me" was crowned the United Kingdom's Record of the Year.
The brotherly duo remains a major player in the European record industry. In 2010, the Bellamys teamed with Swiss megastar Gölä (Universal Music Switzerland) to release Bellamy Brothers & Gölä: Greatest Hits Sessions.

The album spent

seven weeks at No. 1 on the Swiss Music Chart and earned the Bellamys a double-platinum selling record. The album also spawned a sold-out eight city tour of Switzerland.
The Bellamys' Anthology Volume 1 (previously released and recently certified gold in Switzerland and Norway) and Volume 2 are currently scheduled for a 2011 release in Denmark and Sweden. Both albums will be supported with national television campaigns.
The Bellamys are currently in negotiations with a major label German / Austrian artist for a collaborative project. An official announcement is expected soon.
"We feel very fortunate for our international following. Our foreign fans have been so loyal over the years, and every tour has been a memorable experience even though we suffer from a chronic case of jet lag," confesses Howard Bellamy.